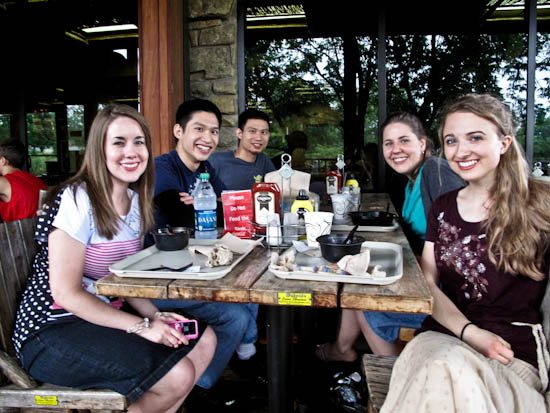 About two weeks ago I flew to Cincinnati for a reunion with some good friends who I met during a 7-week music theory class we took together in Indianapolis about 6 years ago. In the above picture we are eating lunch at Noah's cafe at the Creation Museum.
It is great to have old friends. When you do something hard together you bond, and our class has stayed in touch all this time. Our reunion was 3 days. It was difficult to arrange but it was worth it. There were some good times of special fellowship in the Lord.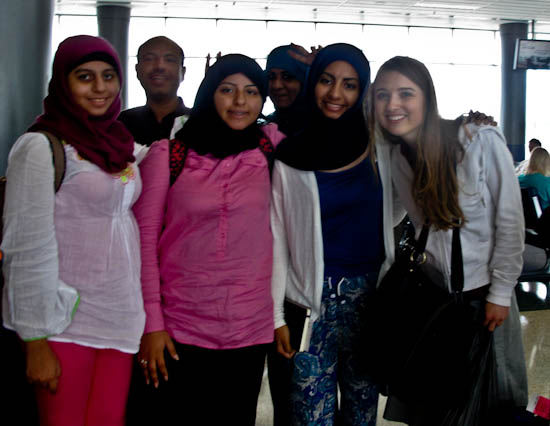 And here is a picture of some new friends! On my flight to Cincinnati, I met a girl from Saudi Arabia who will be attending the university in Cincinnati. We are both 24 and hit it off right away. She explained how it was very sad for her to leave all of her friends at home, so she was glad to have now met her first friend in the States. After we got off the plane, she introduced me to her whole family. It was so obvious to me that the Lord had coordinated that meeting, and I hope it works for us to meet up again next time I am in Cincinnati. Praise the Lord for the good conversations He arranges on airplanes!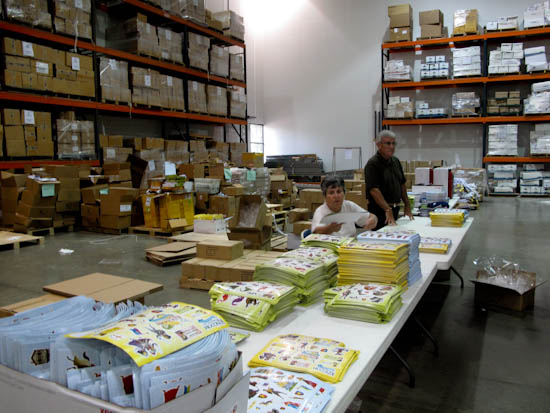 While I was in the Cincinnati area I took a couple days to volunteer at the museum. If I didn't have other obligations at home, I'd do this more because I am always blessed by the time I spend helping out at the Creation Museum [smile]. Here in the warehouse we were working on materials included in the VBS curriculum.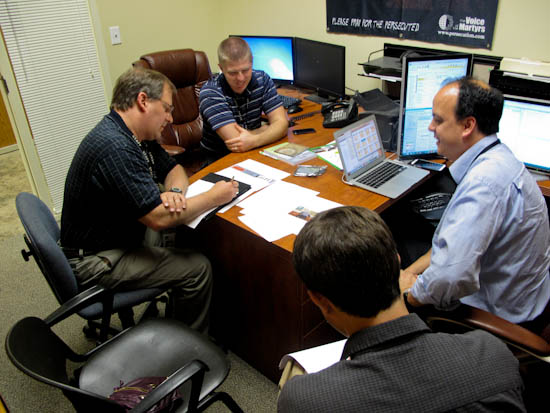 Here's a behind the scenes glimpse of a brainstorming session in an Answers in Genesis office. They were discussing ideas for the banner that Dan Lietha (AiG Cartoonist) is designing for the AiG booth at the National Educator's Convention this year. Each year they create a different banner, and I think this one is going to be great. (Please pray for that outreach, by the way.) See last year's report here.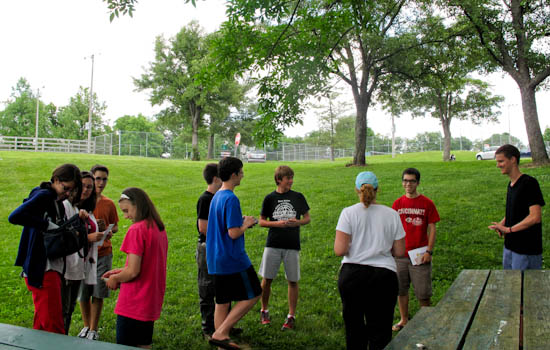 One of the highlights of my trip to Cincinnati was spending time witnessing at a park with this group of young people. Most of them had never done anything like this before. We had a quick training time, paired up, and went out to try to get into conversations. We used questionnaires and/or gospel tracts or to help in starting discussions. I admit, I was a bit apprehensive about how it would all turn out, but everyone came back with smiles, laughter, and good reports. Praise the Lord!
I was paired together with Aaron, a fourteen-yr-old with a real enthusiasm for learning to witness. This was the first time he had actually gone witnessing in a public place, and I was praying the Lord would give us a good conversation that we could learn from.
Aaron and I found a guy who was willing to talk and called himself a "Deist." He had some Bible knowledge and a lot of "issues" with what he saw in the Bible. He kept bringing up topics such as the Levitical dietary laws, making comments like "remember you're quoting from the book that calls shrimp an abomination." [smile] While not wanting to entirely avoid his arguments, I was also trying to get to the heart of the matter—sin and the good news of the gospel—because I knew we had limited time. So we began discussing sin, and I tried to gently convince him of his need for a Savior.
As we were discussing this, several other guys came and sat down on the grass to listen. Eventually, I turned to them and asked what they thought.
One of them stood up and stated, "I'm an Odinist." He seemed to enjoy this opportunity to see my response to his beliefs.
"Oh. What's that?" I asked, looking up at him.
"She doesn't even know," they laughed.
"I worship Thor," he explained.
"Oh… I think I kind of get it now," I said, smiling.
I decided he looked kind of like a Viking, the more I thought about it. [smile]
Hmmm….. this conversation just keeps getting more interesting.
"Your people killed thousands of my people," he continued, looking down at me with a stern expression. "And you are just the same as they were … judgmental."
I guess my emphasis on explaining sin to the Deist guy was making the Odinist guy very uncomfortable. That was probably a good thing, but all the same, I felt I should clarify my motives.
"You know, I think I may have given the wrong impression, because that's not my heart at all," I explained. "I've sinned too, and I'm just trying to explain how much we need a Savior. I'm really sorry if I came across wrong!"
"You're fine" the Deist said coolly.
"So. You believe the world is 6,000 years old?" the Odinist asked condescendingly.
"Uh, yeah! I do! Have you guys been to the Creation Museum? It's right here in town … " I smiled.
"Well, there are ancient documents in China that are 12,000 years old," they replied.
Of course, I challenged that, but they were insistent, so I said we'd look it up.
I left them with a few tracts and a DVD. Although they didn't act receptive, who knows what God is doing in their hearts!
As we were walking away, I told Aaron, "I hope this conversation doesn't intimidate you, because not everyone is like them…"
But you know what, I think the opposite was true. It didn't intimidate Aaron, it actually aroused excitement for all of us. We knew the Lord had been arranging our steps.
It's a relief to realize that there's no need to be afraid of encountering new beliefs or arguments. (There will always be more of them!) And there's no need to answer every question we are asked. We can simply enjoy the process of interacting with people, learning about them, asking them questions, and sharing the truth that we do know with humility and graciousness.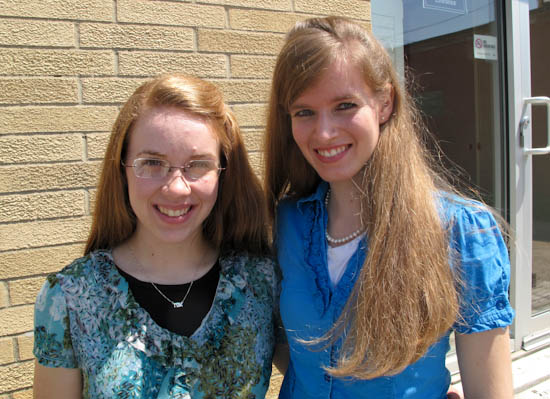 Back home at the Bright Lights office (where I am now), we have a lot going on as we are leaving in 5 days for a 3 week conference trip. We are VERY grateful for the help of Anna and Michelle (pictured above) who flew in early to help us before the conferences. (We are also very grateful for Claire who was here earlier.)