This is a call to our generation to be bold with the gospel. We have the exciting privilege as Christians to be working alongside the God of the universe in the mission of saving souls!
Testify Training Camp
We are excited to announce that we will be hosting two Testify Camps during the Iowa State Fair.  See more information or register here.
Will Our Generation Speak?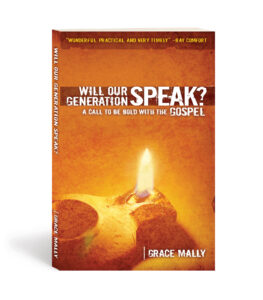 From a young person to other young people, this book addresses the fears we face and the excuses we make about witnessing. It contains practical ideas of how to begin conversations with unbelievers about the gospel, ask good questions, defend the faith, and walk closely with the Lord ourselves. Filled with dialog, it recounts witnessing conversations and gives practical ideas for beginning conversations with unbelievers about the Lord.
Witnessing is difficult for all of us. One thing that will help the most is to have the fellowship, support, and accountability of someone else (or better yet a team) of people doing it with you! This is why we encourage you to start a witnessing team in your area. Click here for ideas.
Here are some tracts and other evangelism resources we recommend.
Read chapter one here.
You can order the book here.
Endorsements
"A wonderful, practical, and very timely publication … with practical examples and inspiring heart-warming personal experiences. It's fuel for your fire, diligently gathered by the author so that you can let your light shine."
-Ray Comfort, Living Waters, Way of the Master

"Grace has an open and engaging writing style which makes for an enjoyable read. Although specifically targeted toward the younger generation, this book provides an excellent guide for Christians who struggle with witnessing at any age."
-Michael Farris, Chancellor, Patrick Henry College

"The Christian church has long needed a stimulus for effective witnessing from a Biblical worldview. In this book Grace Mally fills that need."
-Dr. John Morris, President, Institute for Creation Research

"Grace Mally shows how to break the ice and introduce people to the good news of the Gospel."
-Dr. Jeff Myers, President, Summit Ministries