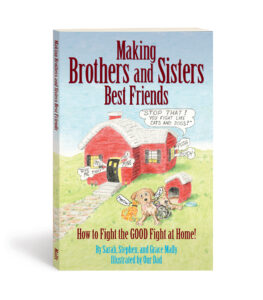 Brothers and sisters are among the most important people in life! Yet often they are also the most trouble. Many siblings fight, argue and miss out on the close relationship that God intends. The problem is not just the surface battles but the underlying attitudes, wrong concepts and offenses. Many broken relationships never get fixed. Few enjoy the special life-long treasure that God intended.

The emphasis of this book is not merely "getting along" with your brothers and sisters, but making them your best friends. Every chapter of the book contains a section by Sarah, Stephen, and Grace—giving the book three perspectives and three personalities. Including humor, personal stories, cartoons, and practical ideas, this book challenges families to work through pride, offenses, and irritations in their relationships and learn to become best friends.
Read the first chapter here.
Endorsements:
"As a Biblical Christian counselor for over thirty years, I have counseled hundreds of young people…This book is a tool every family needs. It will help you achieve your goals of family harmony." –Dr. Jim Logan, Intl. Center for Biblical Counseling

"Worth its weight in gold!" –Old Schoolhouse Magazine

"This is a major piece of work. It addresses many biblical and Christlike qualities of life and illustrates them well." –Dr. Daniel Smith, Chancellor of Emmaus Bible College
"This painfully honest, hilarious book offers a creative look at how to build relationships between siblings. We read a few pages every day, and I am always delightfully surprised by how well the children apply what we have read." –Mom of Eight