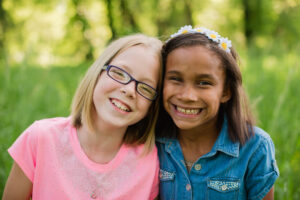 Bright Lights began in May of 1996. As a 17 year old, Sarah Mally was concerned about the lives of many younger girls she knew. She wanted to pass on to them some of the things the Lord had been teaching her, and share with them practical ways He had helped her to grow spiritually in her teenage years. After sharing her vision with her parents, she decided to begin a small Bible study group in their living room and call it Bright Lights. "Bright" stands for Being Radiant In Godliness, Holiness, and Testimony. Many girls expressed excitement about being part of this group, and their moms were even more enthusiastic!
They began meeting regularly on Monday evenings. After a time of singing, Sarah taught a lesson from the Bible (covering topics such as truthfulness, humility, getting into God's Word daily, honoring your parents, etc.). She included testimonies from her own life and practical application. After this, they would read part of a Christian biography together or do an activity, and end with snacks and fellowship. This wasn't a group of just fun and games—it was a group for girls who were serious about spiritual things and desiring to be challenged in their walk with Christ! Sarah started with a strong core which created a solid spiritual atmosphere and upward peer pressure. She wasn't sure how many to expect but word spread quickly and soon about 30 girls were coming.
Sarah invited girls between the ages of 10 and 13 because she believed these years to be so important. It's a fork in the road: a season of life when young people make many key life decisions. Sarah prayed that she could give these girls helpful preparation so that they could make it through their teenage years strong for the Lord, without rebellion or failure. Her desire was that Bright Lights would be a group with positive peer pressure—where girls would be lifted up by godly fellowship, rather than pulled down by negative influences.
Parents would often make comments such as, "Bright Lights was just what our daughter needed at this point in her life," or, "I tell her these things at home, but hearing it from someone she looks up to, who is closer to her age, really reinforces it." One father said, "When our daughter gets home from Bright Lights, she calls the whole family together and teaches all of us what she learned."
As Sarah's group continued to grow, she began receiving questions from others who wanted to lead groups for girls in their own communities. They had a vision similar to hers and were looking for ideas and resources. They asked if Sarah would share with them how she started her group.
In May of 1999, three girls and one mom attended the first "Bright Lights Leaders Training." Since then, she has continued to teach Leaders Training conferences, and the conference is also available as a course for girls or moms to complete at home. About 750 Bright Lights groups have now started in 47 states and 18 countries.
As the girls in Sarah's group grew older, many of them continued to be involved in the meetings. Sarah was grateful for their godly example to the younger girls, and she also desired to give them an opportunity to mentor and teach. She knew how much she had learned from teaching others, and she wanted these girls to have that same experience. The teacher always learns the most, and being involved in ministry is one of the best ways to grow in the Lord yourself! Of course, there were opportunities for ministry and leadership within her own group, but she began praying that the Lord would provide additional opportunities as well. That's when she had the idea of running a girls' conference and incorporating these older girls in teaching small groups. The first "Strong in the Lord" conference took place in the spring of 2001 in Cedar Rapids, Iowa. Through skits, testimonies, stories, and small group teaching, they covered topics such as "Being Strong for the Lord in Your Youth," "Developing a Love for God's Word," "Giving Your Heart to Your Parents," and "Making Brothers and Sisters Best Friends." This was the first of many more Bright Lights conferences. Over the past 17 years, the Lord has opened doors for over 100 conferences, both in the US and other parts of the world.
Bright Lights has continued to see God's hand of direction and blessing. The original Bright Lights group is still running with about 60 girls who attend. Many of the initial girls in Sarah's group have continued to be very involved in teaching the younger ones and passing on to others what the Lord has taught them, as well as serving as "staff" for Bright Lights. The Bright Lights office is located in Marion, Iowa where Sarah and others continue to develop new resources for young ladies.