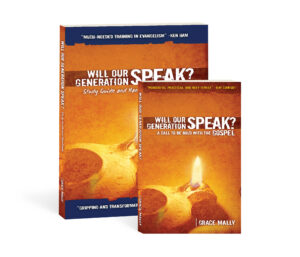 Witnessing is not easy for any of us, especially if we are doing it alone. Jesus sent the disciples out two by two. If you can find a witnessing partner, this will help you stay motivated and consistent. Both of you will be sharpened and encouraged.
Even better, consider forming a witnessing team in your area. The Will Our Generation Speak Study Guide and Handbook for Witnessing is specifically designed to help witnessing teams form— as you study Scripture together and then put it into practice.
Although this study corresponds to the chapters in Will Our Generation Speak?, it was not designed to merely produce discussion about the book, but also to provide a "trail to discovery" of what Scripture teaches about evangelism.
Individuals will benefit from using this study guide also, but its primary purpose is for groups. Often we hear from young people who are excited about witnessing, but they feel alone. Their friends from church do not share their enthusiasm. They easily become discouraged. For us, we found that it helped so much when the Lord provided a team to come witnessing with us. The accountability helped, the prayer helped, the encouragement helped, and doing it together made it easier. In addition, when we have a witnessing outreach on the calendar, it's harder to back out! Our prayer is that individuals who have a heart for evangelism will lead this study with a group and form a witnessing team.
People of all ages will benefit from this study. It is recommended for high school and college groups. It is also suggested as a personal Bible study, family study, or for a homeschool Bible course in evangelism.
This study will help you:
Examine New Testament passages on evangelism
Build your reservoir of gospel sketches, analogies, and illustrations
Grasp the power of the cross more deeply to communicate it with greater zeal
Glean tips on starting witnessing conversations and transitioning to the gospel
Learn biblical answers to common questions unbelievers ask
Endorsements:
"Expanding on her extremely effective book, Will Our Generation Speak?, Grace Mally manages to not only give deeper insights into the principles of biblical evangelism, but through this new exhaustive study guide and handbook, she continues to present powerful, gripping, and transformative truths. This excellent resource is calculated to greatly inspire and equip all who study its pages."
– Ray Comfort, Founder, Living Waters, Producer of The Way of the Master Television Series
"Will Our Generation Speak? provides much-needed training in evangelism that upholds the authority of the Bible. It teaches Christians to boldly proclaim the gospel and defend biblical truth. I heartily endorse it."
– Ken Ham, President, Answers in Genesis and Creation Museum
"This study is excellent! I believe this course will equip both new and mature believers with essential tools for evangelism. I pray that it will help our generation speak with greater boldness."
– Steve Ham, Senior Director of International Ministries, Answers in Genesis
This study guide is a wonderful supplement to the book. Grace Mally provides many practical tips and illustrations that are helpful in guiding our conversations about faith."
– Dr. Jason Lisle, Director of Research, Institute for Creation Research