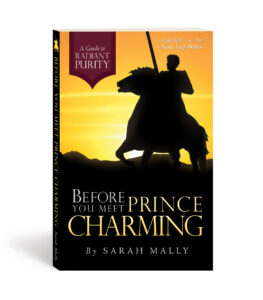 This guide to radiant purity combines the thoughts and events in the life of a young princess with solid, clear teaching of Biblical convictions that young ladies today need to grasp. Through a captivating fairy tale, modern day examples, practical instruction and abundant humor, Sarah Mally challenges young ladies to turn to the Lord for fulfillment, to guard their hearts and minds, to identify and avoid the world's thinking and to shine brightly in this generation.
This book offers biblical answers to everyday questions and deep life struggles. It includes many practical tips for girls such as how to guard your heart when you have a crush, being wise in Internet usage, how to strengthen relationships with parents, and how to use your single years wisely.
Order the book here.
Read chapter one here.
Endorsements:
"Sarah Mally is a 'bright light' in our day—a winsome, counter-cultural young woman with a passion for Christ and for truth."
– Nancy Leigh DeMoss, Revive our Hearts
"Christians are called to be the light of the world. In an age of increasing moral pollution and defilement, the world desperately needs the enlightenment, exposure and radiant joy of Christian purity. And nowhere should this light shine more brightly than in the radiant purity of Christian young ladies. Sarah Mally has a special ministry that has blessed thousands of girls throughout the United States and a special God-given gift of inspiring them to a closer walk with their Lord. I wholeheartedly endorse her call to radiant purity."
– Roger Magnuson, Esq. Dean of Oakbrook College of Law, Founder and Preaching Elder of Straitgate Church
"As soon as I started reading Sarah's book I knew it was a message that girls today desperately need to understand. Through an enchanting fairytale it encourages them to take a courageous stand for purity, to guard their hearts and minds, and to shine brightly in their generation."
– Sheri Prescott, Author and Speaker, Miss Iowa (1997)
"In Before you Meet Prince Charming, Miss Sarah Mally tells a sweet and delightfully humorous story of a young princess and her longing to meet and marry her own true prince. Woven throughout are godly principles to help guide and protect any woman in her quest to know, wait for, and follow God's plan for a modern courtship and marriage. Creative accomplished and very helpful."
– Gregg Harris, Author of The Christian Home School, father behind www.therebelution.com
"Sarah Mally is like a loving 'big sis' to a generation of girls whose perceptions of love and romance have been seriously distorted by a culture intent on breaking their hearts. Before You Meet Prince Charming answers the big questions in a friendly, honest, and light-hearted fashion. We are adding it to our 'courtship' reading list with pleasure."
– Dr. Jeff Myers, Author and Speaker, Founder of Myers Institute