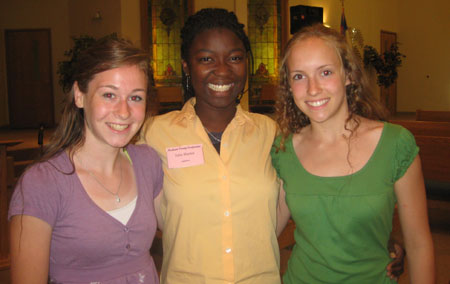 A sweet and enthusiastic group of moms, dads, and daughters gathered here in Bemidji, MN for a Radiant Purity Conference Tuesday evening and all day Wednesday.
Pictured above are: Merideth Hicks, Julie Hunter and Annika Sahlstrom. Merideth and Annika lead a Bright Lights group together in Tracy, Minnesota.


Here is my discussion group. We had some very good talks about parental relationships, dealing with crushes and thought life, and many other topics. One girl told us how she planned to go home and really work on improving her relationship with her dad. It's so exciting to see people make decisions like that!


Ben and Mindy Caron, who hosted the conference, agreed to share their courtship story with everyone. It was such a sweet story and Ben's jokes kept all the girls roaring with laughter. 🙂 We just wish we could bring them with us to every conference….


Many of our normal "Bright Lights staff" girls weren't able to come, making it difficult for us to arrange the special number we normally sing. But the Lord knows our needs and provided a great alternative! Mindy (who hosted the conference) and her sister Melanie, who are professional vocalists and have made many Bluegrass CDs, sang a special number for everyone. It was perfect–the words of their song fit so well with the message of the conference. Very touching!

Please keep us in prayer as we have another conference (a Strong in the Lord conference) beginning this evening.