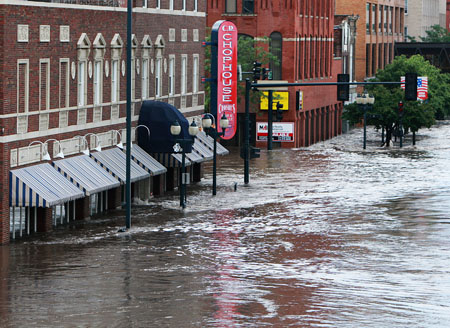 This has been an amazing time for our city! Throughout the whole city there has been a sense of unity and "let's get through this together!". It's been great to watch the way our city has responded to this disaster. The churches especially have been pulling together and truly gaining a good name.
In recent years about 40 churches in Cedar Rapids formed a coalition called "Serve the City" with the vision of proclaiming the gopsel of Jesus Christ to our city. The "Serve the City" office has become the headquarters for volunteer work (and, wow, there has been a lot of volunteers!) and their five phone lines have been staying extremely busy. It sure seems like God raised up this coalition up for such a time as this. Through "Serve the City", hundreds of volunteers have been sandbagging, helping at shelters, distributing water, cleaning out ruined houses, assisting the city authorities in various projects, delivering cookies and snacks to workers…and the list goes on.
When Sarah and I went to take the Red Cross Training Class, the lady in charge was so overwhelmed because all day she had been turning volunteers away and scheduling more and more classes.
Thursday night a TV station asked for volunteers to help sandbag a suction water plant. This was the last of four suction plants in Cedar Rapids. These plants supply water to Cedar Rapids and surrounding communities. If this last plant flooded, Cedar Rapids would be out of water. (Yes, I know that sounds funny since we currently had 400 blocks of our city underwater.) At the time of the report, there were only six city workers present and they needed to fill and stack 6,000 sandbags to save our city's water. 1,200 volunteers arrived almost immediately and the project was completed so fast the media barely got there in time to report the victory. I heard on the radio that 2,000-3,000 extra volunteers were sent away! Many of them were sent to Mercy Hospital where help was still needed….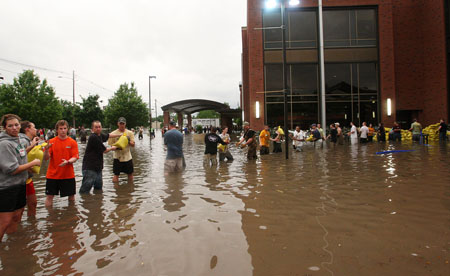 This is only one of the three long lines of sand baggers. They heroically did all they could to save the hospital–even in that dangerous, extremely polluted water that we aren't supposed to get close to! Although they prevented the damage from being worse than it was, the water just kept coming and the whole hospital had to be evacuated.
Last Thursday-Saturday our city was running at only 25% water capacity. Major corporations shut down voluntarily and all citizens were instructed to only use water for drinking. For obedient citizens this means paper plates, hand sanitizer, dirty laundry, no showers, greasy hair, minimal toilet flushing, etc.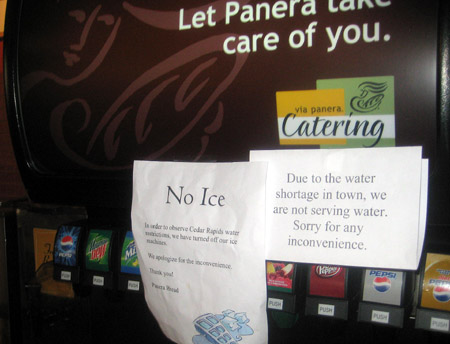 But that's ok, it provides a good excuse to buy pop/coffee at Panera… 🙂
Now the city is running at a 50% water capacity and citizens can use water every other day.

On a personal note, our family is doing very well and thankfully we have experienced no damage due to the flooding. Right now we are approaching another, well, we call it "crunch time" 🙂 …we are gearing up a "Strong in the Lord" and "Radiant Purity" conference in Bemidji, MN. We leave this Sunday.
As you can imagine, Stephen has been keeping very busy out there with his camera! And he tans super easy so he looks kind of like a Mexican now. 🙂
I'll keep you posted as much as I can. Thank you for your prayers. Please pray that Christians would continue to be a light in this city, and that the Lord would bring many to Himself through this tragedy.