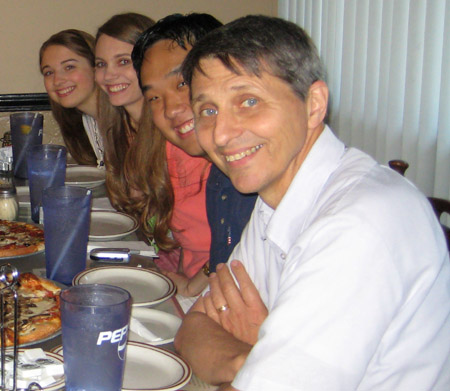 Psalm 44:1 says "O God, we have heard with our ears, our fathers have told us, what deeds you performed in their days…"
Dad, over the years you've made it a priority to teach us what God has taught you. I'm thankful to God for a father who has told me what God has done "in his days" so that my faith would be strengthened.
This afternoon my eyes were drawn to a verse in Proverbs. It was underlined in my Bible and I had written "DAD" in caps next to it. The verse says, "There is gold and abundance of costly stones, but the lips of knowledge are a precious jewel."
Dad, your "lips of knowledge" have been a invaluable treasure to me and many others.
I love the way you bring up intriguing spiritual questions at lunch time or in the van.
It's hard to express the gratitude I feel! You've always taken the time to answer all my questions–from Bible questions to life decision questions to clothing questions–I don't know what I would do without all your wise counsel! Thank you for raising us kids in a gentle way and for always explaining "why."
Dad, you are so much fun to be with…always up for an adventure! I remember how you reluctantly agreed to go jogging with me around the Creation Museum's parking lot in freezing weather at 10pm even though you didn't feel like it, just because I didn't want to go alone–or the time you took Stephen and me for a hike in the woods one night during a snow blizzard–or how you often try to find just the perfect little cafe to eat at when we are traveling. You often go out your way just trying to make nice memories for others.
And, of course, I always love going out with you for breakfast, Bible studies, and planning. You are such a great dad. Thanks for everything.
Thank you for teaching us to live for what really matters in life–knowing and serving God.