It's hard to describe the extent of the destruction that has taken place in our city in the past 12 hours! All of downtown is now underwater and only the tops of houses and buildings are visible. Rescue workers have used boats to pull people from the second floors of their homes. Hundreds have been rescued, and 3,200 homes have already evacuated. People are staying in shelters and churches all over town. The water has been invading rapidly and the level just keeps rising over the ever-changing predictions. On top of everything else, we've had more rain, thunderstorms, and flashfloods today (making things difficult for the rescue workers)—and there is more severe weather on the way! In fact, Sarah just told me we are now under a tornado and hail watch.
Since I was unable to go downtown, I don't have good pictures of the flooding, but click here if you'd like to see some.
The police station has moved to the ice arena and the fire department is underwater as well. The fire chief was recently interviewed and was quite upset about all the records that were lost. No one had any idea the waters would raise this high. One man went swimming in to find the records but was not able to reach them because it was so dark.
Throughout the morning, Sarah, my mom and I were inside watching the news, amazed by what we were seeing. Reporters floating in boats passing buildings that we normally drive by all the time, the railroad bridge collapsed, the famous Czech museum underwater with only the roof sticking up, and the list goes on.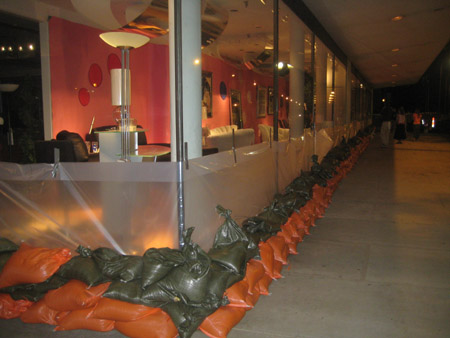 I took this picture of this furniture store downtown last night. Reports say that the furniture inside is now floating in the water.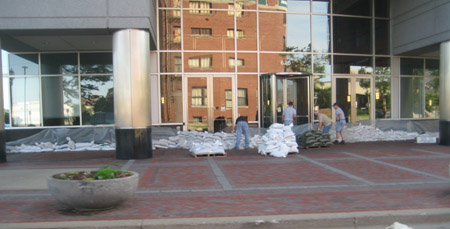 .
Volunteers and city workers layered sandbags around all the buildings, but no one expected it to flood as much as it did.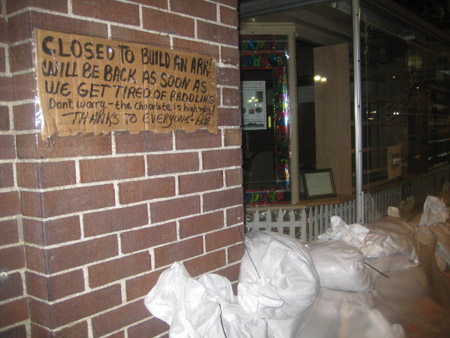 A chocolate shop downtown (I took this picture last night. I'm sure it's underwater now.) The sign says "Closed to build an ark! Will be back as soon as we get tired of paddling. Don't worry, the chocolate is high and dry. Thanks to everyone!"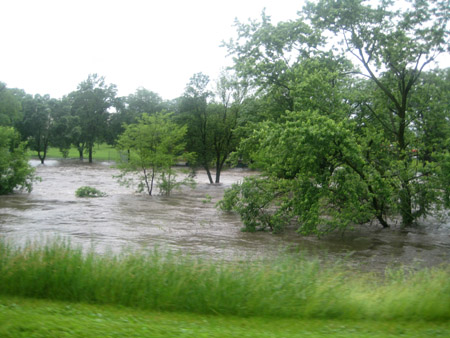 Although this is nothing compared to downtown, the little creek by our house is now an ever-growing river. This is normally a grassy field with a baseball diamond.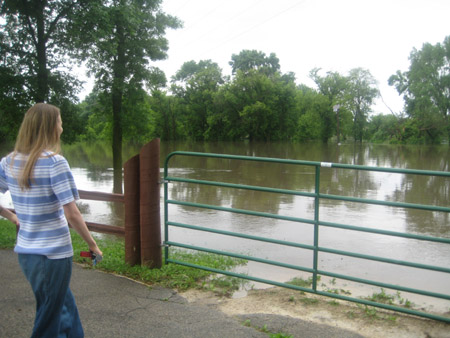 This is where our bike trail starts. Normally, the creek is barely visible from here. We live just up the hill from here, but we aren't worried that the water will raise that high.