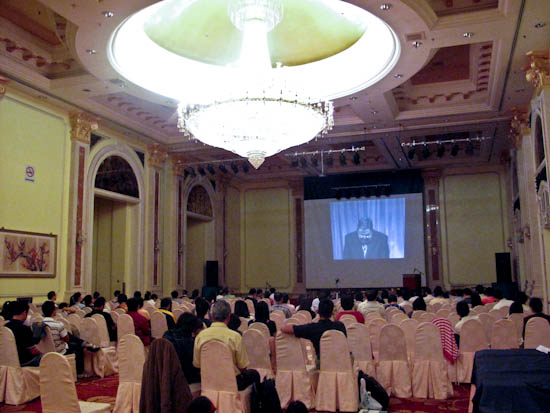 At the last conference in Melaka, the Bright Lights was not an independent event, but the girls' track in a home school conference.
The picture above is the parents' sessions. Homeschooling is more difficult for families here in many ways. It was refreshing to talk with families from China, Indonesia, Malaysia, and Singapore who are desiring to be different from the world and raise their families for the kingdom of God. It's refreshing to have that "instant fellowship" with like-minded families on the other side of the world. God is raising up a remnant of young people for His glory all over the world [smile]!
This is a short video of "our girls" singing for their parents on the last day of the conference. Since our theme with the girls this year was "Sing a New Song," we taught them a new song called, "My Life is Like A Flower." It speaks of how our lives go by so quickly and we want each day to be a "song sung to Jesus."
Report from today: Today we have been setting up at the church where we will be running the Bright Lights conferences here in KL, Malaysia. My parents just arrived this morning and had a great flight. We will be running 2 one-day conferences tomorrow and the next day. My dad will be helping to run a young men's conference simultaneously. Please pray that the next 48 hours would be fruitful for the Lord.
"O sing unto the Lord a new song: sing unto the Lord, all the earth. Sing unto the Lord, bless his name; shew forth his salvation from day to day. Declare his glory among the heathen, his wonders among all people. For the Lord is great, and greatly to be praised: he is to be feared above all gods. For all the gods of the nations are idols: but the Lord made the heavens. Honour and majesty are before him: strength and beauty are in his sanctuary." Psalm 96:1-6