Last Wednesday evening, Sarah, my mom and I were on our way to church. We stopped by a grocery store to pick up some hot cocoa mix.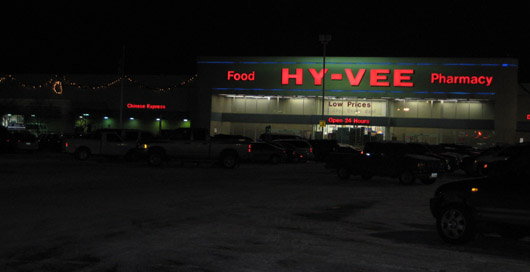 It was about 10 degrees, but with the wind it felt like it was below zero. As we were leaving the store, I noticed a lady sitting by the door, huddled over in her coat, looking very cold. I handed her a little coin with the 10 Commandments and told her it was a gift for her to look at while she was sitting there.
As she looked up, I noticed she was wearing a Salvation Army apron and had a bell in her hand. Apparently she had come inside for a few minutes to warm up.
She loved the 10 Commandments coin.
"It's such a cold night to be ringing the bell outside!" I mentioned. "You must be freezing!"
"Well, I'm a flood victim, you see," she explained, "and some of the flood victims are very bitter and depressed, but the Lord told me to stand by His side, and He's taken care of me all the way." She said, "Salvation Army has given me their 100% to help me through this tragedy, and I want to give them my 100% back, so that's why I'm out there ringing the bell."
I asked her when she became a Christian, and found out that she has been a believer for eight years. We talked for several minutes about the Lord; it was refreshing to both of us. Eventually, when I had to pull myself away, she stood up, gave me a big hug, and told me, "I was so cold out there, I was praying to Jesus that He would help me–that He would send someone along to encourage me. And then you came! You are my little miracle!" she exclaimed.
I left, rejoicing, and went to the nearby Starbucks to bring back a hot chocolate to my new friend. The cashier girl at Starbucks had a huge tattoo on her neck and her hair was in matted dreadlocks, but she had a very nice smile and pleasant personality. After ordering, I told her how the hot chocolate was for the Salvation Army bell ringer next door and explained the story.
Her reaction was different than what I expected.
"Wow!" she exclaimed, "That is such a good deed!"
"Well, it's just something small," I replied.
"No," she emphasized, "I don't know anyone else who would go through the effort!"
Because it was such a small thing to do, I was surprised by her surprise. It showed me how much it stands out to people even when we do something small for others.
I couldn't think on the spot of how to turn the conversation to the Lord (plus there was another person behind me in line) so I figured I'd go back and talk with her later.
As I walked to the other end of the counter to pick up the hot chocolate I heard her say to the next lady, "You are not nearly as bubbly as the last girl who was here."
Amused by her comment, I discreetly glanced over and noticed that–it's true–the lady behind me didn't look very happy. I wasn't trying to be especially bubbly, it's just that as Christians we have a purpose for being friendly with everyone we meet. It could lead to a conversation, a friendship, or even leading someone to the Lord. Those who serve the Lord have a motivation in life that others don't have, and a purpose that others are looking for, so they have an ability to touch people in a special way. And the Christmas season opens lots of opportunities.
When I went back to Hy Vee I couldn't find my new friend, the Salvation Army bell ringer. So I remembered that the girl who checked me out was really cold because she was located close to the doors. I gave the hot chocolate to her and told her I hoped she warmed up.
So now I have 3 new friends who I need to go "follow up on". I had just been praying for the Lord to provide opportunities for me to speak encouraging words and witness. Isn't it neat how He opens doors?