"…I have esteemed the words of His mouth more than my necessary food…" (Job 23:12)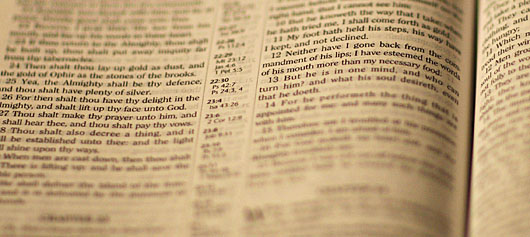 I'd like to challenge you to join my family in reading the Bible through chronologically in 2009.

Why read the Bible through in a year?
Although it's great to slowly digest a chapter or do word studies, there is a special perspective and understanding you recieve when you read through the Bible at a faster pace. It causes you to step back and see the whole picture at once.
As believers, we are to follow the "whole counsel of God" (Acts 20:27) and many haven't even read through the Bible in it's entirety. It is certainly difficult to follow that with which we are unfamiliar.

What happens if you get behind?
Sometimes we're hesitant to set goals because it heightens our possiblity of failure.
I remember feelings of despair from getting behind on my Bible reading plan in the past and realizing something like, "I'd have to read 34 chapters today to catch up! Maybe I should just quit…"
So here's my plan this year: If I miss a day, I'm going to start fresh the next day at where I am supposed to be reading. Then I'll record what I missed in a little journal and go back and read it whenever I can.
Here's what to read for the first week of reading through the Bible chronologically:
Jan 1: Genesis 1-3
Jan 2: Genesis 4-7
Jan 3: Genesis 8-11
Jan 4: Job 1-5
Jan 5: Job 6-9
Jan 6: Job 10-13
Jan 7: Job 14-16
To see the whole schedule, click here.
Our church is doing this together and we're looking forward to the fellowship it will stimulate. If you decide to take up the challenge, I'd recommend that you find others to do it with you!
The other day, my dad told me about how in 1982 he got 50-60 people to join him in something he called, "The Bible through in '82". Even an unsaved neighbor joined and kept up.
God bless you all and Happy New Year!