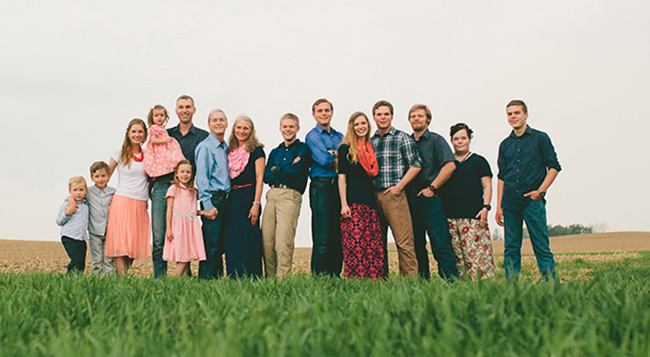 Nickie's family is walking down a very rough road right now, as many of you already know. They are handling it beautifully with love and grace, but they need prayer. Her dad is now at home receiving hospice treatments. They are dealing with episodes of extreme pain. They testify to both their weariness and God's faithfulness.
Sarah and I visited Mr. and Mrs. Biegler and Nickie in the hospital a few days ago. We shared how concerned we had been. Mr. Biegler (Todd) said, "What's the concern?" He shared his confidence in Philippians 1:6, "Being confident of this very thing, that He which hath begun a good work in you will perform it until the day of Jesus Christ."
I think you will be blessed to read some sections from reports that Mrs. Biegler has sent out.
Report from Nickie's Mom, Earlier This Month:
… I wish I could say he was doing well, but he is suffering. I have to say, he is faithfully stoic as he's dealing with this. He knows God has a purpose and a plan in everything. He is finding all kinds of reasons to thank God, during and through this. Todd has mentioned several times that his suffering is nothing compared to that of Jesus. God is always with us, showing His love in various ways, depending on the need of the moment. I guess I'm trying to say, things are really hard, but God is really good.

Knowing that God is sovereign and always has the best for His children is easy for me to understand, but is not always easy to live through. I know that this pain and disease will end in healing – either through life or death. I want Todd's body healed here (and now!), but knowing how great it would be to see Jesus, I struggle with the selfishness of that prayer. Todd has an alarm that goes off several times a day, singing the song, "Turn Your Eyes Upon Jesus" which goes on to say, "Look full in His wonderful face, and the things of earth will grow strangely dim, in the light of His glory and grace!" I am fully incapable of having God's perspective on this, but I do fully trust Him to be at least a bazillion times wiser than I. I have to decide, several times a day, to trust Him with Todd's current situation, that He knows what's going on and has His hand in it.

If you are called to pray for Todd, please pray for His faith to remain strong, for endurance, patience, and wisdom. Please pray for healing, for pain relief, for rest.
Report From Nickie's Mom, This Past Sunday:
… Todd is steadfast, and stoically facing each day. He is not afraid of living and he is not afraid of dying. Our house is usually peaceful and quiet, with soft instrumental music often playing. Sometimes he watches videos for distraction. He knows His God and trusts him implicitly. When he can, we have good conversations about God, life, death, family, the future, the news, big things, little things, whatever. There is a joy and richness that I marvel at. We revel in His blessings.
Last night I was hit by one of those sudden fears the Bible tells us not to be afraid of. Bottom line was I know there is no one who will love me like Todd loves me – and there isn't, by God's design of marriage. The potential emptiness was so bleak and dark. The fear was making no sense and was quickly becoming overwhelming. All I could think of was the children's song based on Psalm 56:3-4 "When I am afraid I will ______ in Thee, I will ______ in Thee, I will ______ in Thee … in God who's Word I praise." I could not think of that word that I would do! It was terrible, because I didn't know what to do when I was afraid… so I praised God's word. Suddenly I remembered, "Perfect Love casts out fear!" It hit me that that is God's Word, He has perfect love, and He will never leave me or forsake me. (Even Todd's love is not perfect. 🙂 It is going to be okay. I fell right asleep. I knew all those things, but I guess I just needed to live it a little. This morning, I remembered the word – "trust." 🙂
If God calls Todd to mind, please pray for him. I just want for relief for him, and selfishly, I hope for God's healing here on earth. Jesus says we don't have, because we don't ask, and that is what I'm asking for. However, I know that God knows best. Jesus asked to have His cup pass from Him, but more than that, He wanted God's will to be done. That is what both Todd and I pray for, and that we would walk this walk the way God would have us walk it.
Thanks,
Deb
Report from Nickie's sister, Laura, this morning:
Thank you for praying so faithfully for my dad, mom and the rest of our family! God's grace has been so evident in our days and though it has been a long, difficult week there is hope and there is joy. My dad is home from the hospital receiving care from in-home hospice and his favorite caretaker, my mom. He is still often in pain and has had some "episodes" of severe pain. (For those who know the hospital smiley/frowny face chart, the last one he rated as a 10.) Please continue to pray for relief from pain and for healing. We know that God will heal him in His perfect time … Thank you again for your prayers and support! There have been many tears, but there have also been many smiles, times of laughter and blessings. Indeed God's grace is sufficient.

Resting in Him,
Laura