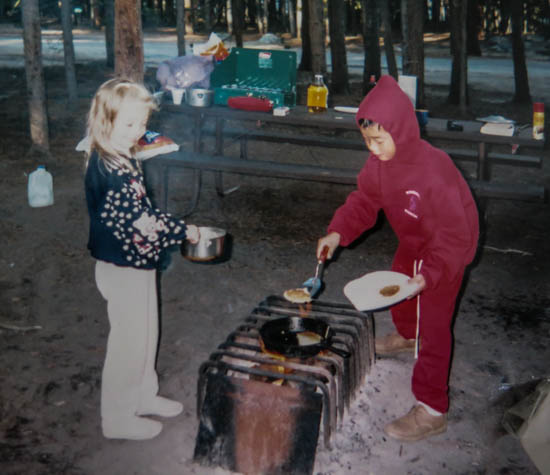 Cooking corn-tuna pancakes with Stephen while camping in Rocky Mountain National Park (I think we were running out of ingredients [smile])
Well, my big brother-playmate-counselor is turning thirty today. And he's not even here; he's in D.C. for work (photojournalism for The Gazette). So I thought I'd post a few comments about Stephen.
It doesn't seem that long ago that we were playing Legos for hours on end in the basement. So much drama happened in those ongoing sagas as our Lego heroes protected their fortresses from the bad guys. It was so funny too (believe it or not)!
Stephen and I are kind of polar opposites in many ways (if you haven't noticed). Whenever I know something that Stephen doesn't know, I savor the rare moment and ask him, "Is this how you feel all the time?"
Stephen is certainly one of the smartest people I know, but beyond that, God has given him wisdom that sees through current issues with black and white clarity. I'm excited to see how God will continue to use him in our generation. I appreciate how whenever Stephen shares or teaches at our church, he shares something insightful, unique, and interesting—and communicates with authority.
He keeps our family ministry going in every practical way—coming over here to our office as his "second job" after he finishes his work at The Gazette. Sometimes we barely see each other as we're both absorbed in our work; other times we're up late laughing.
Happy Birthday Stephen—I am forever proud to be your little sister! =)