Tuesday afternoon our family went to see Courageous. It was fantastic.
As I was buying my ticket, I gave the girl at the booth an "animal card" – one of my new favorite tracts. They have amazing facts about animals with reference to the Creator and a Bible verse on the back. People really like them and they are so easy to give out.
Since no one else was in line at the moment and the movie hadn't started yet, I decided to go back and talk with her. Our conversation went something like this.
"Hey, since no one is behind me here in line can I has you an interesting question?" I asked.
"Sure," she said.
"What's your view on what happens when someone dies…like, do you have any spiritual beliefs about that?"
She wanted to talk about it right away and said, "Well my cousin died 7 years ago so it really made me think about it…" she explained. "He was only 25 and I couldn't understand why…"
"Ah, like you had a hard time wondering why God allowed it to happen?"
"Yeah," she said.
"So it was a tragic death?" I asked.
"Well, he had his wisdom teeth pulled and then developed an infection and that led to something else and he died…"
*internal gulp*
"I'm getting my wisdom teeth out on Friday," I told her.
Maybe that wasn't the best thing for me to hear at that moment. My little witnessing attempt became sort of…well…haha, I don't know…it wasn't exactly going as I expected! I tried to get to the gospel, mentioning how it's not God's fault there is evil in the world — it's ours. And if God got rid of all of the evil in the world that would include us because each one of us has evil (sin) inside us. That's why we need Jesus.
She agreed but I'm not sure if she understood. She needs to hear more.
Anyway, here I am three days later sitting with ice packs wrapped to my face, grateful that I like smoothies and yogurt!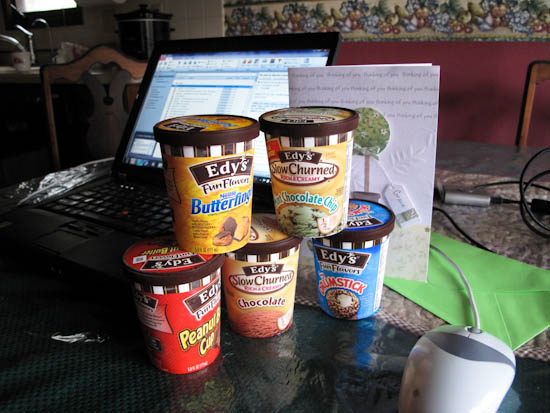 And I'm also grateful for my friend Karen from church who just brought over 5 little miniture ice cream containers!
I'm thinking I should go back to see Harmony, the girl from the Theater to follow up. And to tell her I'm still alive. 🙂 If you think of it, pray for Harmony.