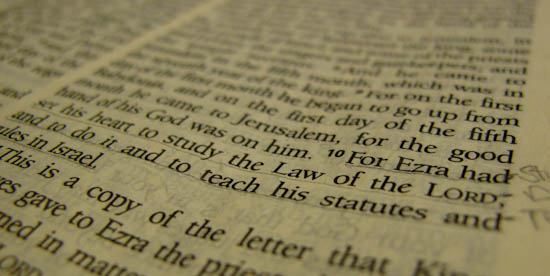 Sarah and Stephen are doing a special "project" this fall. Yesterday Sarah sent out an e-mail to the Bright Lights summer traveling team, inviting them to do the same.
Anyone interested in doing a "speed read" through the Bible with me? (I'm thinking of something like 15 chapters a day, starting tomorrow and finishing Dec. 31st.) It's something I've been interested in doing for a while, and now that conference season is over, it seems like a good time! …For me personally, I know that the fall/winter is a season where I can spend extra time in personal study and disciplines…I think my plan is to read 9 chapters in the morning (starting in Genesis), 2 chapters at lunch (Psalms and Proverbs), and 4 chapters before bed (starting in Matthew). But I'm sure each day will vary. 🙂
Love,
Sarah

Although it's great to slowly digest a chapter or do word studies, there is a special perspective and understanding you receive when you read through the Bible at a faster pace. It causes you to step back and see the whole picture at once. I'm not doing it this time, but I wanted to put the idea out there in case any of you would like to join! If you are doing it too we'd love to hear from you!