Wow. I have a lot to post about! For now I think I'll just give you all an overview of our last Bright Lights trip to Bemidji…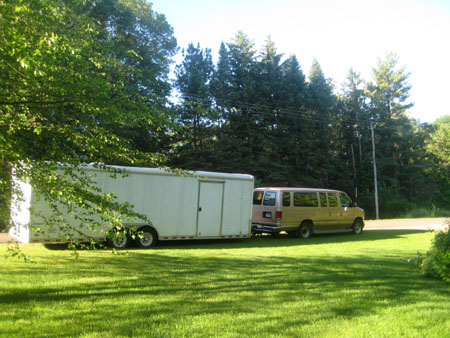 Each Bright Lights trip is different and each one has unique memories to go along with it. To split up the journey, the Bjorkmans graciously offered for our whole group to spend the night at their home in Elk River, MN. We walked into their beautiful northern home and were immediately treated to rhubarb cake and homemade ice cream. After that we were introduced to their 3 dogs, cats, hairless rat (seriously, it was kind of cute), and 2 salamanders. We had a fun and entertaining evening with them. [smile]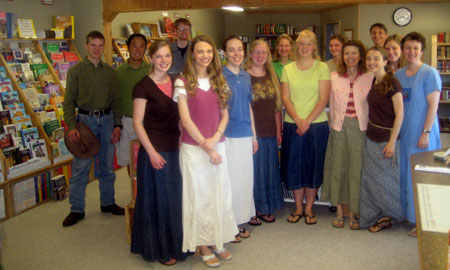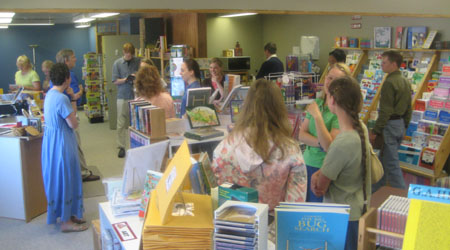 The next morning, they took us to see their home school resource bookstore Hepner's Legacy, a friendly little store full of great books and resources. Since we are planning to run something similar with the new building God has provided in our town, we were especially interested. We know the Bjorkmans because we often see them at the state home school conferences where they speak and sell lots of home school books and resources.

We arrived at the church in Bemidji and began setting up Monday afternoon….set up is always a long process.Thankfully, team work makes it go faster!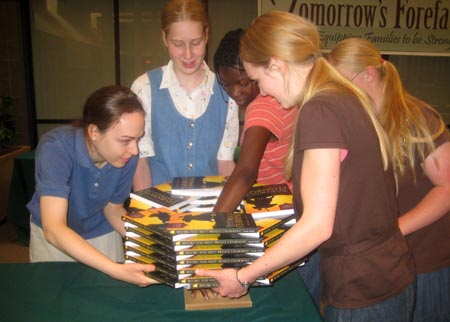 These girls were brave enough to carry the entire Before You Meet Prince Charming display from one table to another because of a change of plans. I'll have to say I was impressed.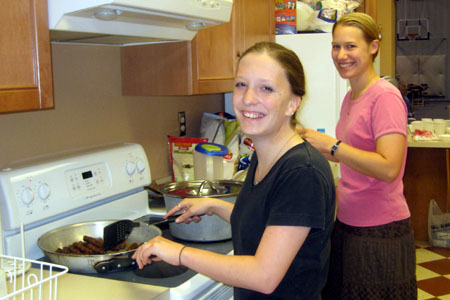 Thanks again, Amanda and Kelley, for the great job you did cooking for our staff the entire week!

The Radiant Purity Conference was held Tuesday night and all day Wednesday. We had a break on Thursday and then the Strong in the Lord conference was Friday night and all day Saturday. We really saw the Lord working at both conferences. It was encouraging!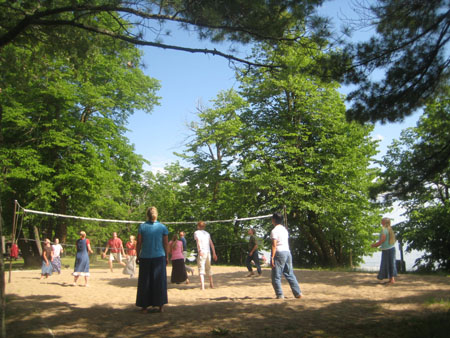 On Thursday, our free day, we went out to a a beautiful lake surrounded by pine trees and enjoyed lots of great food, volleyball, canoing, and sharing from the Word around the campfire with singing and s'mores. As I was out in the middle of the lake dangling my feet out of the canoe into the cool water I was thinking how good the Lord was to give us nice times of rest. [smile]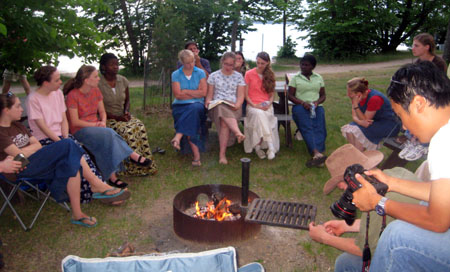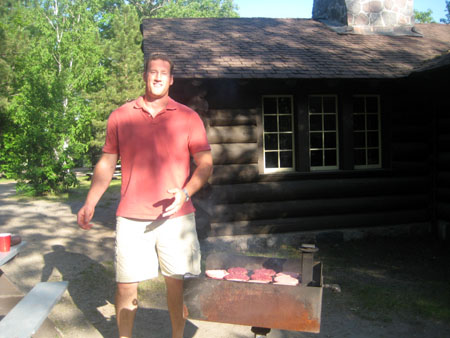 Not only did Ben grill for us on Thursday, he was in charge of all the food and snacks we served to the attendees for the entire conference! Ben is the husband of Mindy (Berge) Caron, who hosted the conference. We had fun getting to know Ben and Mindy! This is the first time the husband of the host has been in charge of the food for both entire conferences. He did a great job.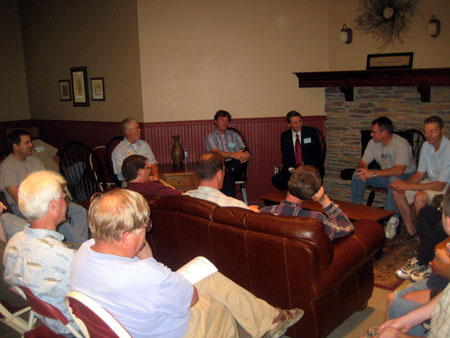 I heard many positive comments about the dad's discussion times. We love having the dads there…it adds such a nice dimension to the conferences! (It also improves the singing [smile])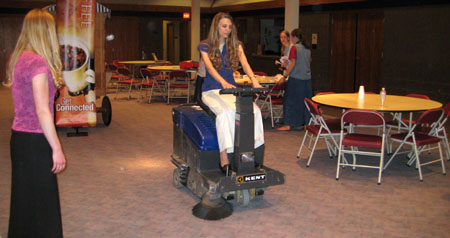 Clean up Saturday night…here's Sarah on the riding vacuum cleaner. 🙂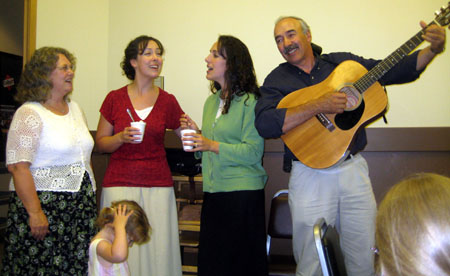 After both conferences were over on Saturday night, we had a pizza/ice cream party and many shared very encouraging reports from conversations they had. It was a memorable and fun time for everyone. We watched a slide show of pictures from the weekend and the Berge family sang for us. I had heard how good they were, but they exceeded my expectations. [smile]