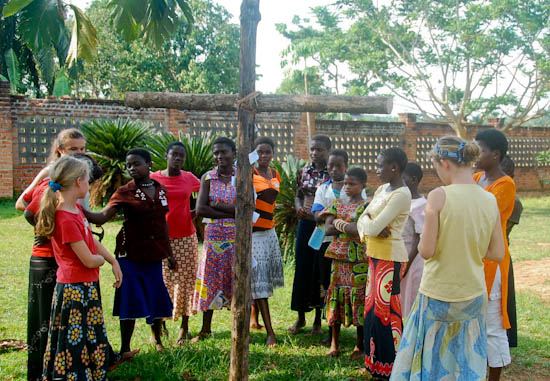 We have been continually blessed and encouraged as we hear reports from what God is doing in the Congo Bright Lights group. They've been doing a great job updating their blog.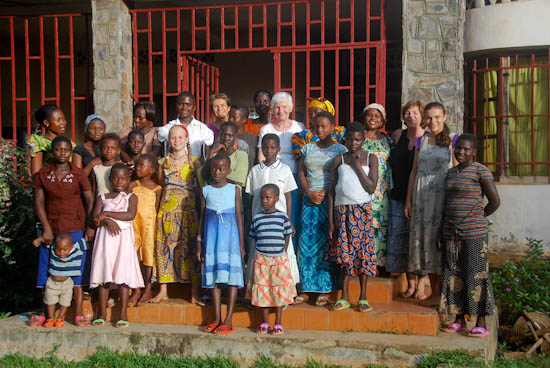 I love the passion and vision they have for God to do a mighty work among the young ladies there! Thankfully, we can be part of that work as well through prayer.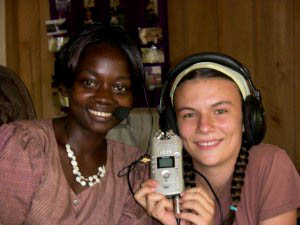 The leaders of the group — Anna (left) and Maaike (right) recording the Bright Lights Leaders Training in the native language. As Maaike writes…
…we decided to record the basics of a Leader's Training on CDs/cassettes (whichever is most practical in the end). The Leader's Training is a mix of our brainstorming and experience and some of Sarah Mally's resources . Our vision is to see young women of God rise up here in Isiro to lead groups to know Jesus. Our task is to equip, encourage, and enable them as much as we can. Since Anna's planning on leaving this year for school, and our term will be over in a year or so, we're painfully aware that each day is precious. Please pray that God would give not just us, but the girls a passion and burden to see change in this town, in this country, in this continent. When the girls have burning, holy hearts, only God can know what doors can and will be opened for them! Anna and I are still amazed – totally! – at how far Jesus has brought us. What will He do through them? We can't wait to find out!
Not only did they record it, but in the beginning of June they taught a live Leaders Training to the older girls. As Maaike writes…
There is an African proverb that keeps ringing in my head. It says,

"If you want to go fast, go alone.

If you want to go far, go together."

Lord willing, the Bana Basi ya Kopela group wants to go far. So we must go together, even if that means slowing down and taking time to learn to walk together. Ever since the beginning of Bana Basi ya Kopela, the burden on our hearts has been to have the girls here become leaders and take over. Anna is planning on going to university in September, and our family will eventually leave Congo, so it is crucial that other girls step up… Many months ago, I wrote in my journal, "If ever a girl comes to me asking if she can be a leader, I would cry, 'YES, a thousand times yes!!'" …As Amy Carmichael put it, this work is a "chance to die". Pray that they will have a wholehearted desire to lay down their lives to that extent, beginning in June when we will have a highly intensive training course of an average of four afternoons a week….
I believe this is a crucial time to pray for these "bright lights" in Congo as they recently finished the leader's training and how it comes to the actual "putting it into practice" stage. I'm sure Satan would love to stop the work Maaike and Anna have been doing. We need to be praying that the older girls they have taught continue to be strengthened to carry on the work when they leave.
Please also join us in praying for more international Bright Lights groups. So far, groups have started in India, New Zealand, Australia, New Guinea, China, Singapore, and Malaysia. A few moms in Scotland are also using the material, and a young lady in Peru has been using and translating the Bright Lights lessons as well. We are so grateful for these groups, but we know the need for discipleship is great all over the world. We need to pray for laborers.
Maybe many of the young ladies who are in Bright Lights groups here in the states will one day be on the mission field and can begin their own Bright Lights groups at that time! 🙂
"All nations whom thou hast made shall come and worship before thee, O Lord; and shall glorify thy name. For Thou art great, and doest wondrous things: thou art God alone." (Psalm 86:9-10)