I am currently in northern Minnesota at Story Book Lodge for a camp with about 40 other young people for 3 ½ days of Bible study. We are going through Paul's prison epistles expository style, doing about one chapter per session. It's been wonderful! The sessions are led by a father or one of the older young men here, with discussion following. Personal Bibles study is great, but there are special blessings that come when you are studying Scripture with a whole group of people who love the Lord. Yesterday we did Ephesians, and tonight we finished Philippians and started Colossians. Hopefully later I will post some of the things I've been learning.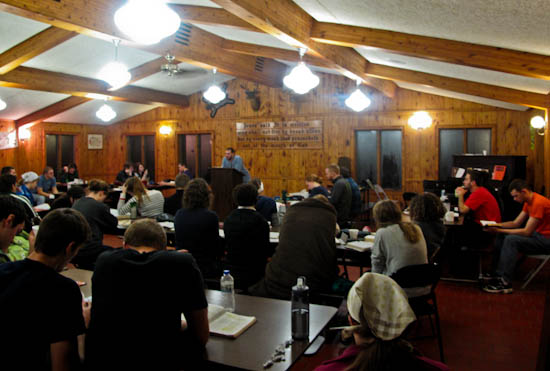 Here Dan (my cousin Priscilla's husband) is teaching through Colossians chapter one. He brought out a lot of great points I hadn't thought of before – it was a great session.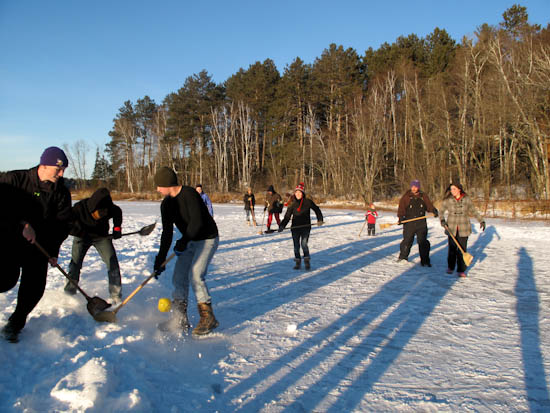 Playing broom ball on the lake this afternoon—so much fun.
I Shall Be Like Thy Son

And is it so I shall be like Thy Son? Is this the grace which He for me has won? Father of glory, thought beyond all thought—In glory to His own blest likeness brought!

Oh Jesus Lord who loved me like to Thee? Fruit of Thy work, with Thee, too, there to see
Thy glory, Lord, while endless ages roll, myself the prize and travail of Thy soul.

Yet it must be Thy love had not its rest were Thy redeemed not with Thee fully blest. That love that gives not as the world, but shares all it possesses with its loved coheirs.

Nor I alone, Thy loved ones all complete In glory round Thee there with joy shall meet –All like Thee, for Thy glory like Thee, Lord, Object supreme of all, by all adored.

J.N. Darby 1800-1882