When speaking on witnessing at the Radiant Purity conferences, I have been recommending to the girls that they spend more time in Romans—saturating their thoughts with the gospel so that it overflows into their lives and witness. I've been suggesting that they do the "Romans Challenge" which I did last winter: reading Romans 1-8 daily for thirty or fifty days. Last winter over 100 others did it with me, and it was wonderful to be able to share reports and study tips with each other. They would send tips and testimonies to me, and I'd combine them in a weekly e-mail.
I decided to host another "Romans Challenge" in September for those who are interested, and I have been announcing it at conferences.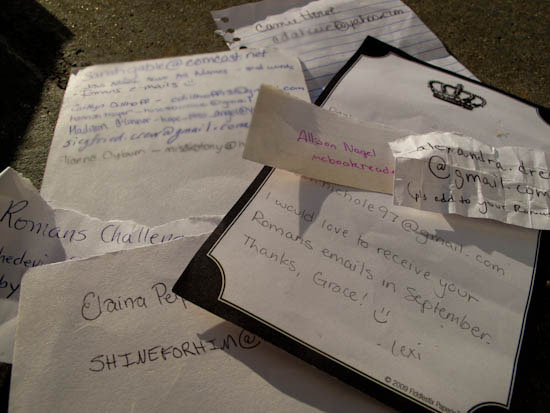 I've been encouraged by the enthusiasm of the girls who come up to me afterwards with their e-mail address, asking to be included in the September "Romans challenge." Last night I spent some time entering all the e-mails into my computer.
If any of you would be interested in more information about this challenge, see my post from last February and leave a comment if you'd like to be included! Also feel free to pass the word to any friends you know who may be interested.
Even if you don't do this Romans challenge, I recommend you do something similar with a book of the Bible sometime. Read it over and over for a period of time, and watch as the Lord gives you a deeper, broader understanding of it. And remember—you are not the only one out there desiring to seek the Lord diligently. It can be easy to begin feeling alone in your Christian walk at times, but remember—there many other young people that are also seeking, craving the Word—wanting to be stretched, to grow deeper, stronger. Traveling around the states doing conferences gives us the opportunity to see that the Lord is raising up a generation that is seeking Him!
Here are just a few of testimonies from those who did the Romans challenge last winter:
"You don't realize the wonderful logic of the book of Romans until you read it through like this. … I have really enjoyed it and am always tempted to read the rest of Romans. You realize that you learn so much this way and it has really motivated me to want to do it with all the books of the Bible!" ~Katrina

"It would be difficult to express what God is doing in me through y'all's testimony and especially through His Word. . . The truth of His glorious plan is sinking in, becoming my own. – Ben

"This has been such blessing… I don't want the 50 days to end. 🙂 I started compiling all of my notes into a fun notebook … I feel like I have a much better understanding of Romans and how it all fits together, because of this." –Becca

"Thank you so much for sending the tips and ideas. They help to keep it fresh and help me dig deeper. 🙂 I have been sharing what I am learning about with others quite a bit. Reading it so much keeps it constantly on my mind, so I can't help mentioning it!" Hannah