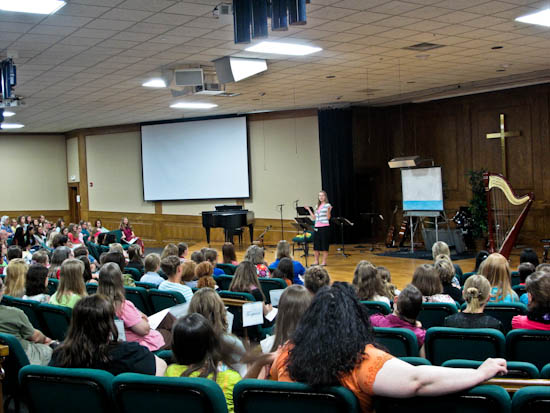 Laura Sisson (Nickie's older sister) sharing the special story of how she met her husband Jim. Laura used to be a central part of our Bright Lights team before she got married eight years ago.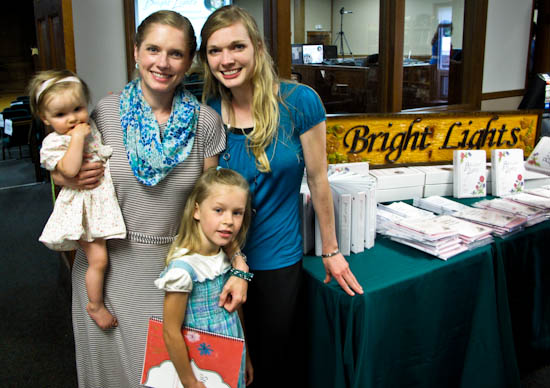 We were excited to have Laura join us again for the "Strong in the Lord Conference" — this time attending as a mother with her daughter! (Abigail is a little young, but we made an exception for her to come [smile]). Laura is just one of many Bright Lights conference leaders who are now happy mothers!
The "Storms of Life" newscast skit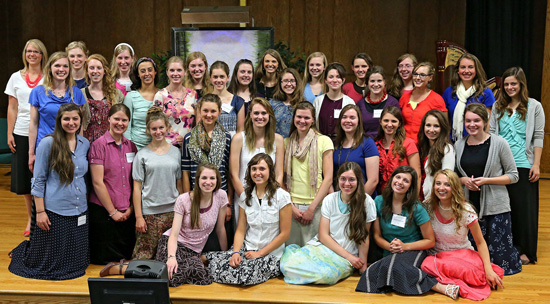 We had a wonderful team of small group leaders who came from Minnesota, Nebraska, Iowa, Illinois, Kansas, Wisconsin, Michigan, Texas, Maryland, and Georgia! Most of them are currently leading Bright Lights groups in their home towns.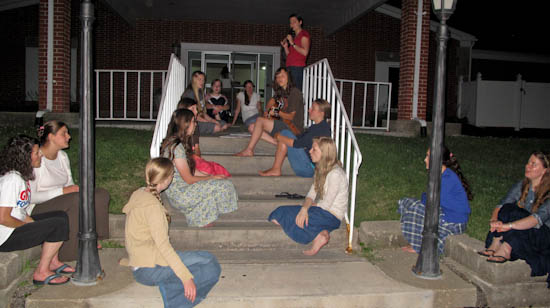 One evening after the attendees had left, all of us leaders went outside with a couple guitars and just sang and sang … definitely a highlight!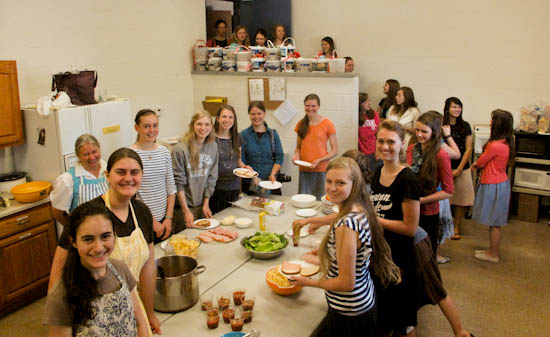 Mrs. Kramer (in teal) did the cooking for our team of forty for the week. She also did snacks for the conference attendees. It was a lot of work, and we are very grateful! We also appreciated Gabriella and Bethany Isaac (left) for all their hard work in the kitchen!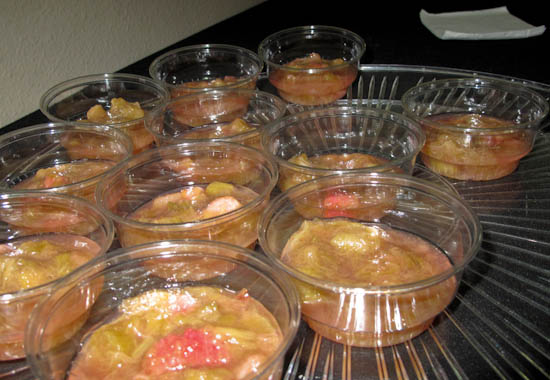 Mrs. Kramer even made homemade rhubarb sauce (like applesauce) for one of the snacks for the attendees. It was amazing.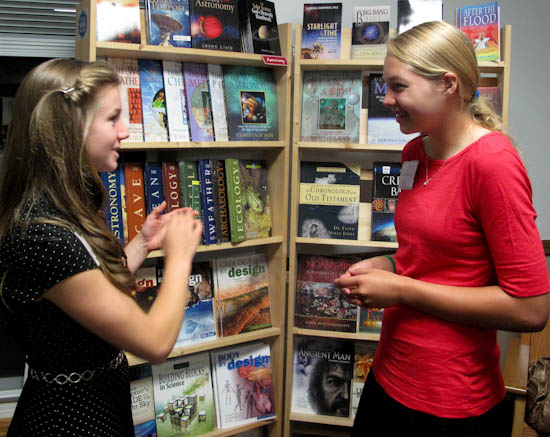 One highlight for the attendees is the fellowship. Sometimes it's lonely swimming upstream and not going the world's way! I think it's refreshing for them to see so many other girls who also want to love Jesus with all of their heart and walk in purity!
We received an encouraging report the other day from a mom who brought her daughter to the purity conference: "…coming to Cedar Rapids has altered the trajectory of my daughters' journey to be directly living for Jesus… We've had so many discussions that are God centered, initiated by the girls(!) and developing a genuine evangelistic heart for unsaved…"
Praise the Lord!
The main thrust of the Radiant Purity Conference is that we are to guard our hearts–not merely for our future husbands–but for Jesus Christ! We want to be occupied with HIM in our single years. We want to be useful for His glory during this precious time. The question is not "Where is the line?" or "What are the rules?" but rather, "How can I please the Lord even more in my thoughts and actions?!"
It's not about a perfect formula for a pain-free path. Rather, it's about growing in the grace and knowledge of Jesus Christ and learning to trust Him!
It was exciting to see girls grasp these truths and desire to follow a higher road.
One question that seemed to help the girls in my small group understand this point was the question, "Is purity something you don't do, or is purity something you do?"
One girl replied, "Well, I think it's both…"
Another girl answered, "Well, I think it's something you do, because when you are doing the right things then you won't want to do the wrong things."
The primary emphasis is do not don't. Purity isn't just about avoiding certain activities. It's much, much more. Purity is pursuing Jesus Christ! When a girl runs after Him with all her heart, satisfied in HIS love, everything else in her life will fall into it's proper place as HE becomes the Master of every area of her heart.
"As the Father has loved me, so have I loved you. Abide in my love" (John 15:9).