Last Thursday, we joined together with some neighbor friends to run a "Neighborhood Ice Cream Social" at the park a block from our house. About 100 neighbors came! We were so grateful.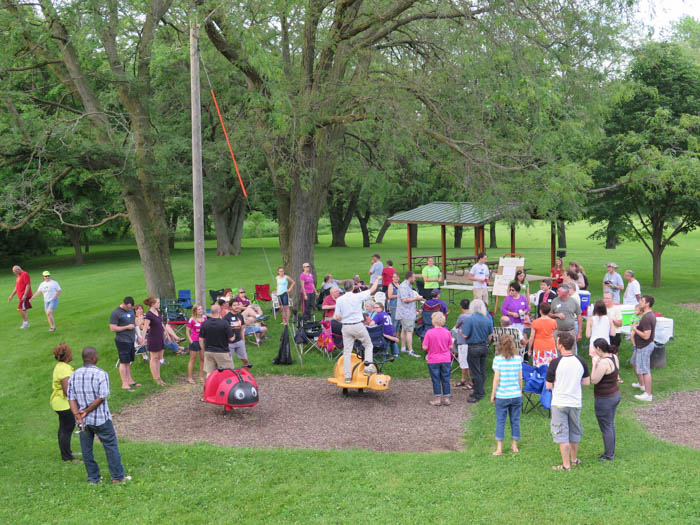 This idea started forming several months ago when my dad and I ran into our neighbor, Seth, at a coffee shop. Seth works with youth at his church and has a heart for ministry. We began talking about our neighborhood and our desire to have more contact with our neighbors. We decided the first step was to pray about it, so we invited some other like-minded neighbors and joined together for a time of prayer in our basement …
Prayer with neighbors, April, 2015
Then we decided, "Let's just put something on the calendar right now. Let's do an ice cream social at the park." We put "June 4" on the calendar.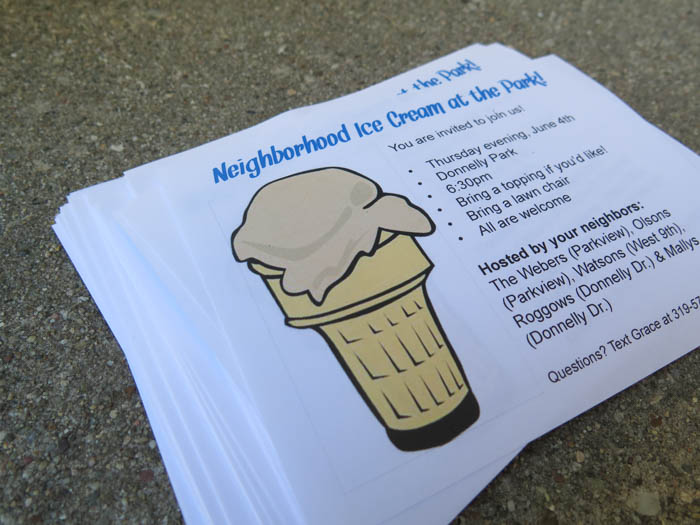 Invitations were made and distributed…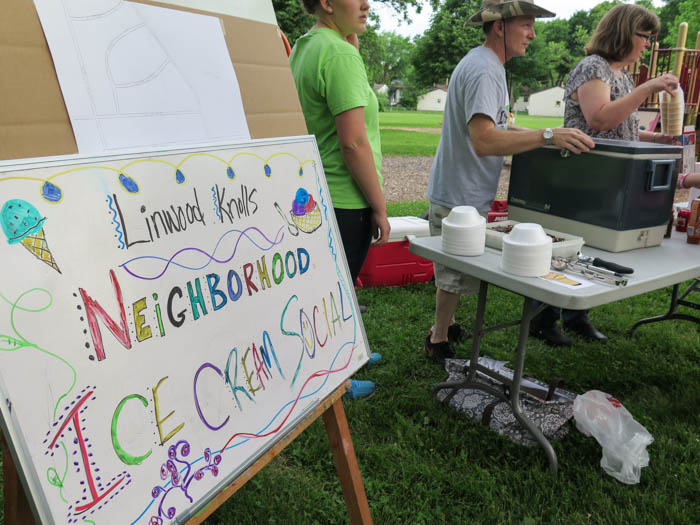 We told everyone to bring a topping and lawn chair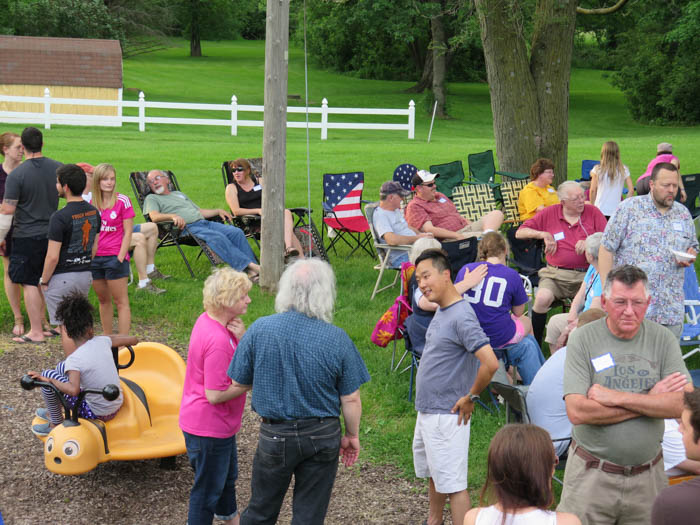 We were thrilled with the turnout. We were able to have conversations with many that we had not even met before! Neighbors stayed around for a long time talking. They all enjoyed meeting each other too!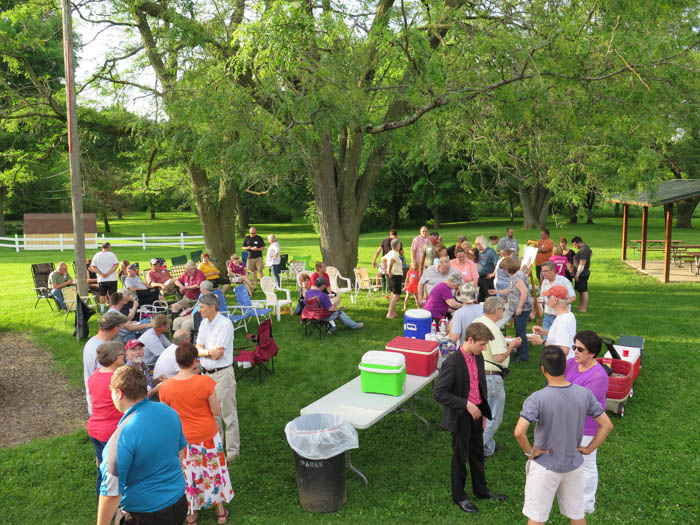 Looks like this might be the start of a new tradition.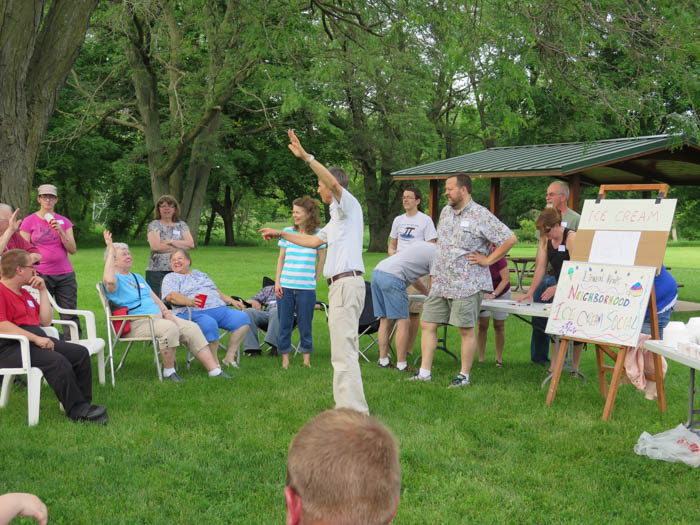 We all cheered for the lady who had lived in our neighborhood the longest: 51 years!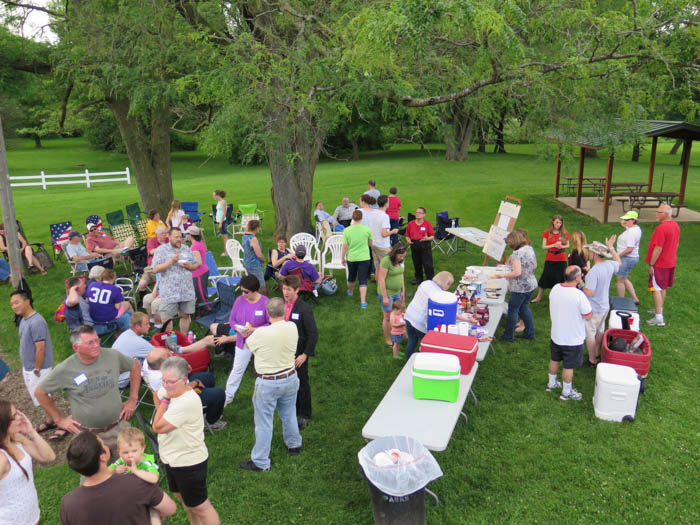 If you'd like to do this in your neighborhood, here are a few tips.
1) If you don't have a park a block away, consider doing it in your driveway. (See pie party post as an example…)
2) Team up with a few other neighbor families so you aren't doing it "alone."
3) Be aware that you may actually have more conversations with neighbors when you go door to door inviting people than at the party itself, so block out sufficient time to do that. (Believe it or not, I found that not one person minded being invited to a neighborhood ice cream social! 🙂 )
4) Make sure you have name tags and sharpies. We put the name tags in the front of the line before the ice cream to make sure people got one.
5) Consider starting an e-mail or texting list so that it is easier to invite them to future neighborhood events. (But remember that face to face conversations are much better as they are more personal!)
6) Bring a simple map of the neighborhood so they can put an "x" where their house is.
7) Don't forget: tables, chairs, napkins, bowls, spoons, lots of ice in coolers (or dry ice), ice cream cones, and garbage bags.
8) Most of all, pray and thank God for what He does!