"Mom just called," Dad said in a worried voice, two days ago. "She fell on the ice in the back yard, and she can't get up. She doesn't sound good."
We jumped in the van and raced home from our office.
I began imagining the worst case scenarios. What if she hit her head on the ledges of the stone steps?
Thankfully, Mom's injury wasn't a head injury, but a foot injury. It turned out to be only a sprained or broken ankle and mildly hurt knee. What a relief. It could have been so much worse.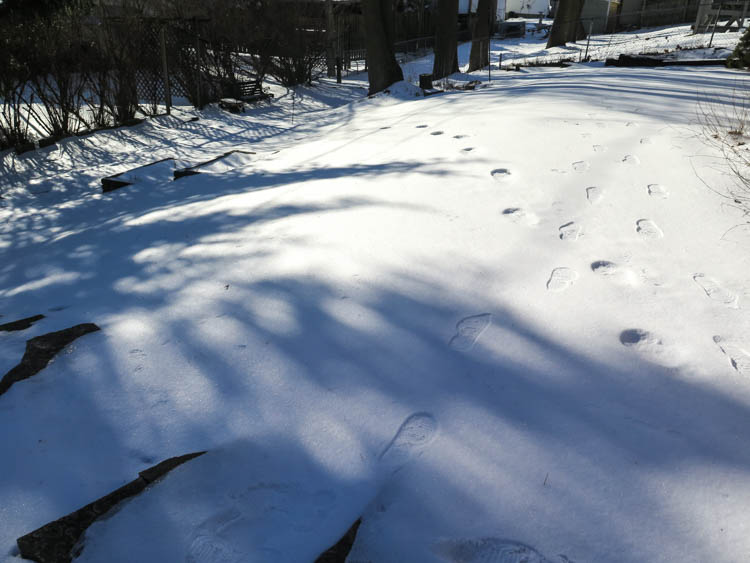 Our icy back yard
Here's what happened: On Monday afternoon, Mom was carrying paint supplies through the yard, and she chose to walk through the snow instead of taking the stone path because usually the path is icy and the snow gives better traction. Usually. But not Monday! The snow was basically pure, hard ice. Mom found herself snowboarding down the hill–except without the board…and with her hands filled with paint supplies. The bushes at the bottom stopped her, and she hurt her foot on some bricks.
We're praising God things didn't turn out worse.
It's been a nice change of pace for me to work from home and take care of her the past few days. The first day she didn't have crutches, but I finally found a way to transport her to different rooms: my harp cart! Mom and I were both excited about how well it worked.
Her foot is still blue and swollen and we are still not sure if it is broken or sprained. She has a high pain tolerance and doesn't complain much. We are grateful for God's protection.
Today my dad called a good friend of ours, Dr. Bill Roberts, who is an orthopedic surgeon. He gave my dad some helpful medical advice, and then some spiritual advice. He said, "Here's my prescription for Rebekah. It comes from Psalm 23. 'He makes me to lie down in green pastures.'" Dr. Roberts explained that sometimes God MAKES us lie down, and when He makes you lie down—it's green pastures. He reminded my dad that God is giving my mom a time of rest in His green pastures, so she should take advantage of it and enjoy this time of rest with the Lord.
Secondly, he mentioned that when Jesus was on the cross, He didn't focus on the pain. Rather, He was concerned about others: The "daughters of Jerusalem" who followed Him weeping on the way to the cross, His mother, the soldiers crucifying Him, the people watching Him, the thief next to him… So when we experience pain, it is a reminder to follow His example and focus on others, praying for them.
Of course, my mom considers her foot injury to be minor compared to the pain so many others experience.
This phone conversation was a special encouragement to both of my parents. My dad mentioned how the fellowship we have among each other as Christians is such a blessing and so strengthening and encouraging in time of need.