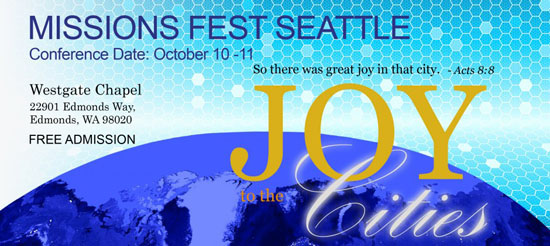 Next week Sarah and I will be speaking at the Seattle Missions Fest. If you live in the area and would like to come, I would encourage you to do so. It is going to be a very exciting event! See missionsfestseattle.org for details.
This year the theme is bringing the gospel to the city as the Lord continues to bring "the ends of the earth" to us! To quote the conference program (Dr. Jan D Hettinga), "Going to the far ends of the earth is still vital, but going across the street has become nearly as difficult and equally essential…"
We would greatly appreciate your prayers. Please pray that the Lord would powerfully raise up laborers unto the harvest!
"Now I beseech you, brethren, for the Lord Jesus Christ's sake, and for the love of the Spirit, that ye strive together with me in your prayers…" Romans 15:30