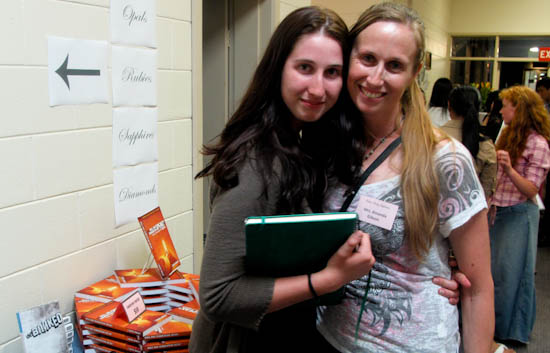 Savannah and her mom got up in the middle of the night to begin traveling to Lilydale, Victoria, where the Bright Lights conferences were being held. They knew they had a very long drive ahead of them. Unfortunately they had some obstacles to navigate around: kangaroos jumping in the road. They explained to me how one kangaroo was actually jumping along in front of their vehicle, keeping them from going the usual speed. Eventually they decided to pull off onto the side of the road for a while to wait for the kangaroos to clear.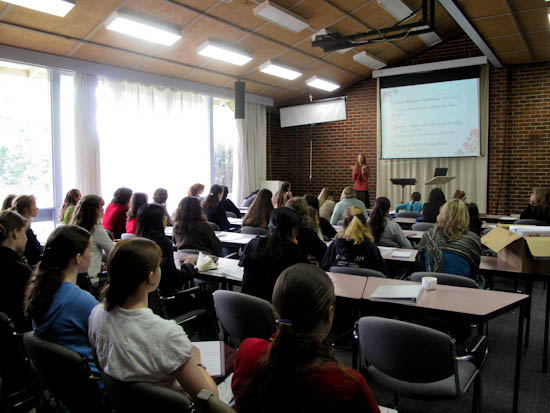 On Thursday Sarah taught a Leader's Training. We were so excited that forty-four girls and moms came. We were even more excited that many of them are seriously interested in beginning a Bright Lights group!
On Friday and Saturday we ran the Radiant Purity conference, and then on Monday we taught the Strong in the Lord conference.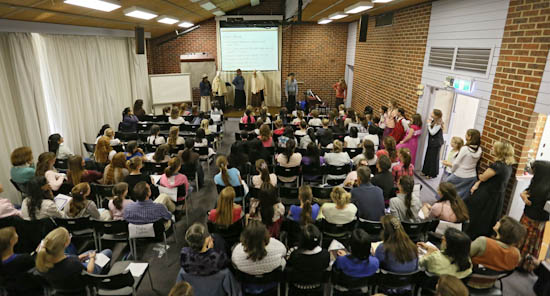 Brownie lost his head during the Brownie skit. "Brownie, hold yourself together!" Cowgirl Bekah exclaimed while handing his head back to him–er–her. [smile]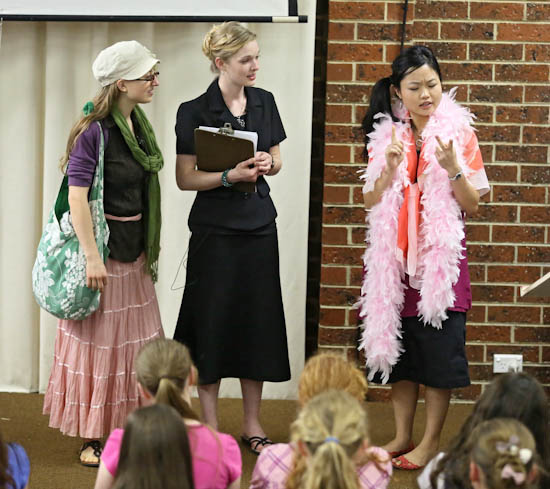 I think we all agreed Jolynn was pretty funny as the "day-dreamer" in the CBN News Report skit during the purity conference.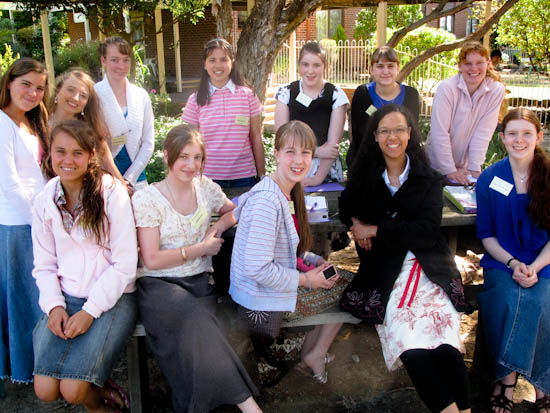 There were many priceless moments during the conferences in Australia. Hard moments to capture on a blog … most happened during individual one-to-one interactions and during small group times. Australians have much less opportunity to attend live conferences like this, and many came from long distances.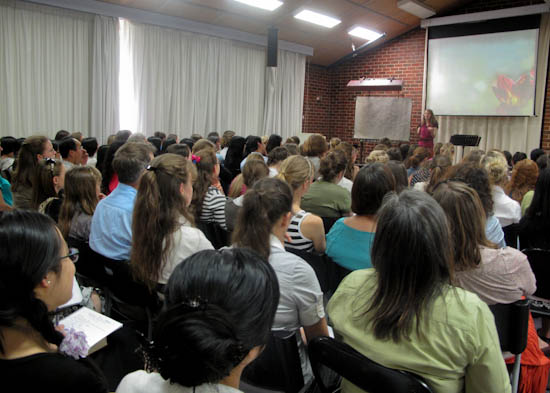 Our prayer is that the seeds of God's Word that were sown in girls' hearts will continue to bear fruit and grow, affecting all of Australia and beyond. We know that as individuals make decisions to deny themselves and follow Christ, their influence affects many more.
After the Radiant Purity conference one girl told Sarah that her life had been changed. She is planning to end a relationship that she knows is not God's will, to live for the Lord now, and also to begin a Bright Lights group with her mom!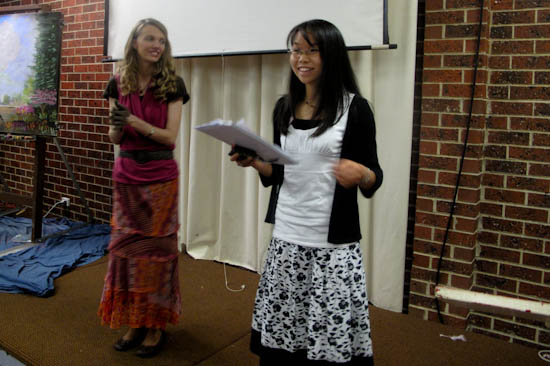 Grace Wong giving final announcements as we concluded the Radiant Purity Conference. Grace has been leading a Bright Lights group in Australia for a couple years now, and she and her family were the main ones who organized and hosted the conferences. She did an excellent job, and we are so grateful for the hard work she and her family put into this. So many others also sacrificed to help in big ways.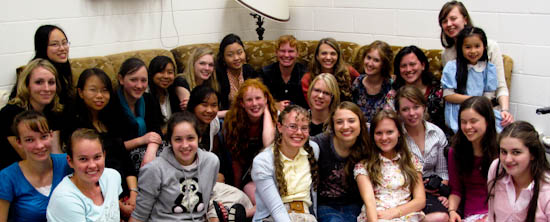 Our team of leaders who helped us lead the conferences. We snapped this picture Saturday night after we were all tired out and about ready to start saying goodbye. Just like He does in every country, the Lord brought together a beautiful team of leaders who love Him and display it in their lives. It is so special to go to a "far away land" and yet be right at home with sisters who are so like-minded.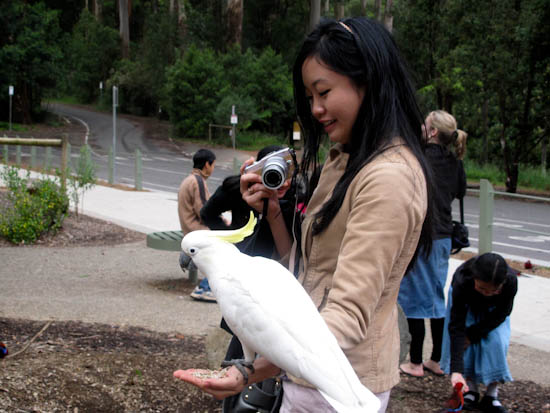 Besides for the three conferences, we also had some opportunities to enjoy Australia. The trees and animals in Australia are so different. It was really fun to wake up to unique bird calls. After feeding this bird, Jolynn ran into a little unforeseen problem. "Um…How do I tell the bird I want it to go now?"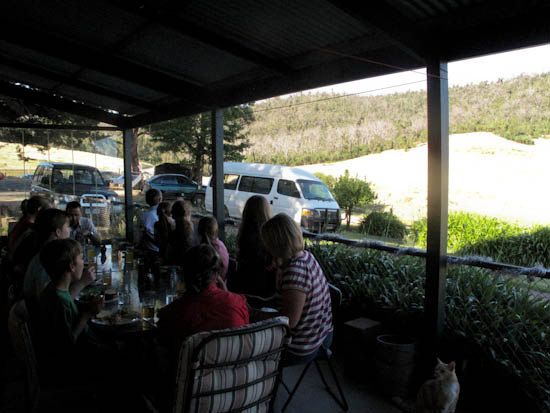 Tuesday evening was a highlight for all of us as we went to the Langford's house for dinner and had a really special evening. The delicious meal got even better when the kangaroos started hopping out. Talk about dinner entertainment – watching real kangaroos in the wild!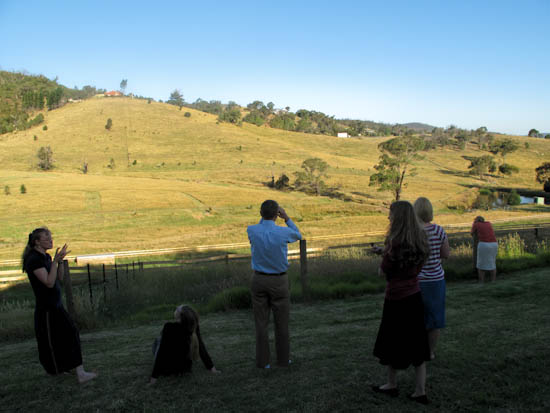 Though difficult to see in this picture, there were dozens of kangaroos hopping around out there.
I still have a lot to post so I will be putting up more pictures and reports soon.