I was backlogged on blogging last summer and so I never shared a report of what God did at the Iowa State Fair. That was too bad, because it was an amazing time. I've helped with a lot of gospel outreaches, but this was, perhaps, the pinnacle of them all so far. 🙂
First, I'll share about the Answers in Genesis gospel outreach at the fair.
Second, I'll share about the witnessing training camp which we helped to run to coincide with the outreach.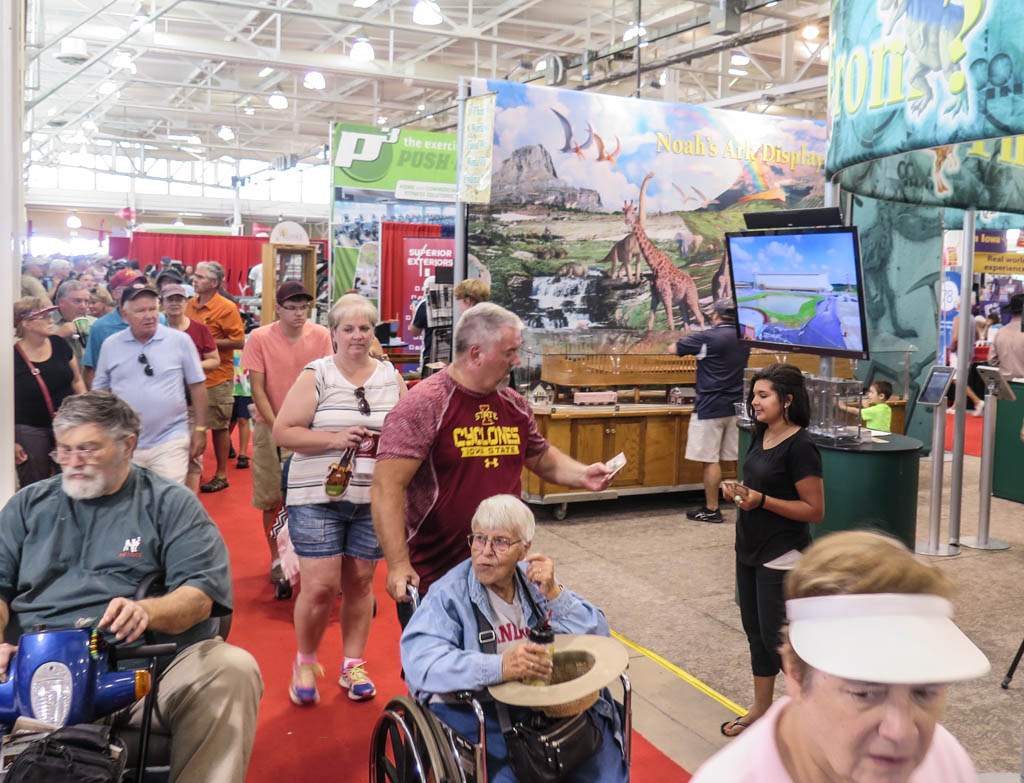 Answers in Genesis was asked to "take over" a Creation gospel booth (pictured above), previously run by an association of Baptist churches. Ken Ham placed our friend Tony Ramsek in charge of this outreach, and we were thrilled to jump on board with this opportunity–grateful it was so close to home.
Pictured above is Kaylee (in black shirt), passing out Noah's Ark Gospel Tract to the swarms passing by the booth.
It was amazing to see SO. MANY. PEOPLE. swarming past the booth every day! About a million people come to the fair each year, and our booth was in the main building. Sometimes the flow streaming past our booth was so thick that one person could distribute 100 gospel tracts in 10-30 minutes! Praise God, over the course of ten days we passed out over 75,000 gospel tracts. (That's 750 shrink wrapped packs we had to open. I mastered the art of tearing them open quickly with my teeth. Haha.)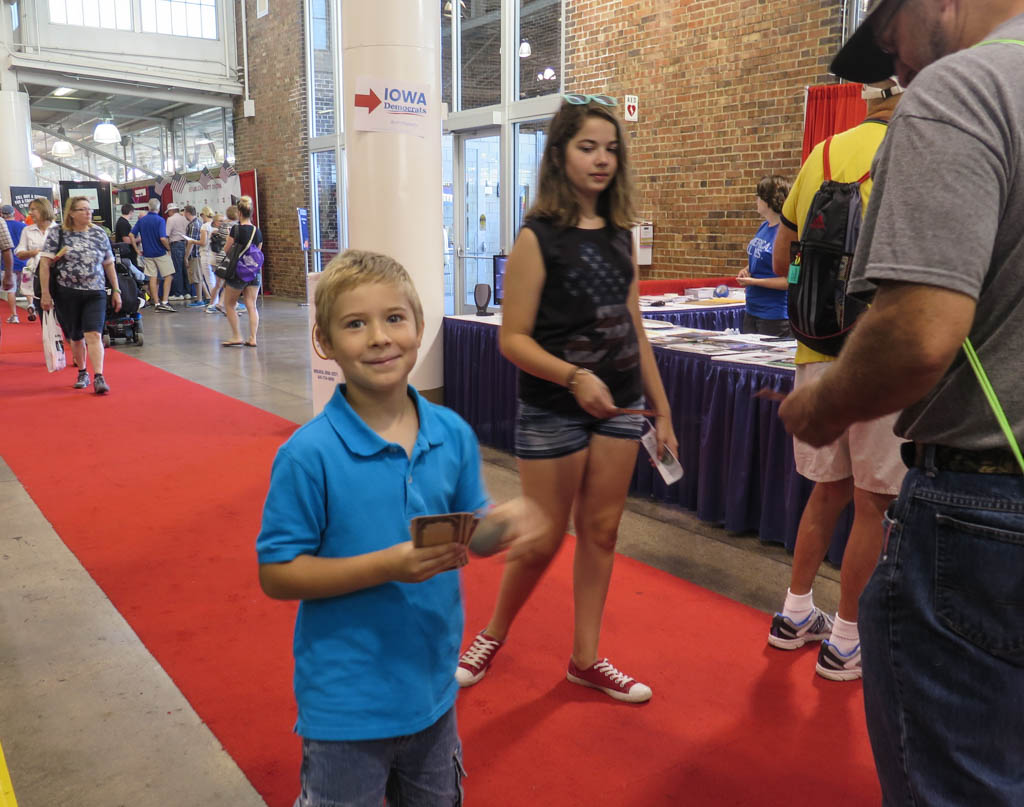 Good thing the Lord provided some enthusiastic little workers!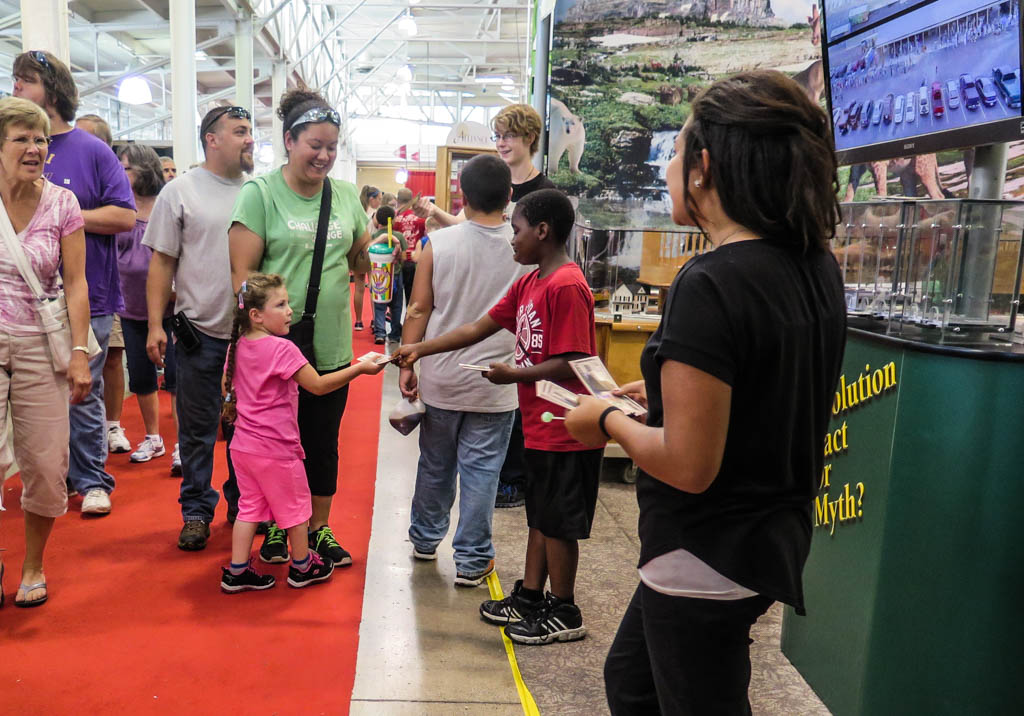 We had volunteers from young kids, to a couple in their seventies. Some volunteered for just one morning, some for all ten days of the fair. Many came just during the four days of our witnessing training camp.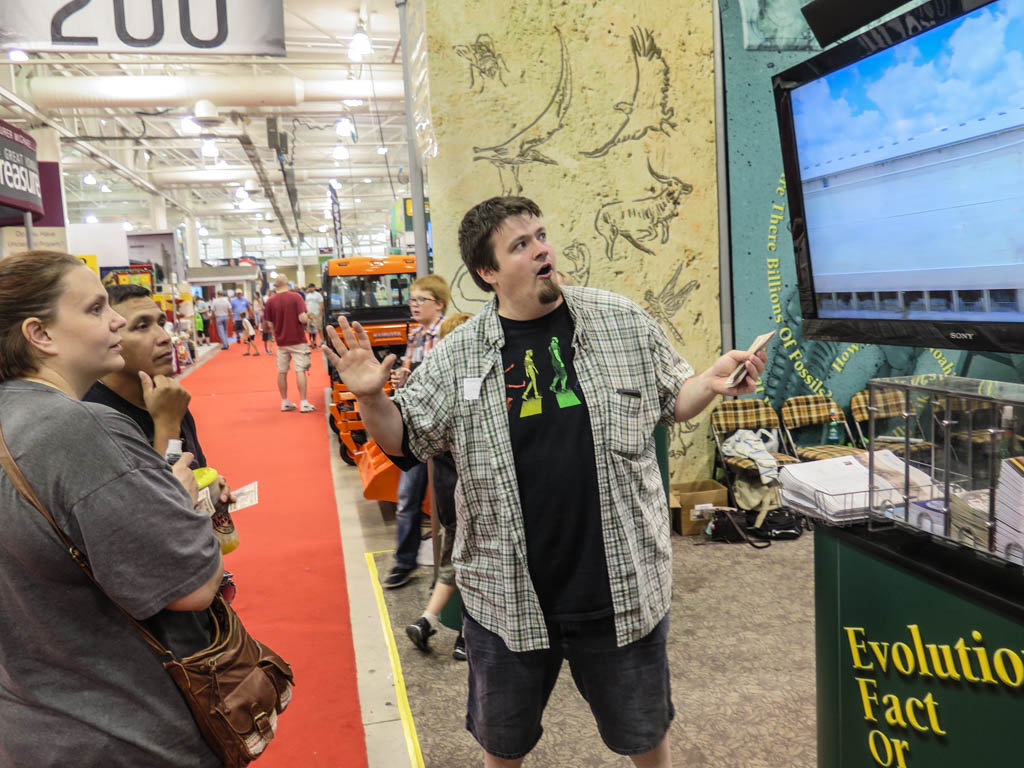 The flat screen TVs on either side of the booth displayed impressive drone flyover footage from the Ark Encounter, showing the majestic size and appearance of the Ark. People would stop, stare at the TV screen for a while, and then turn to us and ask a question.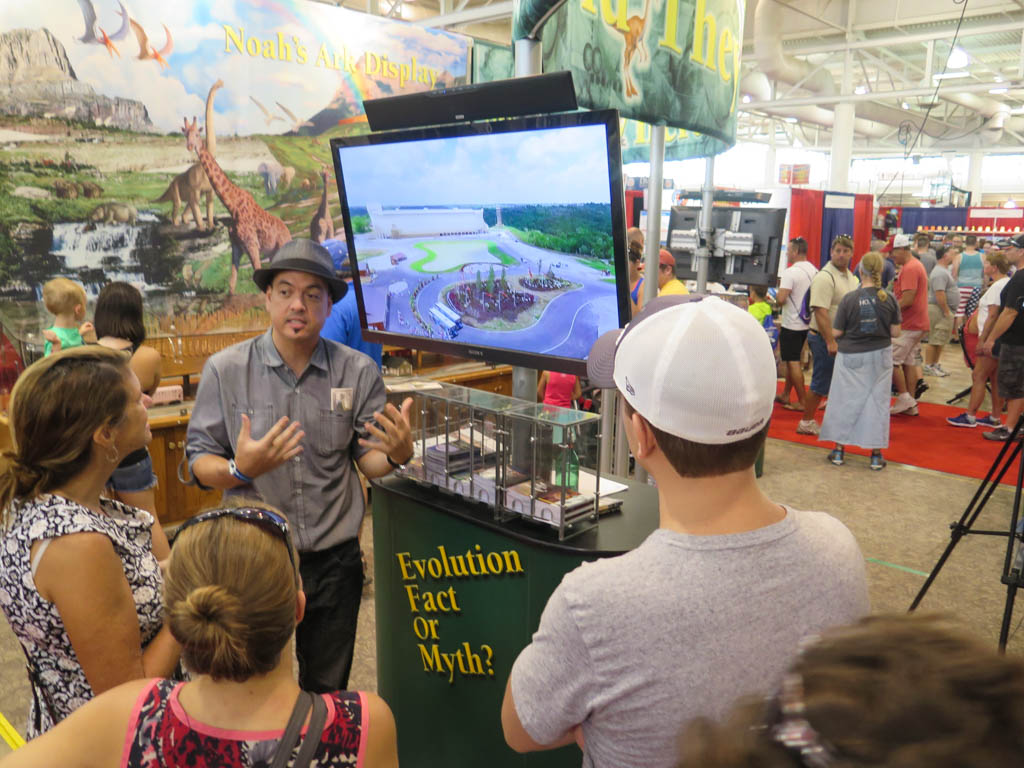 After explaining about the new Ark Encounter in Kentucky, we'd then use the Ark as a springboard into the gospel. This wasn't difficult because Noah's Ark is a clear picture of Jesus and salvation from coming judgment.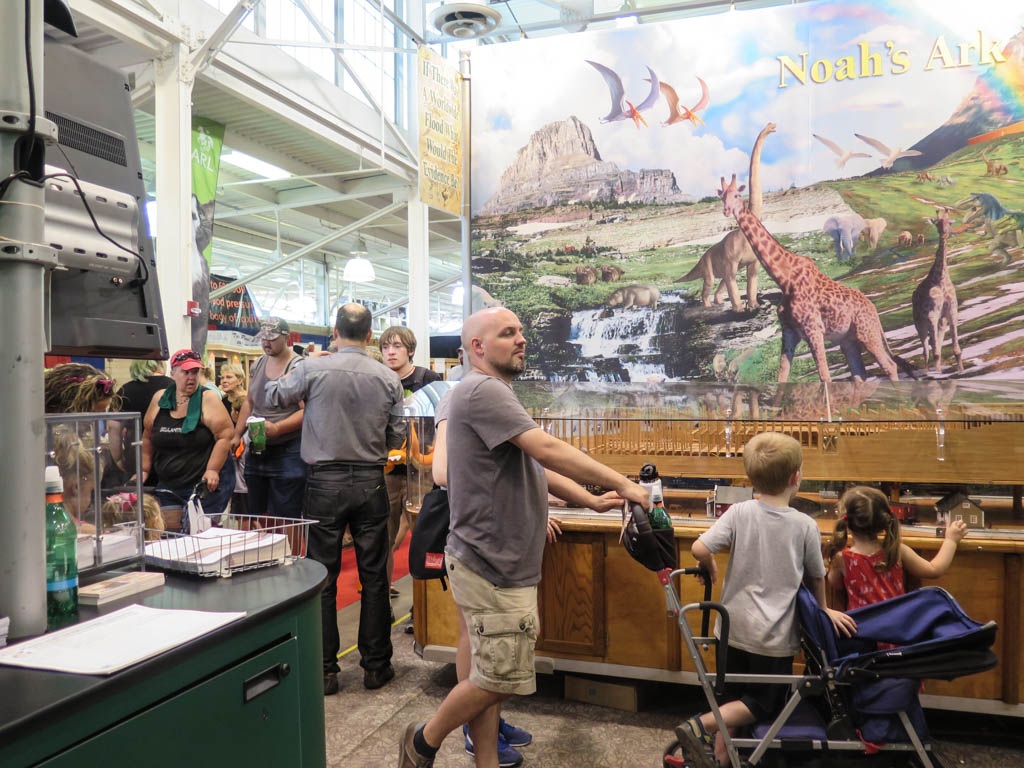 As you can see in this picture, our booth also had a scale model Noah's Ark, and kids LOVED the trains that ran underneath it. So while the children were infatuated with the trains, we'd give their parents a gospel tract and explain to them about the Ark. Oftentimes a longer discussion emerged. Most people at the Iowa State Fair aren't in a big hurry.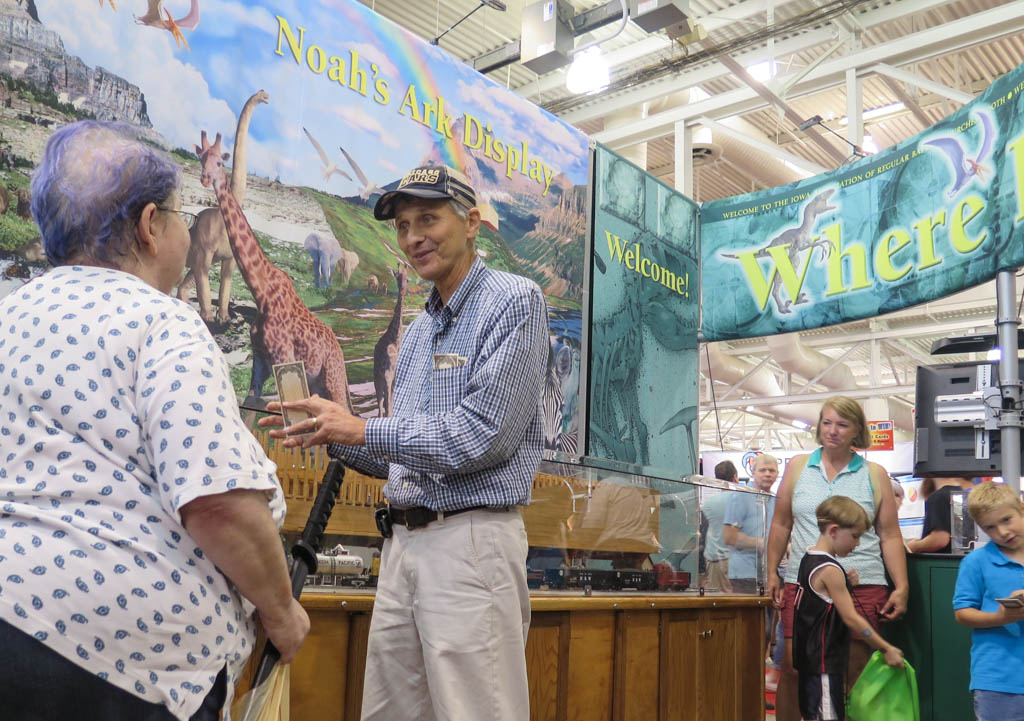 Our goal was never to be pushy with our views or make "converts" (only God can do that), but simply to have friendly discussions. Many expressed spiritual questions and appreciated the cordial discussions. Over the course of the ten days, we had hundreds of discussions with people about Jesus.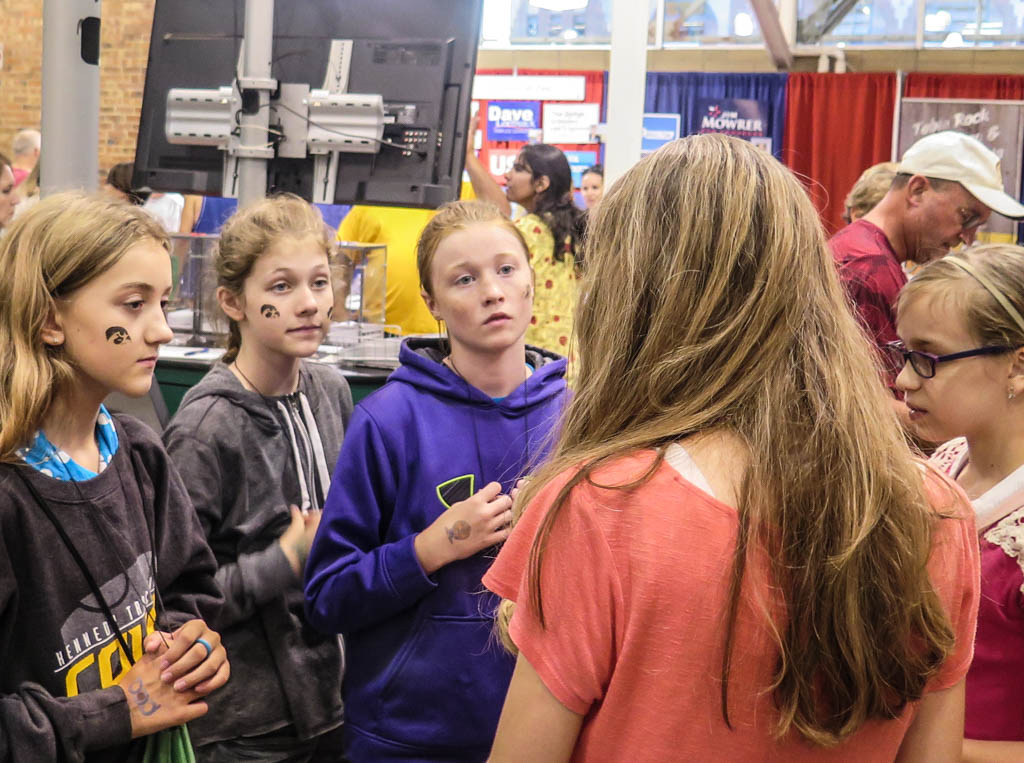 It was encouraging to see so many youth soaking up the message of the gospel with seriousness and interest.
Sarah told us of three teen guys she talked to who were especially interested.
"Is there anything keeping you guys from trusting Christ?" she asked them, after explaining the gospel.
"No, nothing," they said.
"Well when are you going to make that decision?" she asked.
The indicated that they wanted to get right with the Lord right away, and Sarah encouraged them to get alone and talk to the Lord, and ask Him to save them. They showed clear agreement with this advice, and one of them said his name was Noah and he knew it wasn't a coincidence that he was at our booth. 🙂
We could tell story after story of all the encounters God coordinated. Some people came back multiple times to our booth, wanting to talk more. One teenager, who claimed to be gay, emailed Tony a week after the fair with these words:
"Hello. It's [name withheld] from the state fair. I just want to say thank you for sharing the light on me. I wasn't ever accepted until I met all of you great people. I decided to go to church this morning and I've never been so happy. My eyes water when I think about how much I missed out on out of fear, but I learned to accept Jesus and myself and to take your advice to repent and make peace with the Lord."
Praise the Lord with us for all the lives that HE touched.
CREATION EVANGELISM TRAINING CAMP
Just ten minutes from the fair grounds, about forty campers enjoyed a haven of fellowship, witnessing training, and rest at Willow Brook Bible Camp. This camp took place during four days of the fair.
Each morning, we had times of witnessing training and prayer before going over to the fair to put into practice what we were learning.
It's not very often that you're with a whole group of people who are all eager to grow in witnessing.
Here's just one example of the type of interaction we appreciated: During dinner one night, Seth mentioned to Craig a little tip he likes to use in helping people understand the severity of their sin. That night, Craig used that very tip in two different witnessing conversations! What a blessing to be able to sharpen each other as we work together.
Because not all forty campers could witness from the booth at the same time, we had 1/3 of the campers praying, 1/3 eating + witnessing outside, and 1/3 witnessing from the gospel booth. Then every two hours, we'd rotate. It worked beautifully. Praise the Lord. We were in awe of what He did.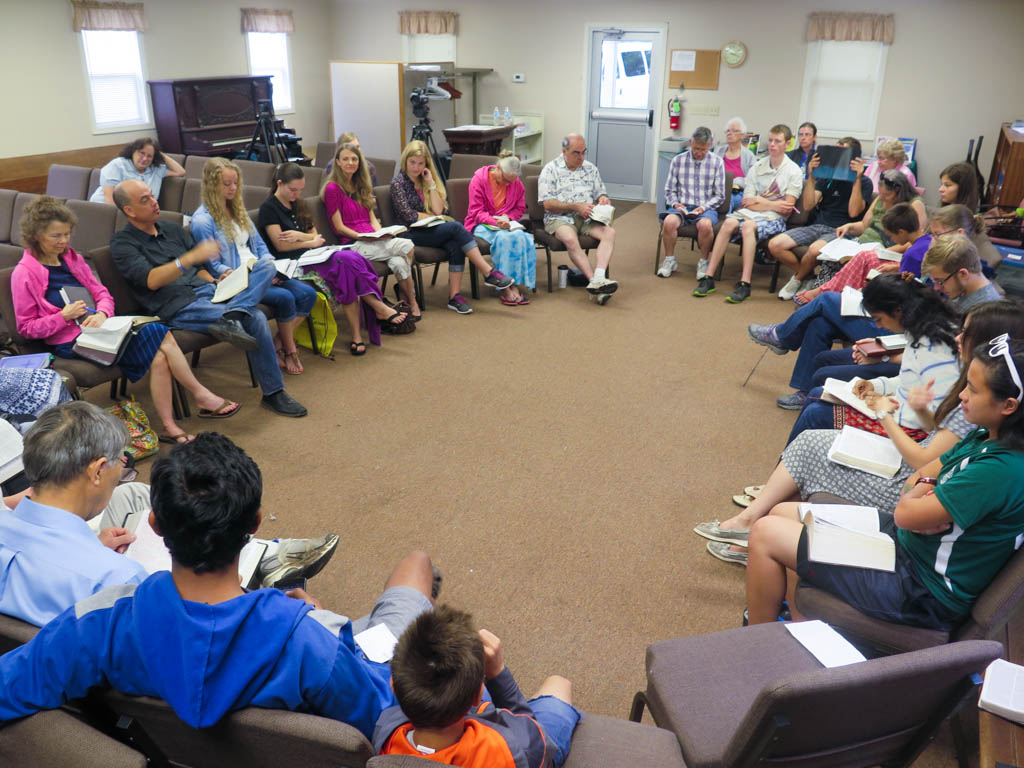 This was an interactive Bible study on Romans 3, led by Tony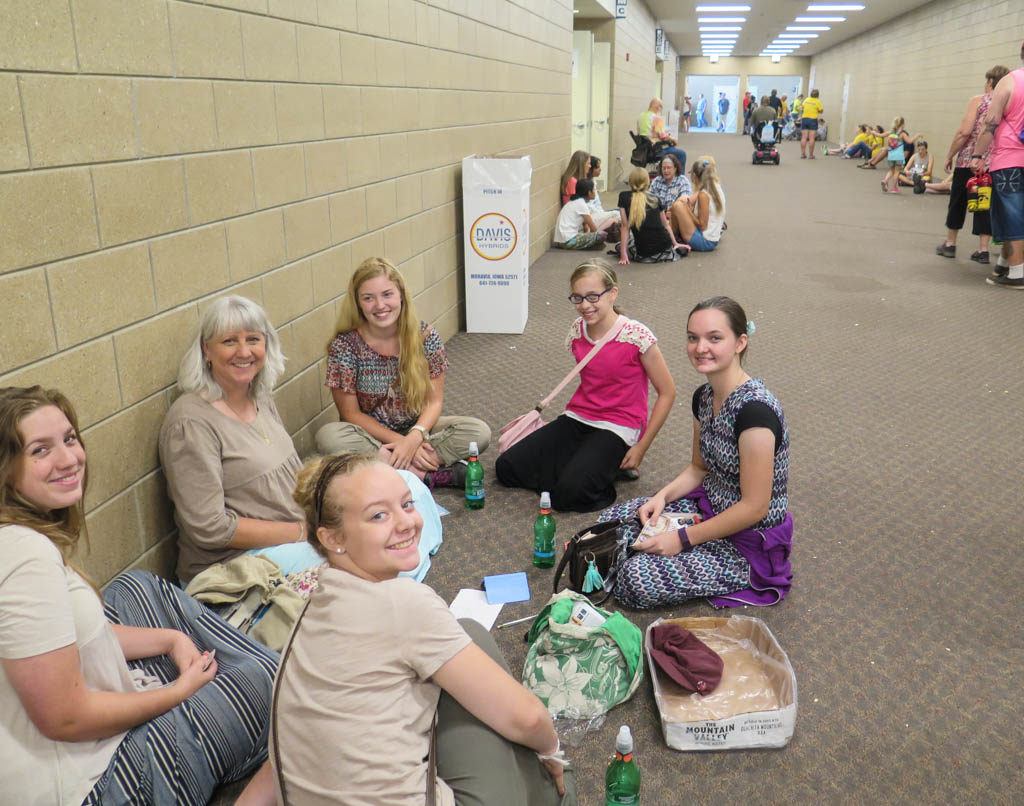 Because there were people literally EVERYWHERE at the fair, the best place we could find to pray was in this air conditioned hallway. It was exciting to pray, knowing that at that moment there were about 20-30 people in the vicinity sharing the gospel. And it was encouraging to be witnessing, knowing that there was a group at that moment upholding you in prayer.
Maddie Crawford (in picture above with striped skirt) told us that she shared with two 15-year-old girls who thought they were saved by Christ + good works. One girl seemed especially troubled by her sin. When Maddie explained that we are saved by Christ ONLY, a look of realization came across her face. "No one's explained it like that before," she told Maddie enthusiastically.
Seeing people have those "light bulb moments" about the gospel is priceless.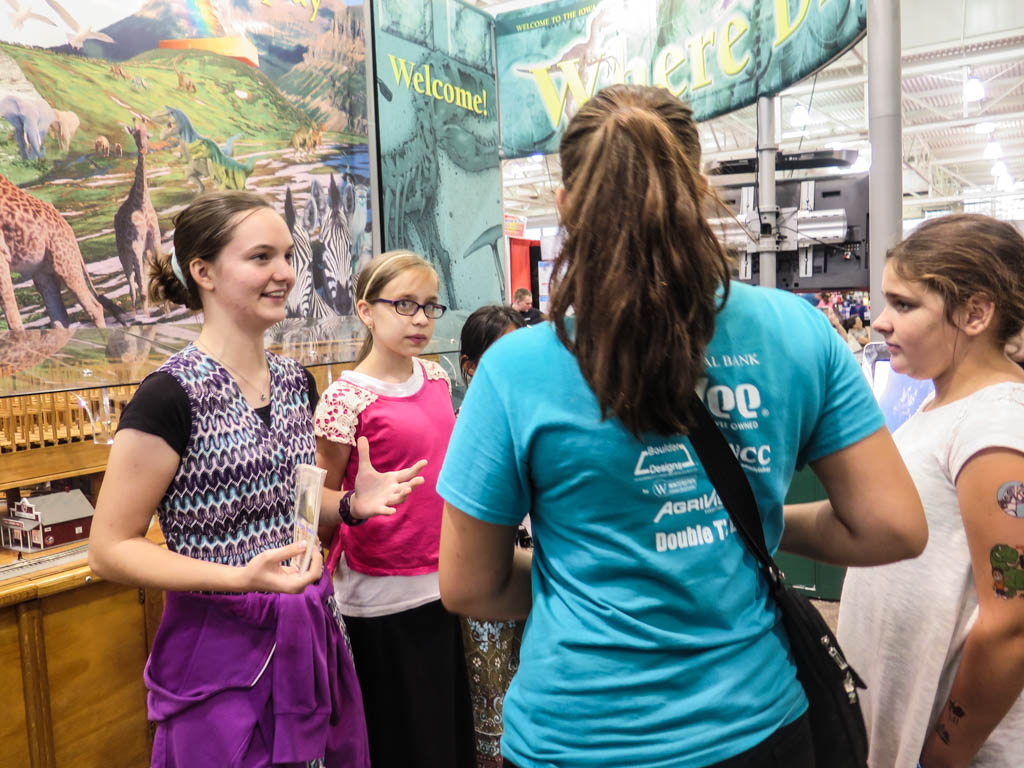 Addie (left) had several good conversations with girls who came to the booth, praise the Lord.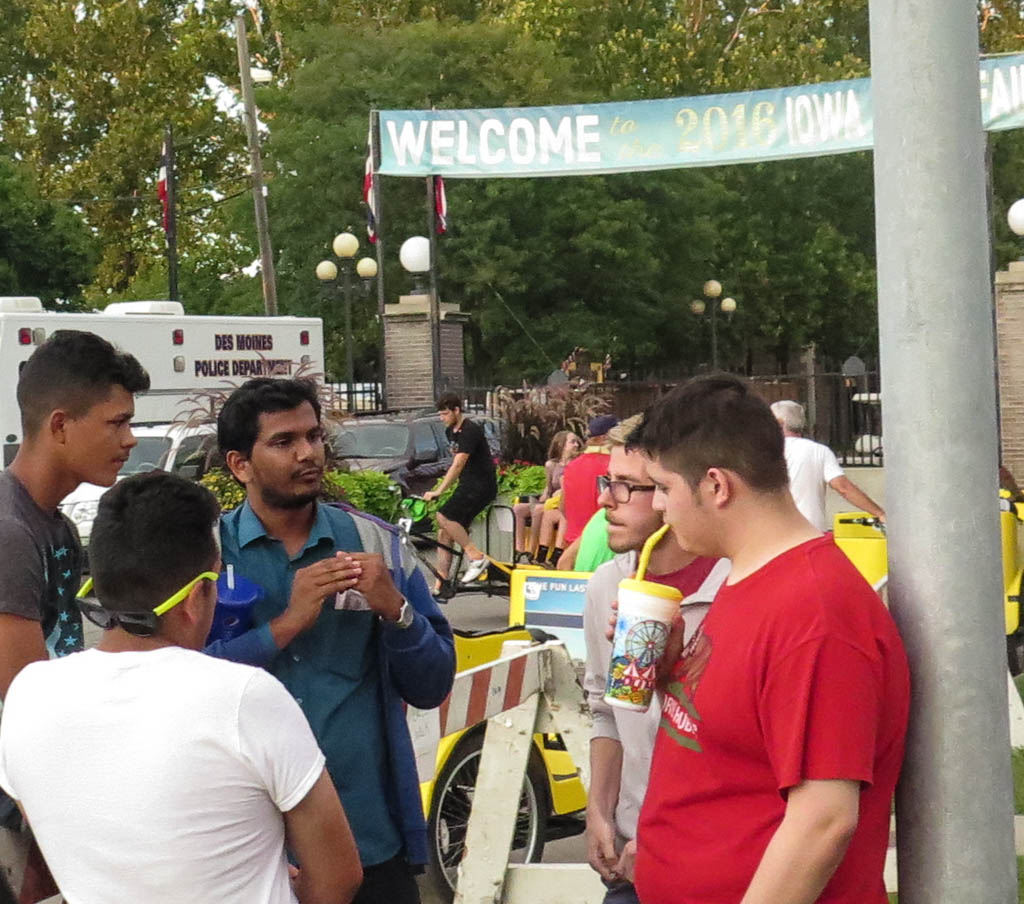 Seth (teal shirt), from India, was an inspiration to all of us. He was witnessing to people until the minute we had to get into the van to go back to the camp!
While Seth was sharing the Noah's Ark Million Dollar Bill tract with a few teen guys, their mom came up, asking, "Who are you?!"
"I'm sharing about the million dollar question," Seth said.
"What's this million dollar question?" she asked.
"If you stand before God on judgment day, will you be innocent or guilty?" Seth replied.
"Oh I know that. I'm innocent," the mom replied. "I have the sinner's prayer in my bag, so I pray it all the time."
(She must have been referring to a little card or something!)
By her words, "I pray it all the time," Seth perceived that she didn't actually understand the gospel.
"Do you mind if I tell you one thing about the sinner's prayer?" Seth asked politely.
"Yes, go ahead," she said.
"Ma'am, the sinner's prayer cannot take you to Heaven."
"It can't? I didn't know that!" she said, "My pastor never told me that."
Praise God that Seth was able to explain that it is by faith in God by His grace that we go to Heaven (Ephesians 2:8-9).
[Note: I'm not saying that people never get saved at the time they prayed a sinner's prayer. Many do! But it wasn't the specific words they said to God that saved them, but their faith in Jesus Christ and what He did for them on the cross. Ephesians 2:8 says, "it is by grace you have been saved through faith" not, "it is by grace you have been saved through prayer."]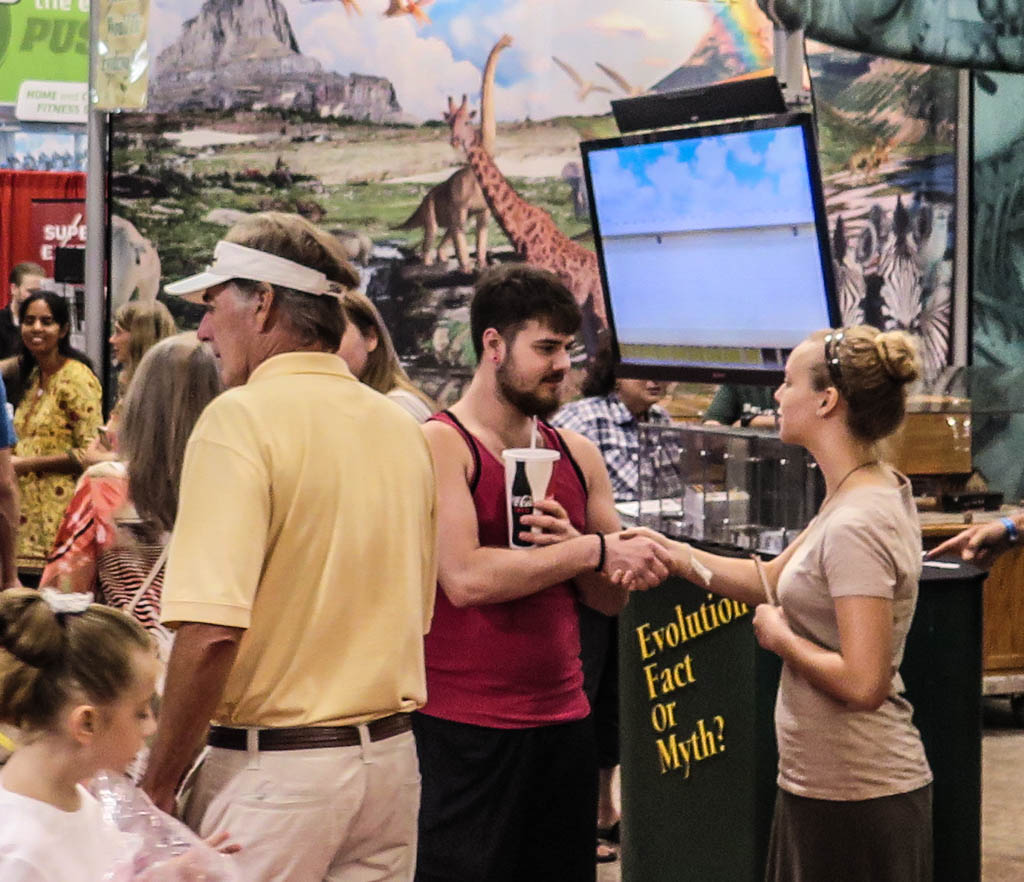 Nicole (beige) had a good conversation with this guy. He seemed to really appreciate the discussion and shook her hand warmly as he left.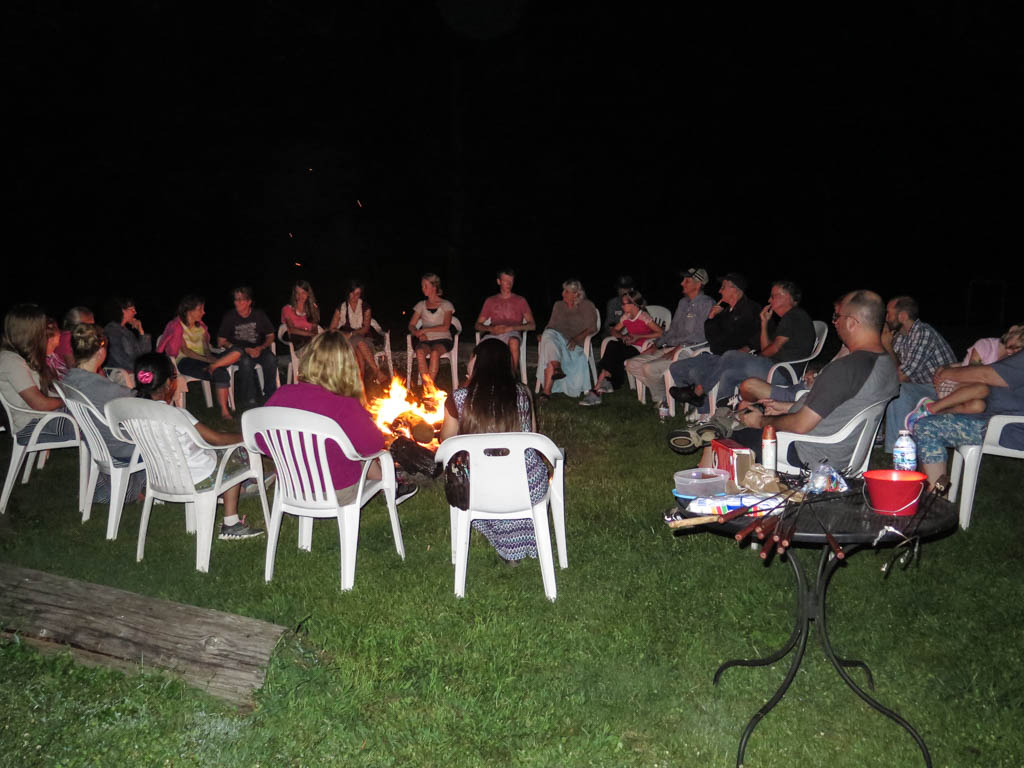 I'm sure you can imagine that there were many, many stories to be told during the campfires at the end of each day. We were blown away by all the Lord did. I can't wait for the 2017 Iowa State Fair! The camp dates will be August 10-14, 2017. Click here to see flyer. Click here to register. Please mark your calendars!
Note: Prior training or experience in witnessing is not required for this camp. We have teaching times with practical instruction, and when we go to the fair those with less experience can team up with those with more experience. Many told us that their favorite part of the camp was the coaching in real life situations that they received from those more experienced.
If you'd like to listen to the sessions that Tony Ramsek taught at the camp last year, Tony put all of his up on his vimeo channel here. Here is one of them: