For those who saw my post a few days ago, I asked for prayer for a camp in Mexico that is focusing on training young people in evangelism this week. I thought you would enjoy hearing the story Mrs. Clark e-mailed me!
Thank you so much for your prayers for our camp. The Lord is truly blessing us! Each day, 4 teams of young people and adults have gone out to different nearby destinations to witness. Those who go to the city of Morelia have been using questionnaires with some of the questions you have on your website. They have been very encouraged, using this method, and many have had good conversations with people.
The first day out, Ted went with a team to a nearby rancho (village). His little group was welcomed into a very poor home of an 86 year old widow, María de la Luz. She listened attentively to the explanation of the gospel and told Ted decidedly that she did want to pray to receive Christ! (We often have people here who will say yes to everything and just follow along to be polite, but usually, it is clear they don't really understand.)
But Ted said that this was different. He sensed that she really was sincere. She told him she had been praying that someone would come to tell her the way of the truth! She can't read, but we will be following up with her. We are so thrilled to be able to be co-workers with God in this world!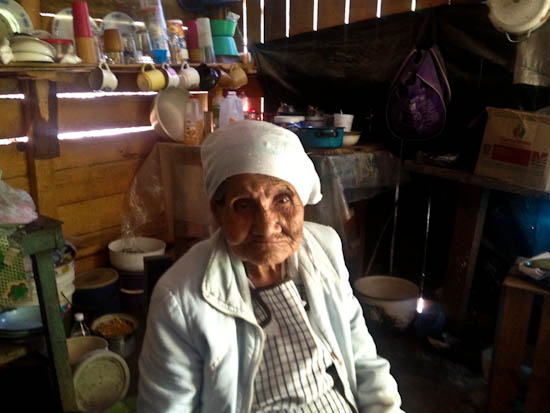 Here's a picture of María!
Mrs. Clark also added another specific prayer request:
One thing to remember in prayer for her: the Jehovah's Witnesses are like a plague here in Mexico, and they have visited her constantly. It seems that she sensed something wrong with what they told her. Pray that they would leave her alone and that the Lord would open the door for us to continue sharing truth with her.
What a thrilling report! Praise the Lord. Nothing compares to that joy of seeing people embrace the gospel! Mrs. Clark also said they have had many other great stories from their witnessing trips each day. Let's keep praying for the Lord to raise up laborers unto the harvest there in Mexico!
"Could it be that up in heaven, God is sitting on His throne
Anticipating another sinner will soon become His own.
Years of wasted living and years of toil and strife
Are just about to be over as he receives the gift of life.

Go sound the horn, strike up the choir.
A sinner is saved. Saved from the fire –
No more in darkness, he's received my Son
All heaven rejoices – that's the value of one!"