Last weekend I attended a youth Bible retreat (connected with my church) called "Extreme Weekend" at Willowbrook Bible Camp in Des Moines.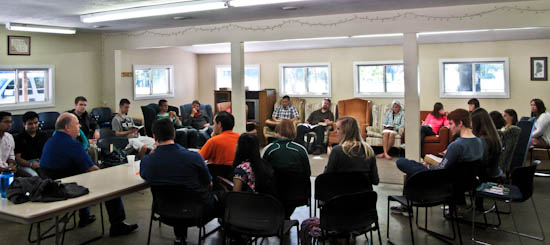 Mark Woodhouse (an elder at my church) taught through the book of 1 Thessalonians over the weekend.
I had never noticed how every chapter in 1 Thessalonians points to the return of Christ. It is so important that Jesus' return is consistently on our thoughts! It encourages our hearts and purifies our lives (1 Thess 4:18; 1 John 2:28)!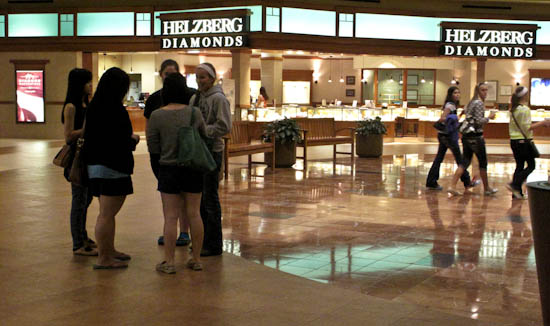 Saturday morning we went to a mall to share the gospel. Most of us started conversations by asking people for prayer requests. We'd say something like this: "Hi, we're from a Christian Bible camp and we're here at the mall today asking for prayer requests. We are going to pray for them this afternoon. Do you have any requests?"
Often, this led into a longer conversation. We saw many divine appointments.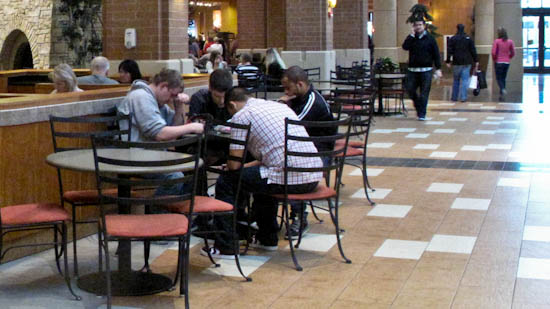 I walked up as Josiah and Homer were praying with two guys, so I snapped this picture. Apparently they had a great conversation and one of them was very close to coming to Christ.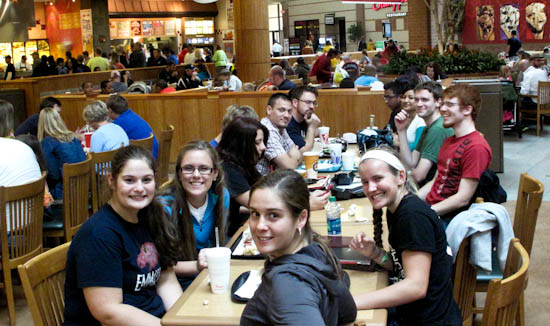 Eating lunch and sharing stories about the witnessing encounters God gave.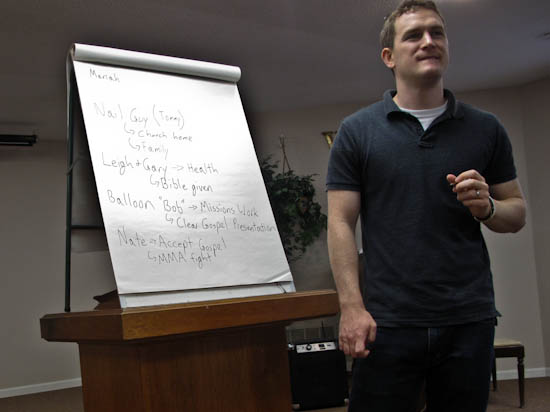 Back at the camp, Tony wrote the prayer requests on the board as we listed them.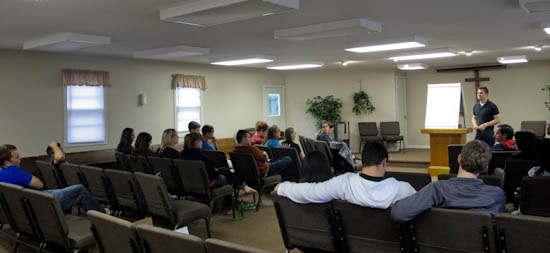 It was fun to hear about the different approaches people used. One guy in our group hung out near the hunting section at Scheels because he found that to be an easy place to form friendships with kindred spirits and then witness to them [smile]. One girl got a manicure so she could have a conversation with the girl doing it. Another girl noticed a lady checking out a bunch of romance novels at Barnes and Noble and was burdened to talk to her about Jesus' love.
I met an Indian girl who had only been in the US for 2 months. She said she had two Christian roommates that had been doing a Bible study with her! She told me about how they go phrase by phrase explaining what each verse means. It was exciting to have the opportunity to build on what the Lord is already doing in her life. (I left her with a "God of Wonders" DVD. If you are looking for a good evangelistic give-away DVD, this is definitely one I'd recommend.)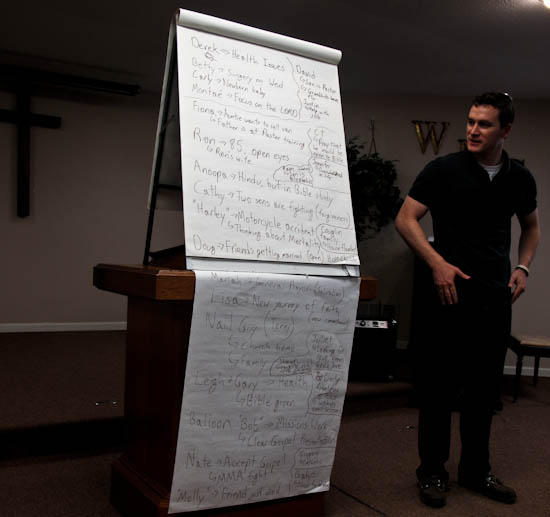 Praise the Lord for a long list of prayer items!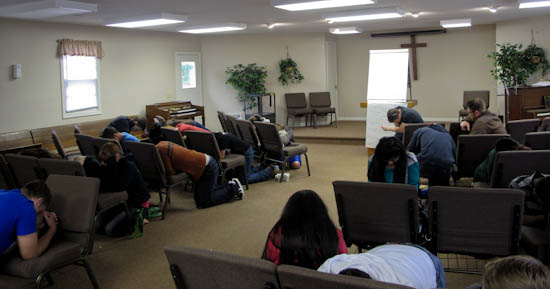 Praying for the requests mentioned, and, more importantly, for the people who told them to us.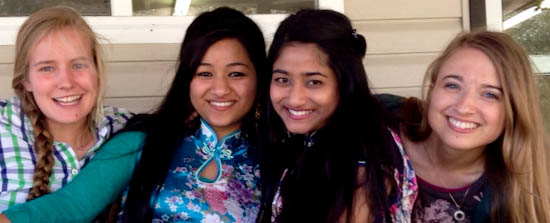 Good-bye pictures with new friends!