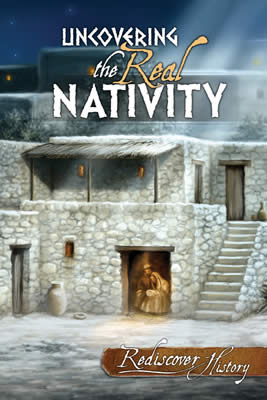 If you're looking for a tract to use this Christmas, here is one that I recommend. It's produced by Answers in Genesis. It's filled with interesting information about the historical details of Christ's birth – details that even most Christians get incorrect. It explains how the word "inn" does not actually mean "small hotel," but rather "guest room," which changes a lot about the story! I haven't found a place where you can read the booklet online, but you can read some of the same information in this article.
The booklet is basically a brief history lesson combined with a clear presentation of the gospel and a lot of Scripture. Click here for more information. (Note: if you order 50, the price comes down to $.49 a piece and if you order 100, the price comes down to $.29.)
Also, for another option, here is a fun "Christmas Quiz" tract that you can print out and give away. These are fun to give because people smile and often start reading them right away.
Christmas opens a whole array of wonderful opportunities for witnessing, and I think it really helps to be thinking and planning ahead. Otherwise it's easy for the "good things" to squeeze out the "best things" that we could be doing at this time of year.
We often talk and pray as a family about how to use our time in December. I thought I'd share a few ideas, hoping it will spark thoughts of things your family could do. (And I'm sure many of you already do these things!)
It's exciting to know that so many of you Bright Lights girls are in different states (and countries) and when we all work together we are a global team sharing the gospel at Christmas!
Here are some ideas:

-Every time you check out at a store, give them one of these nativity booklets or another Christmas tract. Tell them, "Here's some fascinating facts that most people don't know about the true Christmas story."

-Invite international students over to your home for a Christmas party. Have snacks and share about the Biblical account of Christmas. Explain how most of America misses the whole point.

-Every time you pass a Salvation Army bell ringer, put something in their bucket and then give them a tract. (We have a friend who told us how she buys a snack at the cashier line to give them along with the tract. It's also a good idea to stop and talk with them for a minute. They likely get bored. And although they may claim to be a Christian, they may not truly understand the gospel.)

-Invite neighbors over for a Christmas party.

-Pick a family at your church who could use some encouragement. Invite them over for Christmas snacks, singing, and read a Christmas passage in the Bible together.

-Go out witnessing at malls and take a short Christmas questionnaire. (I suggest using a few simple questions such as "Why did Jesus come to be born as a baby?" "What would be the best gift you could ever receive?" etc. )

-Go Christmas caroling. Remember that you don't need perfect singing voices. It's more the thought that counts. Just sing a couple carols and leave them with a small plate of cookies (and the "Uncovering the Real Nativity" booklet. [smile])

-Go to a nursing home to sing for the residents and talk with them. If you have never done this before, you may be surprised at how much it means to people.
"…you must help the weak and remember the words of the Lord Jesus, that He Himself said, 'It is more blessed to give than to receive.'" Acts 20:35

In other news, we are grateful for the help of Hannah and Tia (who come help at the Bright Lights office) for their help in decorating our Noah's Archive storefront for Christmas today!
More Mexico reports coming soon.