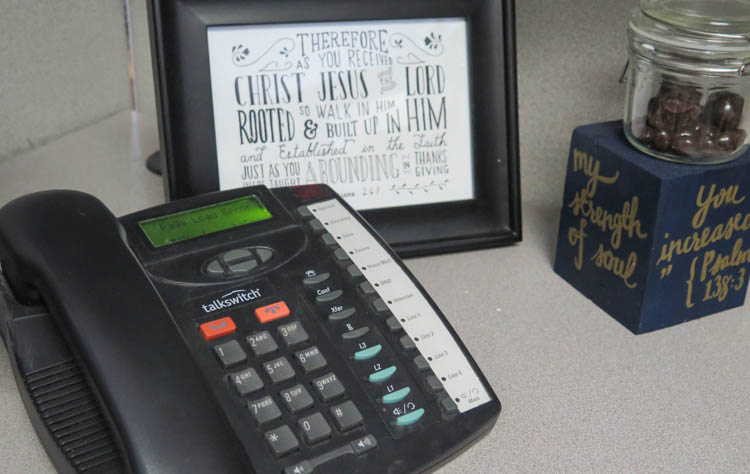 "Hello, this is Grace!" I answered the phone last Saturday morning.
The voice on the other end offered me a special deal for senior citizens … something that may pay for my entire funeral.
Curious if this was a recorded message or a real person, I replied, "Can I ask a question?"
"Yep, yep," he answered.
Guess it's a real person.
Next I realized, I need to think of a question real quick now!
"Well …" I began, "our family believes that what is most important is that people know where they are going when they die—and that they will be with God in Heaven forever. Do you know where you are going when you die?"
(A little blunt for my first question, but it seemed to work well for this call.)
"Well, I am not completely sure," he replied. "I hope I am going to Heaven."
"Did you know that the Bible tells us how we can know for sure that we are going to Heaven when we die?" I replied.
"No, I didn't know that. What does it say?" he asked.
"Well, first it explains that we actually deserve to go to Hell because of our sins. The Bible says God's standard is perfection and He promises to punish sin, because He is just. If we have lied, stolen, disobeyed our parents, had impure thoughts … the punishment for sin is death and Hell — separation from Him forever."
The caller seemed to agree.
I continued, "Sometimes we measure ourselves by an 'American nice guy' standard and think that we're doing fine – but God's standard is SO high and perfect that He says in the Bible that all our goodness is like filthy rags in comparison. That means we are in big trouble. Would you agree?"
"Yeah …. we've all done some bad thing," he said.
"Yeah. So if you stood before God and He asked you why He should let you into Heaven, what would you say?" I asked.
"I'd say because I'm a good person, and I believe in You and have faith in You. What would you say?"
"Good question," I replied. "Well, I am sure I would go to Heaven when I die, but it isn't because of good things I've done—it's because I have trusted in the plan that God made to rescue us, and that is that He became a Man, Jesus—who was fully God and fully Man. Jesus lived a perfect life and then died on the cross in our place …"
He laughed.
"So you believe Jesus was actually God in a human body?"
"Yes," I replied.
"So," he asked again, "You really believe God put Himself into a human body and walked around on earth?"
"Yes."
He laughed again, surprised.
"That's what the Bible says," I explained. "Do you believe the Bible is true?"
"Yes," he said.
"Well, it says in the Bible that Jesus claimed to be God. For example, when Jesus was standing before Pilate, Pilate asked him, 'Are you the Son of God'? and Jesus affirmed that He was."*
"Son of God, but not God," he said.
"No, He was really God." I replied. "He said, 'I and the Father are one.'"
"That's impossible!" he replied.
"God can do anything He wants. I am just telling you what the Bible says. You said you believed the Bible."
"I believe some of the Bible. I've read the Koran too, and it says that Jesus was God's messenger."
"Well, Jesus claims to be more than a messenger. He also told the Jewish people, 'Before Abraham was, I Am' … I Am was the name by which He made Himself known to Moses. He was saying to the Jews that He existed from eternity past," I replied.
After more of his objections, I explained that the Holy Spirit overshadowed the virgin Mary and God put Himself into a human body.
"Well, why would God have put Himself into a woman — in such a vulnerable spot like that? What if someone would have killed her?" he asked.
"He's God! He's in control," I said, "Plus He was outside of her, too. God has three Persons – God the Father, God the Son, God the Holy Spirit … But there are NOT three Gods – there is only one God," I emphasized.
"Well, it makes a lot more sense that Jesus was God's messenger to teach us about religion and about right and wrong," he responded.
I replied, "If Jesus was just a messenger, He could not have been our Redeemer. God did send messengers—the prophets. But Jesus had to be more than a messenger—He had to be of the human race so that He could die as a substitute for our sin."
"But why would God downplay Himself so much to become a human?!" he questioned, emphatically.
"You just put your finger on it — that's the beauty of it! God showed humility. Let me read you this portion of Scripture."
I read him Philippians 2:5-11 with emphasis, especially at the part where it explains Jesus was exalted above every name.
Have this attitude in yourselves which was also in Christ Jesus, who, although He existed in the form of God, did not regard equality with God a thing to be grasped, but emptied Himself, taking the form of a bond-servant, and being made in the likeness of men. Being found in appearance as a man, He humbled Himself by becoming obedient to the point of death, even death on a cross. For this reason also, God highly exalted Him, and bestowed on Him the name which is above every name, so that at the name of Jesus every knee will bow, of those who are in heaven and on earth and under the earth, and that every tongue will confess that Jesus Christ is Lord, to the glory of God the Father (Philippians 2:5-11). NASB
I finished and waited for his response.
"Yeah I totally get what you are saying," he replied.
At this point, someone in his office told him he had to get back to work. Before we hung up, I recommended the book Seeking Allah Finding Jesus .
I hated to see the conversation end. He was so engaged in this discussion, and much of this information seemed to be new to him. Please pray for him. Pray that he orders and reads that book–and most of all, the Bible.
*Note: It was pointed out to me in a comment that the actual question Pilate asked Jesus was "Are you the King of the Jews?" It was the elders, chief priests and scribes who asked if him if He was the Son of God. See Luke 22:70.