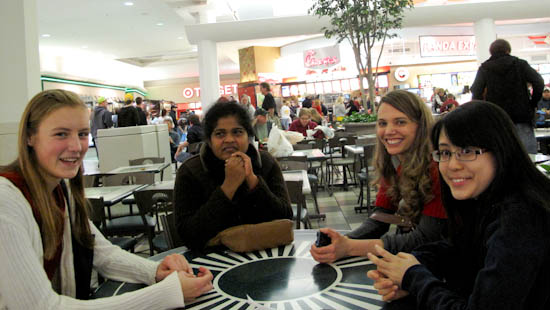 "Why did Jesus come to be born as a baby?" my friend Annie and I asked two other girls at the mall. They thought and thought. They threw out a few ideas, but they didn't really know.
Before giving a complete answer, we switched gears and began to talk about sin, God's justice, and our need for a perfect substitute – Jesus.
"No one can kill God, so God had to put Himself into a body that could die. But in order to die he had to first be born," I emphasized to the girls.
"Ah…I see!" one of the girls said, smiling as it clicked.
The thrill of watching an unbeliever have an "ah ha" moment as she comprehends a truth about the gospel makes me think about what a privilege it is to witness. Because Annie and I had let them wrestle with the question for a while, they absorbed the answer when we finally told them.
There are two days left until Christmas. Many of us will still be out and about shopping and interacting with people. Let's not forget how many people genuinely don't know why Jesus came, and let's pray for opportunities to make it known!
Pictured above are Annie, Augusta, Sarah and Xin Hui. Xin Hui, from Malaysia, has been part of our church for the last couple years but left on Monday morning. Sarah and I enjoyed spending some time with her last Saturday (part of which included the witnessing at the mall). We are going to be missing you, Xin Hui!
Merry Christmas everyone!
"For in him dwelleth all the fulness of the Godhead bodily. And ye are complete in him…" (Col 2:9-10)