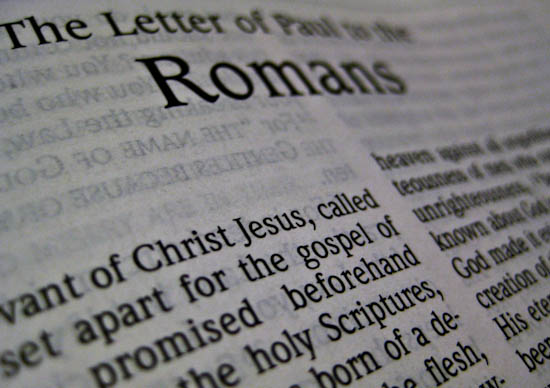 About 2 weeks ago, Nickie and I began a "Romans challenge" where we are reading Romans 1-8 every day for 50 days. This was recommended to us by a friend who did this as a new Christian (when he was in his 20's). It had such a dramatic effect on his walk with Christ and understanding of the gospel that he's been an advocate of this plan ever since.
Romans builds in a systematic way, so it is helpful to read those chapters all together to grasp the flow of the argument being made. It establishes an understanding of the whole context: starting with creation, God's wrath toward sin, and our hopelessness, and then dives into the amazing news of Jesus' perfect life, sacrificial death and resurrection—and what all of this means for us as believers!
It takes most people about 45-60 minutes to read chapters 1-8, depending on how fast you read. But the goal is not speed, it's comprehension. [smile]
So … WHY read Romans this much? When we saturate our minds, day after day, with God's magnificent explanation of the gospel in Romans, we develop a greater understanding of the depth and beauty of the gospel. The greater our understanding of it, the greater our delight in it! Gospel truths will then overflow to others in our conversations as we both edify believers and evangelize the lost.
Today was my 14th day, and I definitely have a much stronger grasp of Romans than I did before. It keeps getting better the more I read it! I have been e-mailing some friends (especially girls who helped with our overseas Bright Lights conferences) and many have been interested in joining. As of yesterday, there were about 50 of us reading Romans 1-8 every day! But in the last 24 hrs, 34 more people have joined the plan! (Sarah sent an e-mail about it to all the leaders of Bright Lights groups.)
I am filled with joy about this … especially because many of these friends have also expressed their desire to witness more. What greater witnessing training could any of us receive than to thoroughly know Romans?!
SO (did you guess I was getting to this? [smile] ) if anyone else would like to join, please let me know! I would be happy to add you to my e-mail list. I'm sending out weekly e-mails with tips and ideas. If you don't have my e-mail, please leave a comment and I will get in touch with you.
This afternoon, I received this e-mail from a friend:
"Already God has used this Romans reading to prepare me for something He was going to use me for! Yesterday I flew to Alaska from Boston, and by God's providence, traveled the whole day with a "stranger friend." The young woman I sat next to on the plane was friendly and talkative. We began chatting right away, and continued to for almost the entire 5 ½ hour flight, got Hot Dogs together at our layover, and stood in the cold at 1am waiting for the shuttle where we finally parted ways! As we began chatting and getting to know each other, I began praying that the Lord would help to turn the conversation to spiritual things. Sure enough, the lady asked me about a book I was reading (it was a Lamplighter book, "Stephen, Soldier of the Cross"). "There it is! Thank you Lord!" I thought as I began to explain the plot of the book and the life of Stephen, a martyr for Christ. We continued to talk about God, the Bible, Jesus Christ, and other matters … She calls herself a "Christian" but did not have a salvation testimony. Many of the things she believes are based on her personal feelings, though she prays often and is seeking God's will for her life. Continually, I brought her back to the Bible, and almost all the topics we covered, were in Romans 1-8! Though I am only on day 5 of the 50, I was familiar enough with the chapters already to find the pertinent verses! It was such a blessing to be prepared to wield my sword! Praise the Lord, I look forward to seeing how He will continue to use this long-term reading of Romans 1-8!"
I really appreciated that note from Jordan, because she brought out a true point I wanted to make anyway: Studying Romans helps to both strengthen our confidence in our knowledge of the gospel and increases our eagerness to share it.
I have also been encouraged by all the other testimonies I've been receiving! Here's a sampling:
"I've been understanding these passages more than I ever have before … it really helps reading it all together as one 'thought,' rather than as separate 'thoughts.'" – Bailey, BL Leader in Arkansas

"God has used this to reveal so much to me, and I am so excited about His Word!" – Katrina, Canada

"… I'm only on day 12, but it's been a really neat thing so far! I am understanding those chapters like I never have before." – Kristin Youngblood (BL leader in Texas)

"… we have grown so much for the Lord!! You can learn so much reading it every day!! I love it!" –Michailia, BL Leader in Alaska

"I am going to totally do it and I am going to mention it in our meeting tomorrow. I would like to see if the other girls might be interested in trying it too." – Sarah, BL Leader in Nebraska

"I am enjoying it so much! Today is my third day … and I am also coping the book of Romans into a notebook during my study!" Janessa, BL Leader in Texas

"I got through all chapters in 45 min! I'm so excited, not so much about the short amount of time (although hehe that is exciting too, since I have been taking 2 hours), but also because of what I've gained. Keeping in mind what you said about reading it all as a whole and ignoring chapter breaks, I changed my reading approach. Usually I read detailed-ly, stopping after each chapter if there's some insight to journal about… So today I tried ignoring chapter breaks and title breaks (my Bible has a lot of titles), going straight from one chapter/section to the next. I also didn't journal till the end. It was so great. I got distracted much less, and it was exciting to start to see how the passages all fit together!! I know it is good to be detailed at times, but I am beginning to see that it is also very beneficial to read the Bible as a whole and learn to see the bigger picture and how it all fits together!! …I'm really excited and I just wanted to share it with you!!" –Judith, Australia
And it has been exciting to see how the Lord has prepared peoples' hearts for this:
"Hi Grace! Ok, true story here… I'm working on memorizing Romans right now, and as I was reviewing chapter 5 this morning I realized it's still quite rough and that I don't have the 'flow' of the previous chapters down as much as I'd like. It occurred to me that, in addition to working with the flashcards I've made and working on one section at a time, I also should starting reading through all the chapters regularly- yes, it would take extra time, but probably worth it, right? Still pondering this, I put aside my Bible and checked my e-mail, and read yours first! I would love to join you …." -Kea, Alaska

"God is so neat in how He weaves everything I'm studying together. Even the set 5 lessons are going right along with what I'm studying in Romans. Our adult SS classes at church just started studying the book of Romans in January, and I started trying to memorize chapter one, so reading through chapters 1-8 every day goes right along with it!!!!!!!!!!!!! I think that is so neat and was smiling very big when I read your e-mail last night." – Kim, BL Leader in Indiana

"I would love to take on this challenge in my own life, and am planning to start today. I have such an acute desire to delve into Word in a deeper way, so I am very excited to embark on this study. It's quite amazing to me how God works; for a while I've been working on memorizing Romans 8. I'm only in the beginning of the chapter so far, but this is such a powerful chapter to read/recite! So to know that there are other young people who are studying these passages at the very time that God laid Romans 8 on my heart just thrills me! What a beautiful thing this is…this journey on the set-apart Narrow Way." – Amber, BL Leader in Virginia

"I would be thrilled to join you in reading this passage of Scripture. I just finished reading "Morning Star of the Reformation" – the book about John Wycliffe – and it really made me think about how much we take for granted having the Word of God so readily available to us. It just makes me long to read it even more!" – Danielle, BL Leader in Maine