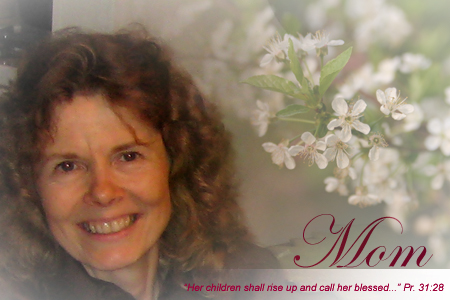 Happy Mother's Day, Mom!

What could I write in just a paragraph that could express adequate appreciation to you?!
Mom, you have always been slow to criticize and so quick to praise. You're willing to sacrifice pretty much anything for us kids to be happy! Mom, you are one of my greatest examples of humility. I respect the way you get up early every morning without fail to review the verses you've been memorizing/meditating on. Thank you for all you have taught me. Thank you for all the times you've prayed with me and helped me work through struggles by pointing me to Scripture. Thank you for teaching me to honor Dad. Thank you for all the ways you've protected me from things that would have distracted me from Christ. Thank you for being real and honest with us. I love being with you, mom!
One day I hope to be a mom very similar to you! 🙂 I love you so much!
"She speaks with wisdom, and faithful instruction is on her tongue. She watches over the affairs of her household and does not eat the bread of idleness. Her children arise and call her blessed…" (Proverbs 31:26-28)
News from today:
Sarah's voice was almost gone when she woke up this morning, but her voice came back and held up through our whole talk, PTL! Stephen still hasn't been feeling very well, but he's done a good job hiding it. He's been working hard, and now he's sound asleep.
The day went well and we were encouraged. Thanks to a lot of help, we got packed up pretty quickly and enjoyed celebrating Mother's Day tonight. Tomorrow morning we head home.