It was about 10pm Tuesday evening. The "Strong in the Lord Conference" had ended for the evening, and would be starting at 9am the following day. Since we were video taping, we really needed to practice some of our skits that night to refresh the camera crew, since they haven't traveled with our team for a while. We had a lot to do and it was going to be a late night. But first everyone went to the kitchen to eat dinner. 🙂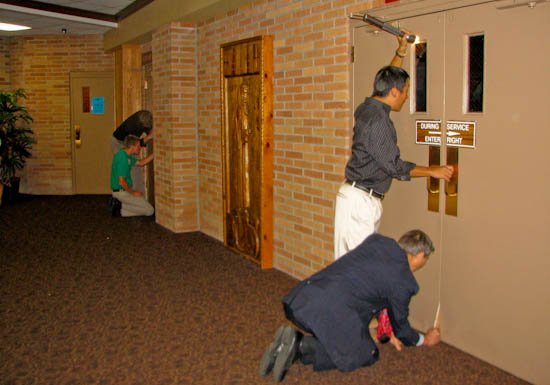 Oh no! Upon arriving back to the auditorium after supper, we realized that the janitor had locked the doors to the auditorium while we were all eating. Then he had left to go home. Dawn, our hostess, tried calling several different people, but it was too late at night to get a hold of anyone. Now what?!
I just felt like laughing…hardly believing what was happening. The only time we have EVER been locked out of a church auditorium is the ONE time we need to be in there the most to practice for the video. It's in situations like this where it is fun to sit back and watch "how God will fix this one."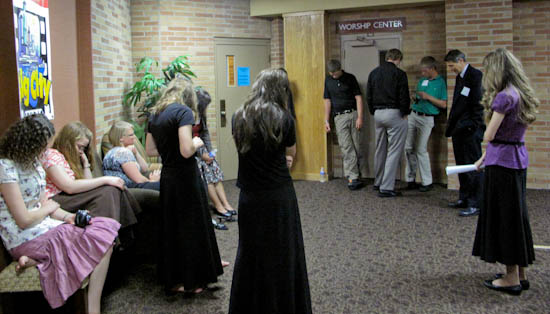 My dad called a prayer meeting.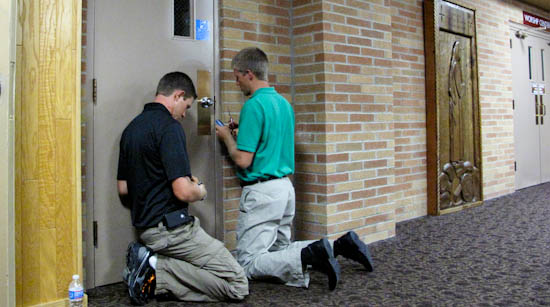 The guys unsuccessfully attempted many various creative ways to well, pick the lock… (don't tell anybody :)) and trigger the motion release.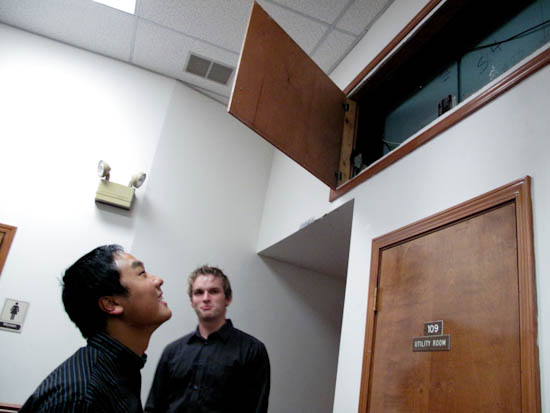 Then they began to think of other even more creative options to get into the auditorium: the air vents! But after a little investigating, they decided that wasn't a good idea. I think the next plan was to take the door off it's hinges…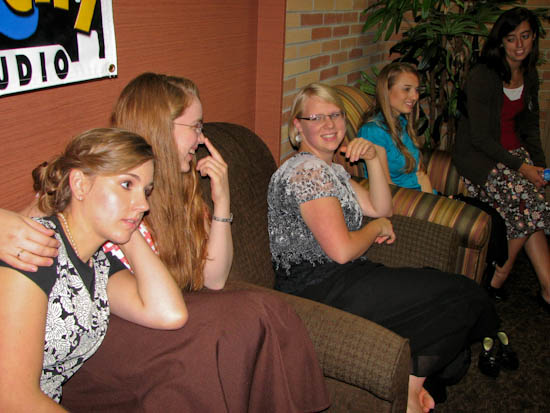 Everyone was getting pretty tired and a little silly…(surprise, surprise)… and we were all glad when we heard that Dawn got a hold of someone from the church who had the access code. But I wanted to see someone go through a vent! I was thinking. Okay, I guess it wasn't the time to complain about that. We were grateful to be able to get in and do the practicing we needed to do before it got too late.
This was just one of the many answers to prayer we saw while recording the conference, so thank you to all who were praying!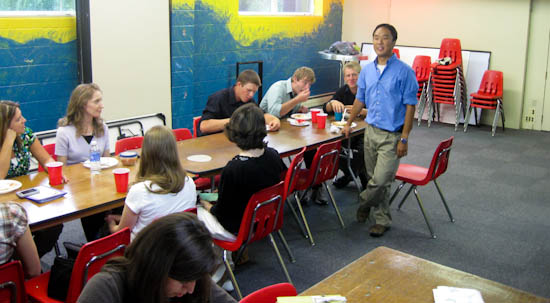 Here Stephen is sharing with the group about one specific miracle that happened regarding the audio on Saturday afternoon. Another answer to prayer.
Hopefully, at some point in the future, Bright Lights groups will be able to do "Strong in the Lord" video conferences, just as they are already doing Radiant Purity video conferences. It would definitely be a way to reach more girls.