"Keep thy heart with all diligence; for out of it are the issues of life." Proverbs 4:23
"The unmarried woman careth for the things of the Lord, that she may be holy both in body and in spirit" 1 Corinthians 7:34

The "Rose Quartz", my discussion group. (Each group is named after a gem or precious stone.)

Responses from the last conference:
"I plan to become the woman that the guy I want to marry wants to marry! I'm going to stop being the girl pushing the line, seeing how far I can go, while still remaining pure. I want to be radiant." -14 year old attendee
"I really loved the skits, small groups, and being around other girls who strive to be radiantly pure…I think that I really benefited from the part about waiting for the Lord's best…I made a commitment to stay pure until marriage and to wait on the Lord." -13 year old attendee
"[The mothers session] was an unexpected element that the Lord knew I needed to hear…[the conference was] an encouragement for both of us as we were surrounded by other mothers and daughters desiring to live godly lives. An answer to prayer as the Holy Spirit revealed to me areas in my life that need work!" -Mother
"I plan to stop thinking about guys all the time and start preparing" -13 year old attendee
"I plan to teach [what I learned] to other girls so that they can pass it on to others too!!" -13 year old attendee
"I liked the skits, chalk talk, and knowing that I am not the only one who struggles with guy issues"
-15 year old attendee
"We had some really good discussion in the small groups and the skits illustrated the concepts really well. I think the session that applied to me most was the one on crushes" -18 year old attendee
"I'm not going to worry about boys til I'm old enough to get married." -14 year old attendee
"I plan to apply myself to my ministries with a new vigor and to trust God with my future husband…I had already made a commitment to purity, but this conference inspired me to give up my dreams for God's." -16 year old attendee
Praise the Lord for the way He was at work in girls' hearts!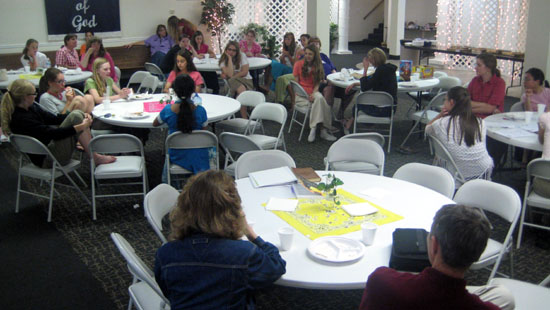 Our "cool down" times are always refreshing. It's so encouraging to hear stories of how the Lord worked in the other discussion groups. We thought we might not have very many leaders at this conference (and we need to have enough because it's important to have plenty of "discussion group leaders" at the conference) but God brought together just the perfect team.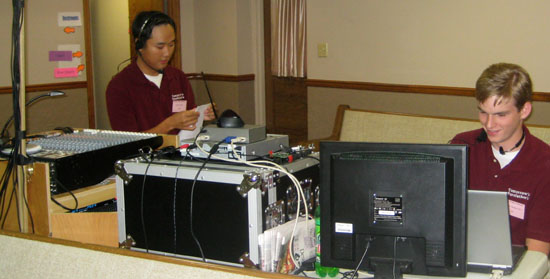 What would we do without Stephen and Andrew? They took care of equipment, sound, mics, powerpoint, unloading and reloading trailor, set up, printing nametags, and the list goes on!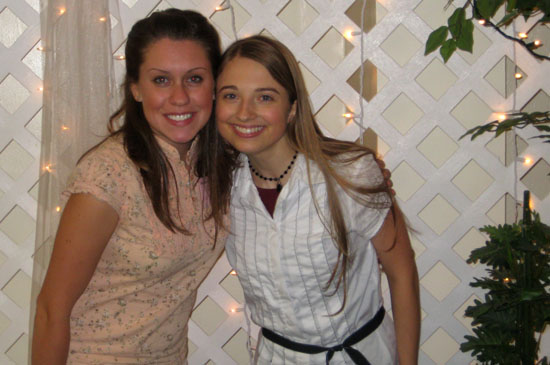 One of the highlights for all of us leaders is the fellowship we have with each other during conference trips. Nothing beats the fellowship that comes from "doing ministry together!"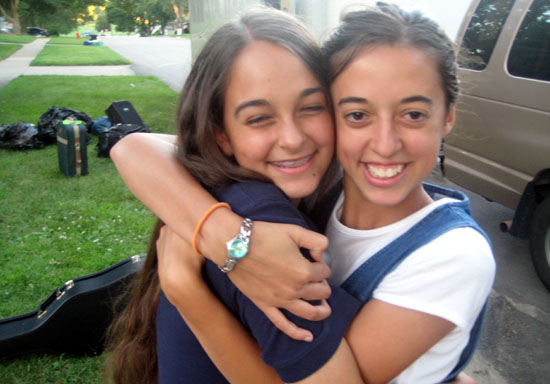 Mary and Tia, two of our youngest and "smiliest" leaders, saying goodbye. After a very long and tiring trip, they're still smiling! 🙂