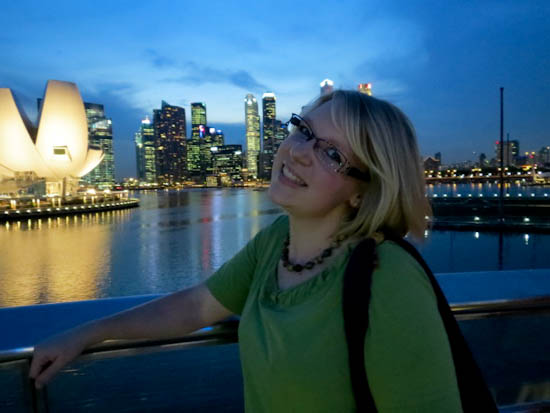 Today is Bekah's birthday! We surprised her with a little party Saturday night after the conference. Here's the little song we sang for her. Even though there are a lot of inside jokes, I think you'll still enjoy it.
Bekah, Bekah, we all love you, full of laughter, full of sun
Faithful, long term Bright Lights member, you provide us so much fun
When you enter, you bring laughter, you bring joy, you make a splash
We are thankful for your friendship and your secret chocolate stash!

Bekah, Bekah, make us coffee, you don't measure, it's okay
We have grown to kind of like your simple, tasty, random way
You could use the coffee maker, aero press, or moka pot
French press, or the Keurig maker, make it strong and make it hot!

9:00 we meet at office, ready for the day to start
It has been a two-day weekend, we can't bear to be apart
We just miss your cell phone singing, tigger boings and little sounds,
More than that we love your laughter, little jokes and friendly bounce.

Phone is ringing, won't stop ringing, all you want to do is yawn
Coffee filters down to zero, and the precious cream is gone!
Where is Hannah when you need her? Tia's gone to family camp.
Grace is talking in the bookstore. Stephen, did you take a nap?

Nickie, are you always busy? Sarah's door is closed the most.
And of course, like every morning, Mr. Mally burns his toast!
Packing orders, finding labels, post office is closing soon
Is it 5 O Clock already? I thought it was only noon.

Think of all our conference memories: stubborn horses, cowboy boots
30 hours without sleeping, and your favorite—durian fruit!
Think of all the Asian cooking: fish eyes, squid, and sea weed bites
And your favorite from Australia, that delicious vegemite.

If you ever get discouraged, think of all your favorite things
Target shopping, purple pillows, coffee mugs and cell phone rings,
IMing Nickie, when you should be working, playing dumb games on your nook
Don't forget what you have written in your "I am Awesome" Book

Bekah, Bekah, Happy Birthday! Hope that you can really thrive
With the new responsibilities now that you are 25!
dusting your cubicle, learning to drink tea, and with the printer make amends
Bekah, Bekah Happy Birthday! Blessings from your loyal friends!
On a more serious note, thank you to everyone who was praying for our conferences last week! I will post some more pictures soon.
Here are a few things going on today here at our office.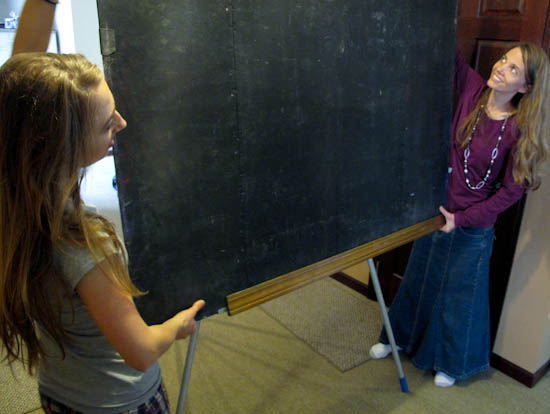 Sarah and I practicing putting together the travel easel that we will be using next week at a girls camp in North Carolina. (Trying to prevent potential disasters from happening since we will not have our normal technical assistance along! [smile]) We only broke down in tears once, lol, but those were tears of laughter. I think we have it figured out now.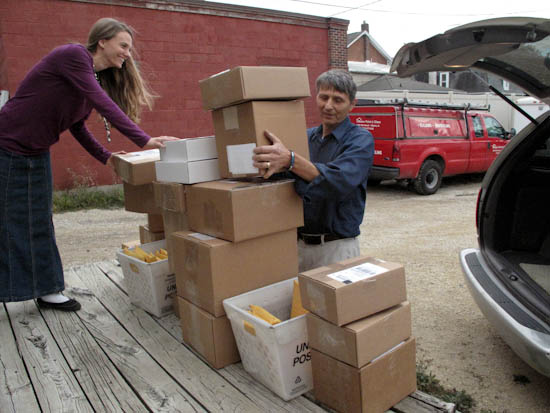 Since we were gone last week we had quite a few packages of materials going out to many Bright Lights groups today! My Grandpa packed almost all of them. We are VERY grateful for him.
"Bless the Lord, O my soul; And all that is within me, bless His holy name! Bless the Lord, O my soul,And forget not all His benefits: Who forgives all your iniquities, Who heals all your diseases, Who redeems your life from destruction, Who crowns you with lovingkindness and tender mercies, Who satisfies your mouth with good things, So that your youth is renewed like the eagle's." (Psalm 103:1-5)