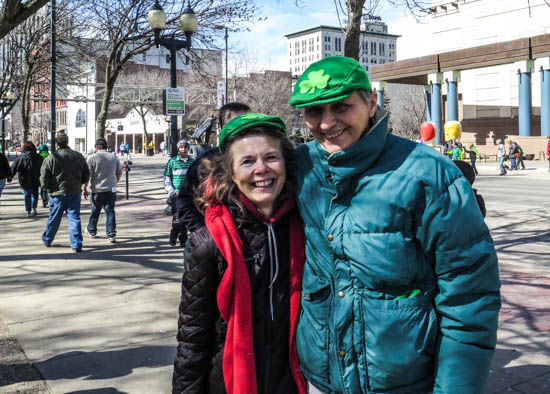 We are grateful to God for a great afternoon at the St Patrick's parade on Tuesday.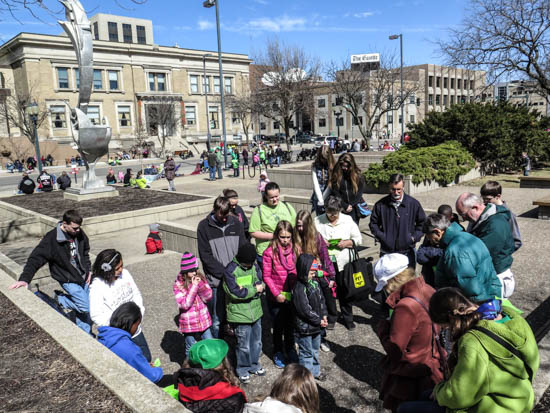 About 40 friends gathered downtown to pass out the "History of St Patrick" gospel tract, including many children whose parents were coaching them on tract-distribution.
People love the opportunity to dress up in their funny green attire, and this simply gives us more ways to start conversations with them!
"I like your hat!" my dad told a man with a really tall green hat.
"I like yours too!" the man replied.
"But yours is better," my dad said. He then explained how we were passing out "The History of St Patrick" at the parade and offered him one of our tracts. The man wanted one, just like almost everyone else does. Many are curious about who St Patrick actually was.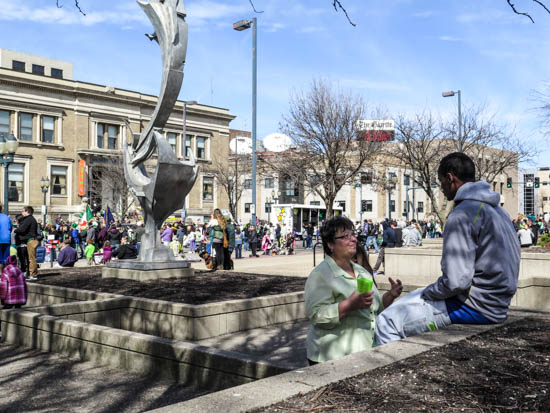 Cheryl had a good talk with this guy. She shared the gospel with him and recommended a good church in his neighborhood. I was surprised to run into him on a different street corner about twenty minutes later and was able to continue the conversation!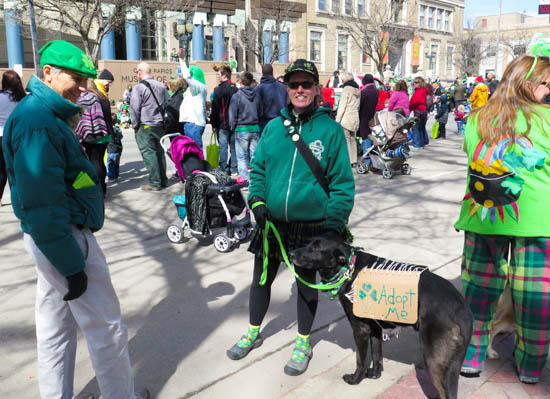 "I can't adopt a dog, unfortunatley," I told this lady after taking this picture.
"But we adopted a son!" my dad added.
"A what?" she asked.
"A son!" my dad said. "From Korea."
"And that's how we ALL get into GOD'S family…" he said and continued to share how that can happen to any of us.
My dad especially enjoys going up to small groups of high school guys and asking them "Have you gotten one of these? It's a history of St. Patrick. Do you know anything about Patrick? Why does Ireland remember him 1600 years later?"
He then tells the story, sharing something like this: "Patrick convinced many in Ireland that Jesus Christ had risen from the dead. They worshiped the sun and Patrick told them, 'If you worship the sun you will die, but if you worship the Son of God you will live, because the Son of God rose from the dead and is alive. You will live forever because the Son of God lives forever.' So many Irish believed that it influenced the whole nation. They abandoned sun worship and turned to the God who created them!"
My dad then shares how people today remember Patrick, but know nothing of Christ. And only Christ can save us!
When talking with small groups of youth at the parade we find that some are politely disinterested, some are embarrassed, but some have that interest in their eyes.
Our team came back together after the parade and shared about the conversations we had. Several reported how they saw a sincere interest in the gospel in those they spoke with. Praise God!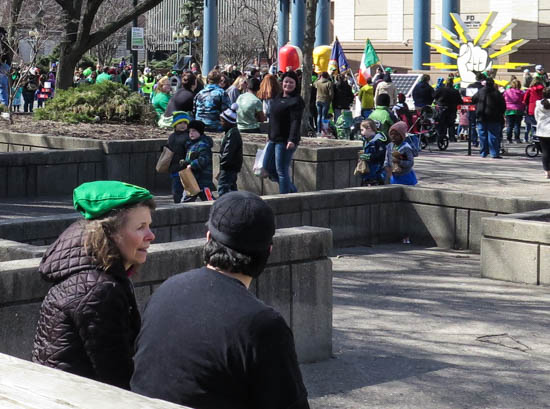 My mom sat down next to this lady on the picnic bench and they ended up having a good conversation through most of the parade. This lady was a single mom and shared a lot with my mom about things going on in her life.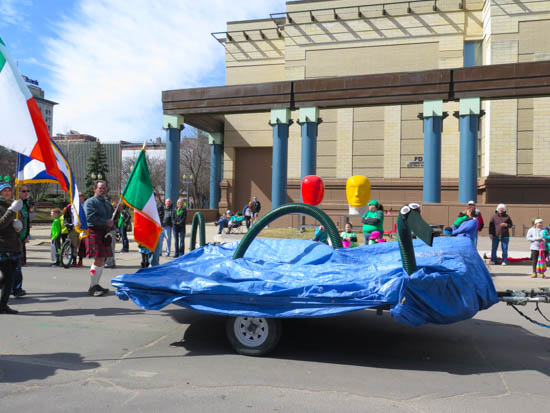 We think this was supposed to be Nessie (the Loch Ness Monster). Haha.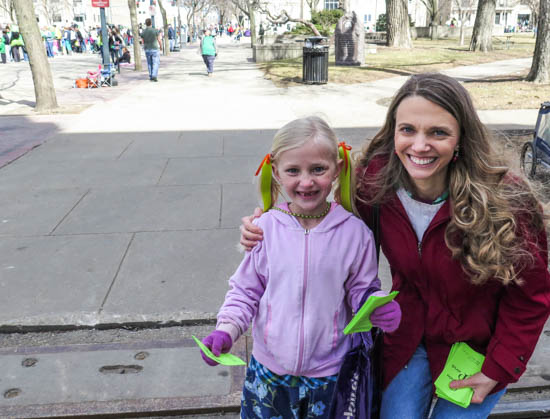 Little Naomi is growing in her ability to pass out tracts! We are proud of her!
We had a big scare part way through the parade. Little David (8), Naomi's brother, was missing. He had been doing a wonderful job passing out tracts (had distributed about 400!) but then David got separated from those with him. All of a sudden, our "witnessing team" became a "search and rescue team."
After about a half hour, as I was scanning the crowds, a lady approached me asking urgently, "Are you looking for a lost child?"
"Yes," I replied, wondering how she knew.
"He's in the police car," she said, pointing.
Someone had taken him to the parade judges, who took him to the police, and apparently the police man had told David to watch for someone he knew.
Poor David was quite shaken emotionally!
We are grateful for the kindness, security, and protection we were given from the police and parade officials. David said his favorite part of the day was "getting found."
In the same way, may we have great urgency and concern to search for those who are "lost" spiritually, and find great joy in the fact that our Shepherd has found each one of us who has put our trust in Him and brought us to Himself, our secure Refuge!
After everything was over, we set out, tired and hungry, for Chic fil A! =P
"For the Son of Man has come to seek and to save that which was lost" (Luke 19:10).