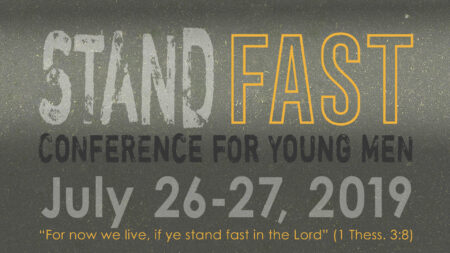 Our world is in desperate need of godly young men who will be courageous leaders of their families and churches and who will faithfully represent Christ in this dying world.
Taught by a team of men (led by Harold Mally), this conference will challenge and equip young men to stand fast in the Lord. Includes small group times, activities, a chalk talk, singing, and practical, Biblical teaching. Dads are encouraged to attend the conference in order to hear what their sons are learning and reinforce it at home.
Topics:
Being Christ-Centered and Cross-Centered
Bible Reading and Prayer
Defending the Faith
Overcoming Temptations
Humility in Family Relationships
Being Ministry Minded
Sharing the Gospel Boldly
Treating Girls With Honor
Being a Disciple Maker
For: Young men ages 12-18 and fathers
Dates: July 26-27, 2019
Location: The Church on Northland: 5200 Northland Ave NE Cedar Rapids, IA 52402
Schedule: Fri 6:00-9:00pm, Sat 9:00AM-6:00pm
Register here. $15 per person or $50 family max. Includes snacks, and materials.
Late Registration (after June 30) $18 per person/$60 family max
For questions contact: Bright Lights staff at 319-377-6728, [email protected]