I'm excited to announce two evangelism training events that we will be running together with our friend Tony Ramsek from Answers in Genesis this August. For the past 15 years, Tony has led Answers in Genesis' annual evangelism outreach to the public school teachers at the NEA convention. We've been blessed to participate in this outreach, and we're thrilled that Answers in Genesis will now be doing a similar outreach at the Iowa State Fair on August 11-21.
The information below describes the two training events for those who desire to be challenged and encouraged in evangelism.
Witnessing Workshop
August 5-6 • Cedar Rapids, IA

Learn How To:
• Think Biblically about Evangelism
• Start Gospel Conversations
• Grow in Boldness
• Develop a Family Ministry
• Use Creation as a Starting Point
• Explain the Gospel with Clarity
• Defend the Reliability of Scripture
Schedule: Friday: 6pm–9pm, Saturday: 9am–9pm. Includes afternoon time of witnessing on Saturday in Iowa City, followed by pizza supper for sharing highlights.
Registration: $15 ($50 family max). Includes pizza, snacks, and gospel tracts.
Location: Cedar Rapids Bible Chapel • 3412 Oakland Rd NE, Cedar Rapids, IA 52302
Optional Next Step: Attendees also are encouraged to put into practice what they learned by volunteering at the Answers in Genesis Gospel Outreach to the Iowa State Fair the following week.
See my blog post from last year's Witnessing Workshop in Dallas for more information about what the Witnessing Workshop is like. (Note: the speakers are different this year.)

Creation Evangelism Training Camp
August 15-19 • Des Moines, IA
An intensive, 4-day (4-night) camp consisting of training in the morning, and opportunity to practice what is learned as we witness together at the Answers in Genesis Gospel Outreach to the Iowa State Fair in the afternoon and evening.
Experience:
• The fellowship of teamwork evangelism as we witness together
at the Answers in Genesis gospel booth inside the fair
• Apologetics training and discussion
• Digging into the Word to examine passages on evangelism
• One-on-one coaching and encouragement
• Prayer times for the people we will encounter
• Evening campfires for debriefing and Q&A
Location: Willowbrook Bible Camp, Des Moines, IA
For: Ages 16 and up (parents welcome). Younger ages may attend with a parent.
Registration: $175 ($200 after July 25) Includes housing / most meals.
Other expenses: $8 daily fair ticket and three evening meals at the fair.
Space limit: 85 people.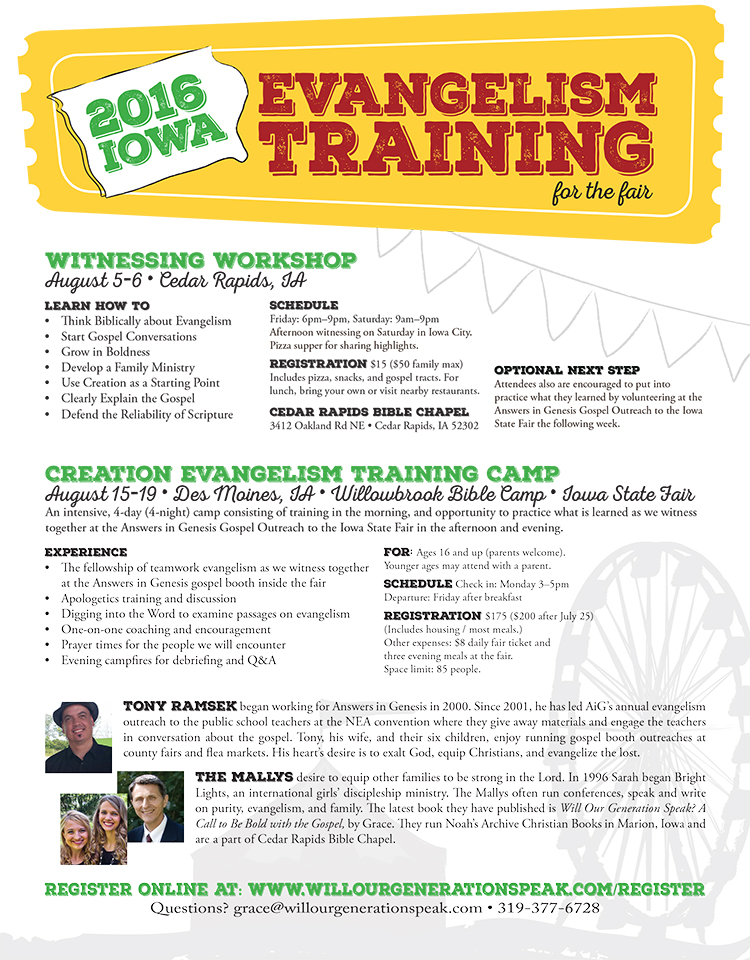 Click here to see the PDF of this flyer.
For those who are potentially interested in some of these options and would like to be on the email list to receive updates, please fill out this short online survey. (Note: even if you can't come to either of the training events, you are still welcome to volunteer at the Answers in Genesis gospel booth.)
To Register:
Click here to register for Witnessing Workshop.
Click here to register for the Creation Evangelism Training Camp.
Brand New Tool We'll Be Using:
As most of you probably know, the Ark Encounter will be opening July 7th in Cincinnati, so it will be a good conversation starter with people anywhere. We are hoping to pass out about 60,000 of these brand new gospel tracts at the fair: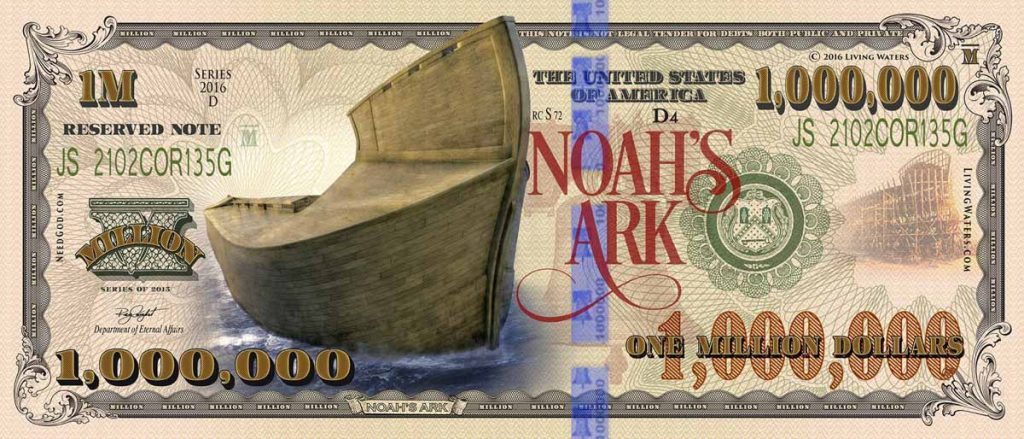 If you cannot be a part of either training events or the gospel booth physically, we would so appreciate it if you'd pray for the Lord to do great things. Please pray that many believers will be "much more bold to speak the word without fear" (Philippians 1:14), and than God would work in the hearts of many unbelievers so that they will place their faith in Jesus for salvation.