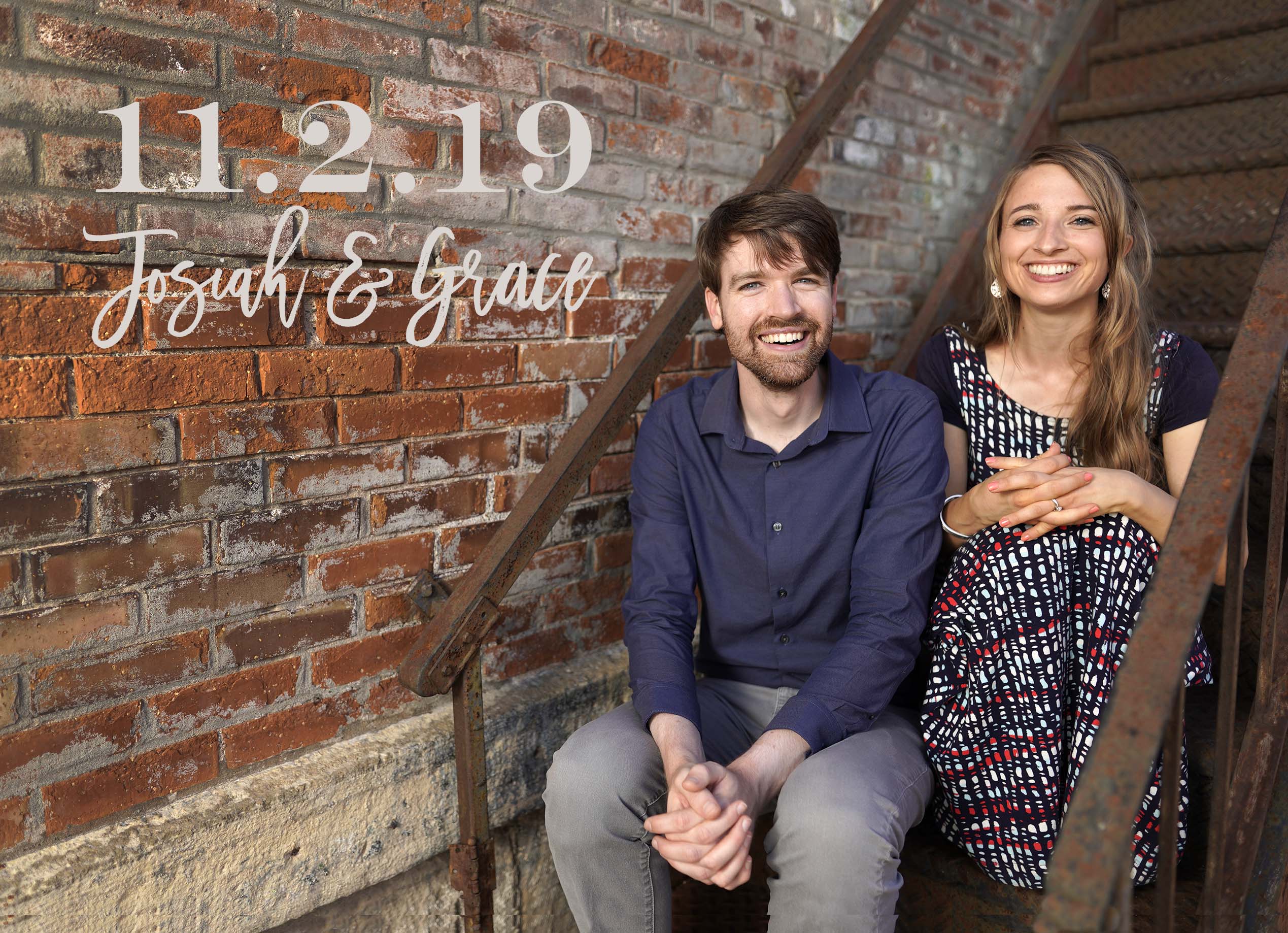 Hi everyone, I haven't posted for quite a while because I've been busy planning my wedding. In three days I will be marrying Josiah Moffitt. Words can not express my thankfulness to the Lord for this dream coming true. Here's what my dad wrote about it in our last family newsletter.
Dear Friends,
Hello from the Mally family and Bright Lights staff!
It Finally Happened – By Harold Mally
A Mally daughter is getting married! I wondered if it would ever happen. Sarah and Grace have been content, focused on what God has given them to do and excited about it. They certainly wanted to marry, but, of course, they wanted God's will and God's timing. It was my conclusion that God was keeping the boys away for a while because the Bright Lights ministry with girls required fulltime investment. I had wondered if that was going to be permanent or if God would eventually bring marriage into the picture. Yep. He has. Grace and Josiah Moffitt are getting married on November 2nd. Our whole family is so encouraged to see God's mighty hand in bringing them together. Grace will share more details at some point in the future. But this is my article, not hers.
It's not an easy task being a father, as all you fathers know, but it's the most wonderful thing. I didn't know that years ago. As a result, it was only by God's grace that we have Grace at all. Hence her name, "undeserved gift." This is a lengthy and miraculous story that I can't tell in this short email about this undeserving father. But every father has a grace story. We need only to list the miracles we all have from God's hand in the lives of the kids He entrusts to us.
As fathers we want the best for our daughters. We protect them. We teach them. We answer their questions – well, we try. We pray for them. We take them out for coffee to answer more questions. 🙂 (Grace has always been a big question-asker.) We have the joy of working together on ministry projects. When they are little we tell them stories at bed time. When they grow up we have long discussions about life, people, family, direction, the Bible, Christ and ministry. They ask us which outfit we think looks the best. They ask what we think they should say in response to certain people and situations. They look to us for counsel. They keep life interesting and challenging and rewarding.
Years ago I started a project for my daughters called the "Othniel Project." You might recall the account in Joshua 15 and Judges 1 of what Caleb did to find a husband for his daughter. It seemed to me to be a pretty good plan. He made an offer. To whomever attacks the city of the giants and takes it I will give my daughter Achsah as wife. 🙂 We don't have the same kind of giants today, but we have other kinds of giants and huge spiritual battles. So I began praying for and looking for a giant killer. More on this later, maybe next month.
I had expected both of my daughters to be married already. They knew lots of people and had lots of friends. But no boyfriends came into the picture. I did some exploring for them, but I was unsuccessful on my own. Truly it's something only God can do. In the meantime, what God did do was gather other girls who had a heart for discipleship and organize them into a ministry team, mentoring younger girls through conferences and Bright Lights groups. It's been exciting and we look forward to what's next. We anticipate many changes—good ones! But God does not change. "Jesus Christ the same yesterday, and today, and forever" (Hebrews 13:8). But He brings growth and we change as He works in our lives. God's changelessness is our security and stability. We confidently and expectantly anticipate the wonders of His unfolding plans.
So, what is going to change on November 2nd? Hmmm. Here are some rambling thoughts from a father:
· We will have another empty room in the house (Stephen has had his own apartment for a few years now).
· We will gain a new wonderful family member.
· There will be an adjusted authority structure as Grace is transferred to the protection and leadership of her husband.
· Many normal family routines will be adjusted. (Like I won't get as many of Grace's homemade pies and she won't make me coffee in the morning.)
· A new ministry team will be formed as two people come together and are strengthened by each other.
· Many more good things because God is an endless source of good and all His purposes are good.
The words in Isaiah 25:1 are among many Bible verses that express my thankfulness to God for His help and grace to an undeserving father. "O LORD, You are my God. I will exalt You. I will praise Your name, For you have done wonderful things; Your counsels of old are faithfulness and truth."