Next weekend we will be running a Witnessing Workshop in Cedar Rapids. I am anticipating the Lord to answer prayers and work in big ways! If you know any who would be interested in attending, please spread the word.
Here is our schedule: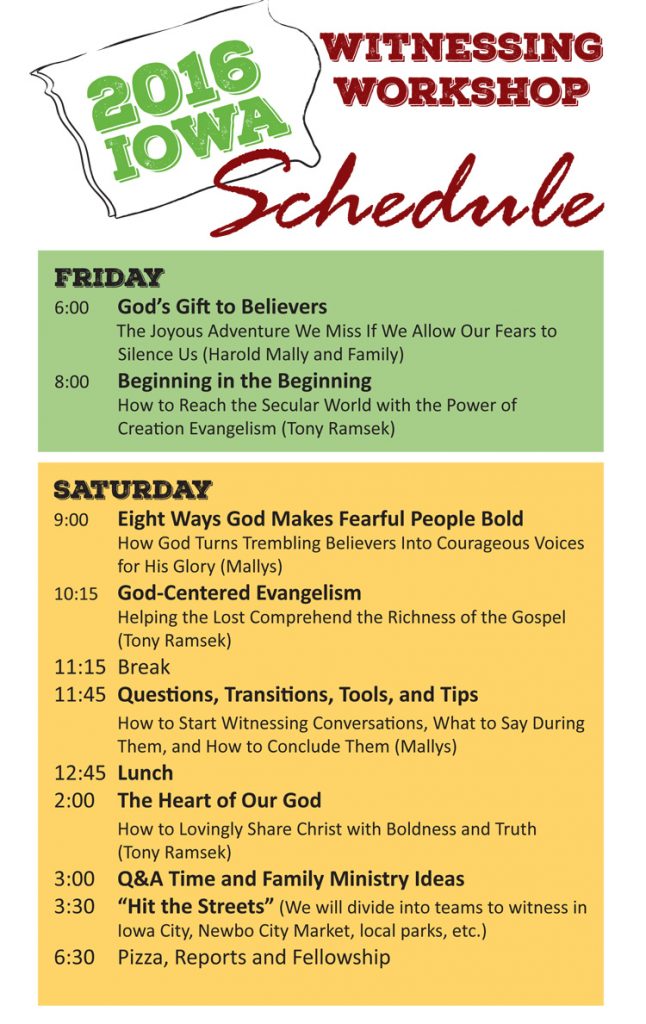 Click here to register. For families, please note that there is also a special family price.
We are excited that Tony Ramsek from Answers in Genesis will be teaching many of the sessions. Tony has led the Answers in Genesis gospel outreach to the NEA Convention for many years, and this year he will also be leading AiG's gospel outreach to the Iowa State Fair. We have greatly appreciated his insights in witnessing and his heart for the lost!
Tony came to Cedar Rapids in May for some planning meetings about the Iowa State Fair outreach, and we were grateful to have him speak for our church. We were blessed by his sermon on Romans 1:14-16.
Please join us in praying that the Lord raises up a whole army of witnesses in the Cedar Rapids area who are so overflowing with the gospel that they, like Peter and John, "cannot but speak of what we have seen and heard." (Acts 4:20)!
Also, for more information on the Creation Evangelism Training Camp that we are running on August 15-19th in connection with the Iowa State Fair gospel outreach, see this post.