George Farber
George Farber has been involved with Bible teaching and camp work for over 40 years.  He received a three year Bible diploma from Emmaus Bible School, a BA degree from Trinity Bible College of Deerfield, Illinois, and a MDiv degree from Grace Theological Seminary.  He currently resides in Waterloo, Iowa, with his wife Gail.  Speaking at Camp 1.
Carl Kerby

Carl Kerby's passion is to proclaim the authority and accuracy of the Bible and to engage the minds and hearts of believers and unbelievers so that they may experience the realities of the Word of God.  Before co-founding the apologetics ministry, Reasons for Hope, Carl served as a board member for Answers In Genesis.  Speaking at Camp 2.

Tony Ramsek
Tony Ramsek serves full time at Answers in Genesis and has led AiG's annual gospel outreaches for twenty-one years. He, his wife and six children enjoy leading evangelism events at state and county fairs, parades, and outdoor markets through his ministry What Does the Scripture Say. Speaking at Camp 1.
Josiah and Grace Moffitt
Josiah is involved in youth discipleship, Bible teaching, and camp ministry. Grace (Mally) Moffitt is the author of Will Our Generation Speak? A Call to Be Bold with the Gospel. Josiah is a software engineer and Grace is a stay-at-home mom. Speaking at Camp 1 and 2.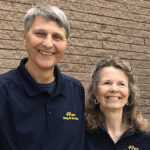 Harold Mally
Harold Mally is an elder/teacher at Cedar Rapids Bible Chapel. He spends his time writing, discipling men and leading the Tomorrow's Forefathers ministry. Rarely will a repair man come to his house without hearing about the Lord. Speaking at Camp 1 and 2.
See our recap video from our 2018 camp to gain a better understanding of how the camp works and hear a few brief testimonies from campers.
Learn more about the Answers in Genesis gospel booth at the fair in this short video.
Feedback from Previous Testify Camps
"All the teachings were excellent - I especially liked the practical tips on the last day of camp." - Carol
"Thank you for your many examples of how to be a witness or missionary in everyday life. Only a continuous relationship with our Lord will give us continued strength, creativity, and concern to make use of each opportunity the Lord puts before us."  - Teresa
"I had a great time at the booth, praying, and street witnessing, but my highlight might have been street witnessing! It's hard to choose." - Kaylee
"I witnessed to a lady and then left for another group. She called me back then and we talked for 20 min. All sorts of questions, really interesting. Amazing."