Taught By Andrew and Sarah Hancock
About Andrew and Sarah Hancock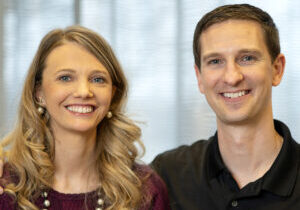 Andrew and Sarah were married in May of 2020.
ANDREW has served in ministry to singles for many years in church and para-church settings, including ten years as a Pastor to young professionals and grad students at Parkview Church in Iowa City, Iowa. Andrew received his Master of Divinity and Doctor of Education degrees from the Southern Baptist Theological Seminary.
SARAH is the founder of Bright Lights, a discipleship ministry designed to equip young ladies to use the years of their youth fully for Christ. She is the author of Speak Truth in Your Heart, Before You Meet Prince Charming and the coauthor (with her siblings) of Making Brothers and Sisters Best Friends.
September 10th – Cedar Rapids, IA
Location: Cedar Rapids Bible Chapel, 3412 Oakland Rd NE, Cedar Rapids, IA
Time: 9:00 am - 4:00 pm
Includes: Lunch, snacks, and materials
Cost: $30 per person
Late Registration (after Aug. 27): $35
September 17th – Online by Zoom
Includes: Four Zoom Sessions (taught live by Andrew and Sarah), Discussions in Break Out Rooms, and session notes download
Time: 9:00 am - 4:00 pm
Cost: $20 per person
Late Registration (after Sep. 1): $25
Session Titles and Descriptions:
Session 1: Navigating the Challenges and Blessings of Singleness
Why is this topic important?
We hope that this conference will be a breath of fresh air for singles - a group that is often overlooked in the church. Singles face many unique challenges during this stage of life, but there are also many blessings too! We will highlight key passages for singles and ask the Lord to provide insight, encouragement, and direction for each of us.
Session 2: Navigating the Story of Scripture and Singleness
What does the Bible say about singleness?
This session will walk through the entire storyline of the Bible and what it says about singleness. We will see a progression of emphasis on singleness from beginning to end. The positive and encouraging nature of singleness in the Bible will serve to challenge and encourage us to stay faithful to the Lord during our single years.
Session 3: Navigating the Lies and Truths about Singleness
What are the common myths about singleness and truths to combat them?
This session will tackle some of the common lies and myths we hear about singleness. These untruths may come from family, friends, our culture, or even from well-meaning people at church. We pray that this will propel us into a discussion about how the truths of Scripture can be used to give us a God-centered perspective.
Session 4: Navigating the Complexities of Singleness
What did we learn about singleness?
This session will get real about our experience being single. Both of us were single into our forties, which was not in our original plans for life! We will share what God taught us about singleness with all its complexities, challenges, and joys. We pray that our story will be used by God to uplift and bless each person seeking to stay faithful to the Lord and walk with Jesus day by day.